New Luxury Apartments Transform Challenging Site in Downtown Kansas City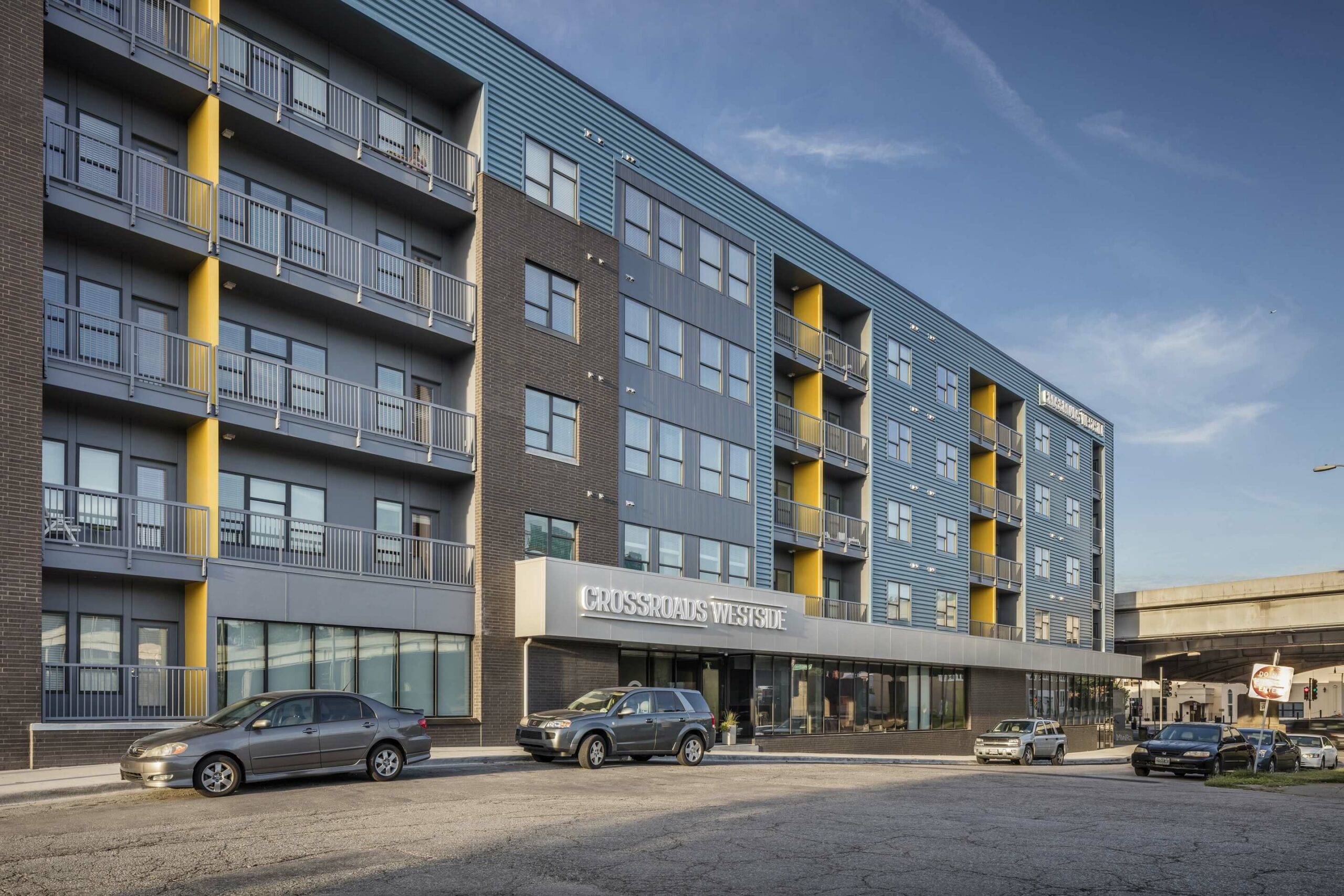 New luxury apartments now fill one of downtown Kansas City's most challenging development sites. Despite its close proximity to local events, noteworthy restaurants and cultural activities, the site, which is bordered by two vehicular overpasses and restricted by three billboard aerial easements, remained untouched for years.
Despite the constraints, Cityscape Residential, an Indianapolis-based developer known for their luxury rental communities, saw the potential. They commissioned Helix Architecture + Design to design one of the largest new construction apartment projects in downtown Kansas City – Crossroads Westside. The new development helps to connect the Crossroads Arts District to the vibrant Westside neighborhood.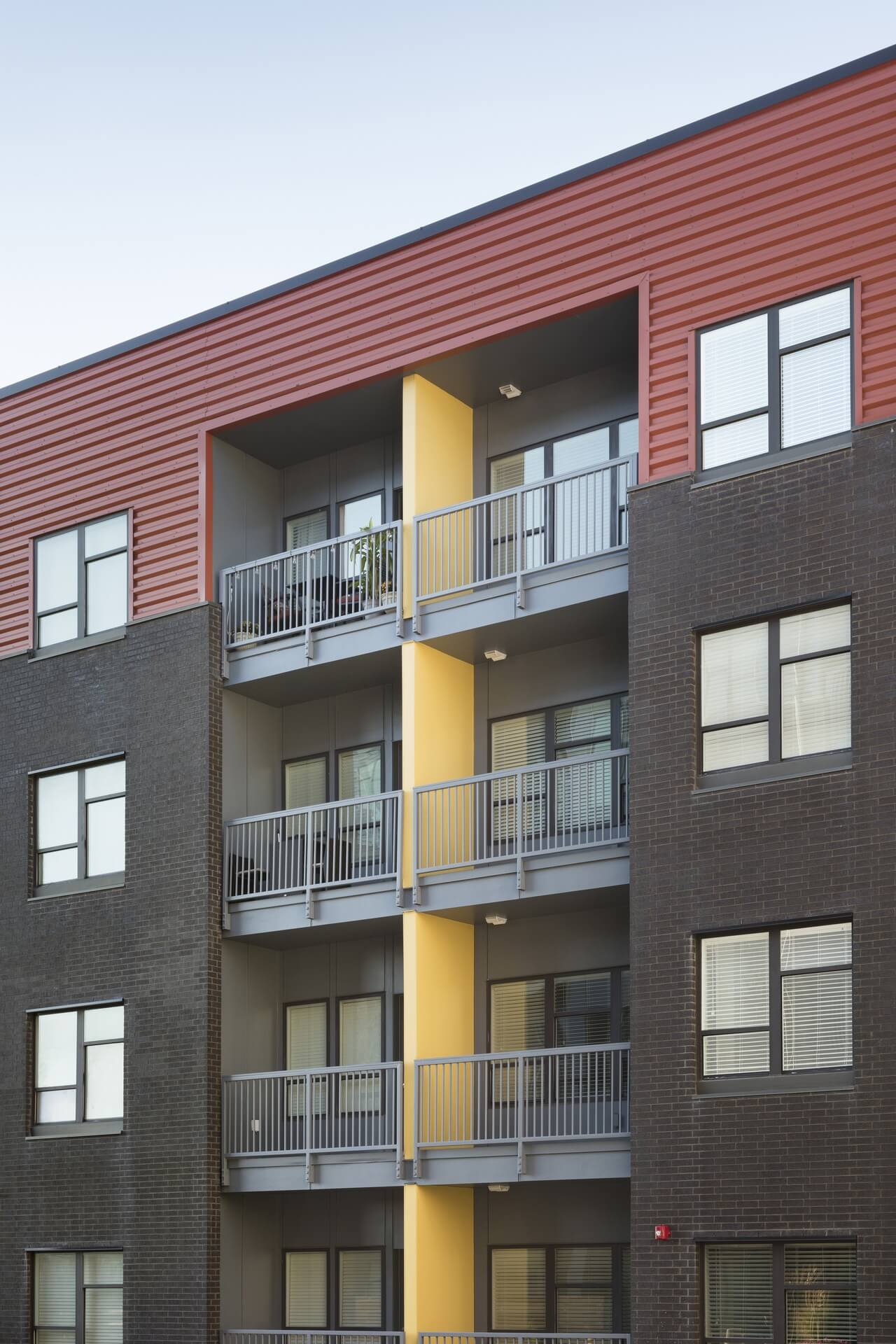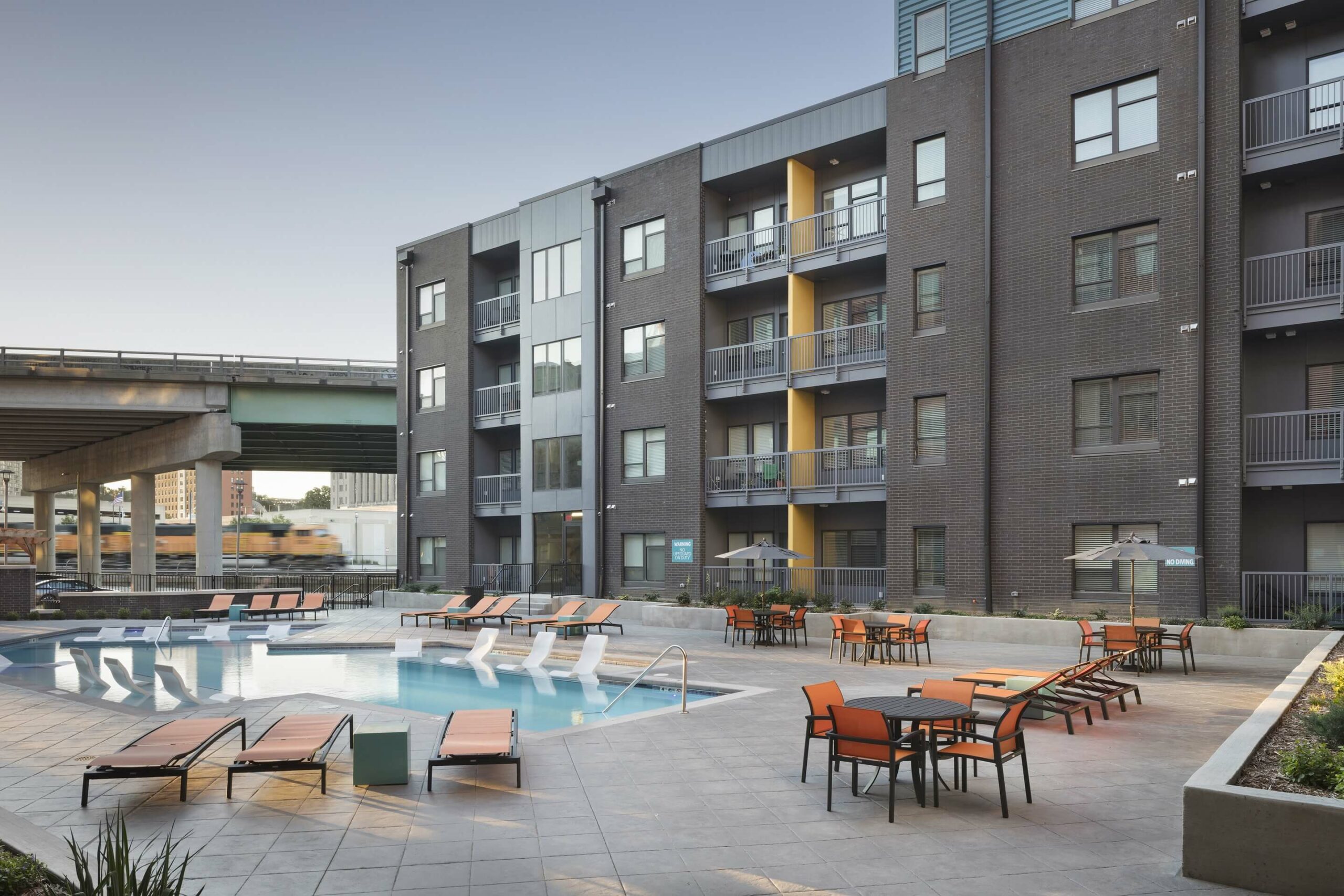 The five-story structure features 221 luxury apartments wrapped around a 323-space garage and includes an array of amenities, such as a pool, coffee bars, bicycle lockers and repairs facility, a club area and private balconies. The client wanted tenants to have urban areas, ample parking and multiple courtyards.
It was important to Cityscape Residential and the design team that the building's aesthetic was appropriate for the Crossroads area and its strong artistic presence. They gathered inspiration from their surroundings. The principal concept was derived from the railroad route running along the Southern edge of the property. Each of the building's three wings was designed to echo the form and materiality of railcars. Industrial material selection used throughout is derived from familiar railroad car aesthetic elements.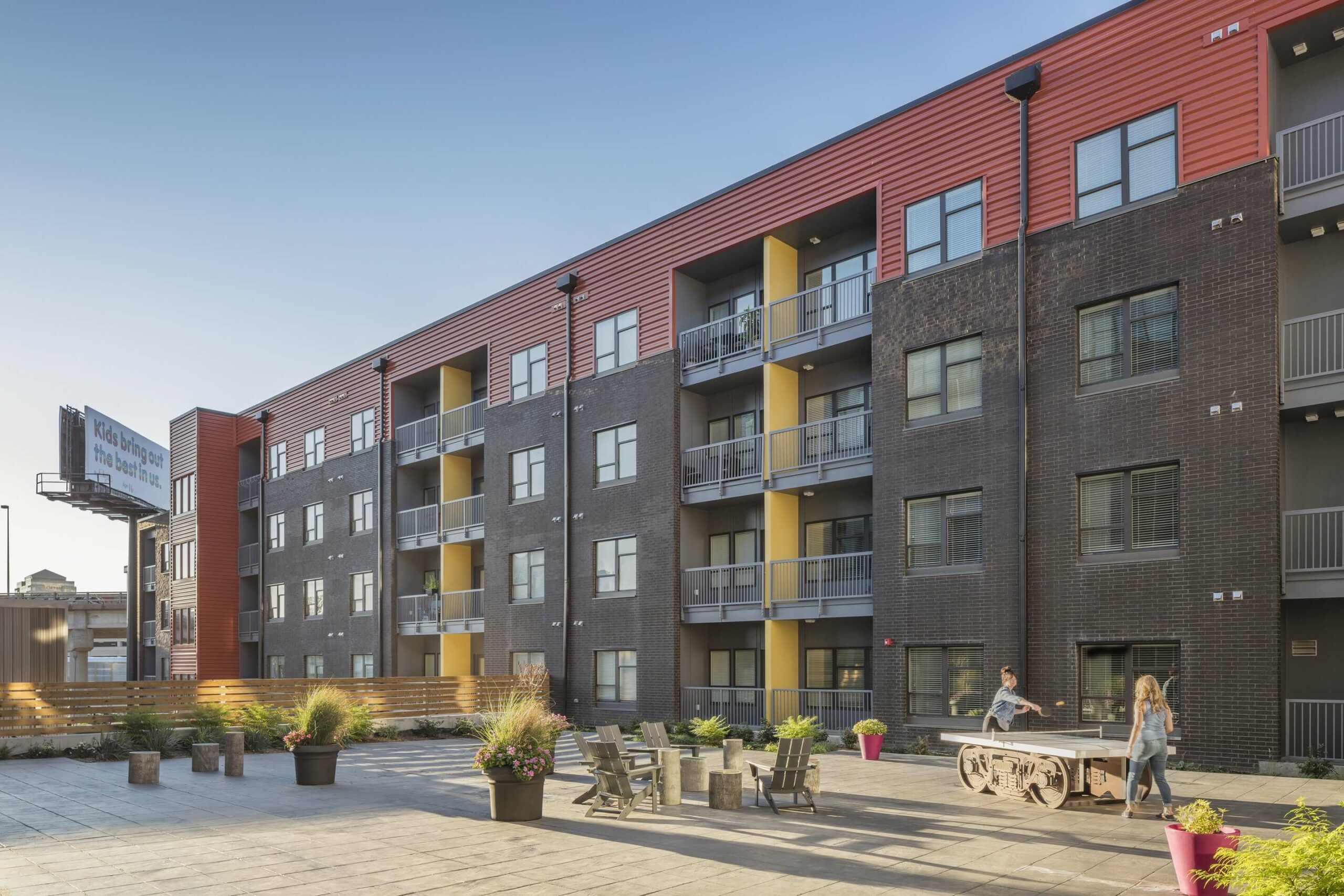 Crossroads Westside is designed to feel at home nestled between its light-industrial neighbors. Material selection for the pedestrian scale portion of the lofts is brick, which brings warmth to the streetscape and is found everywhere throughout the district. Where the apartment units meet the ground, walk-ups and retail spaces are designed to inject energy directly onto the street level and enhance pedestrian and biking habits for residents.
The overall footprint of the building generally follows the wedge-shaped area that exists between the overpasses. With billboards on the site and multiple view easements on an adjacent site, there were visible and invisible constraints that impacted the building's layout. The design team determined they could shape the building in a way that would not intrude on the aerial easements, while keeping a consistent design language between all three wings.
Photography by Bob Greenspan.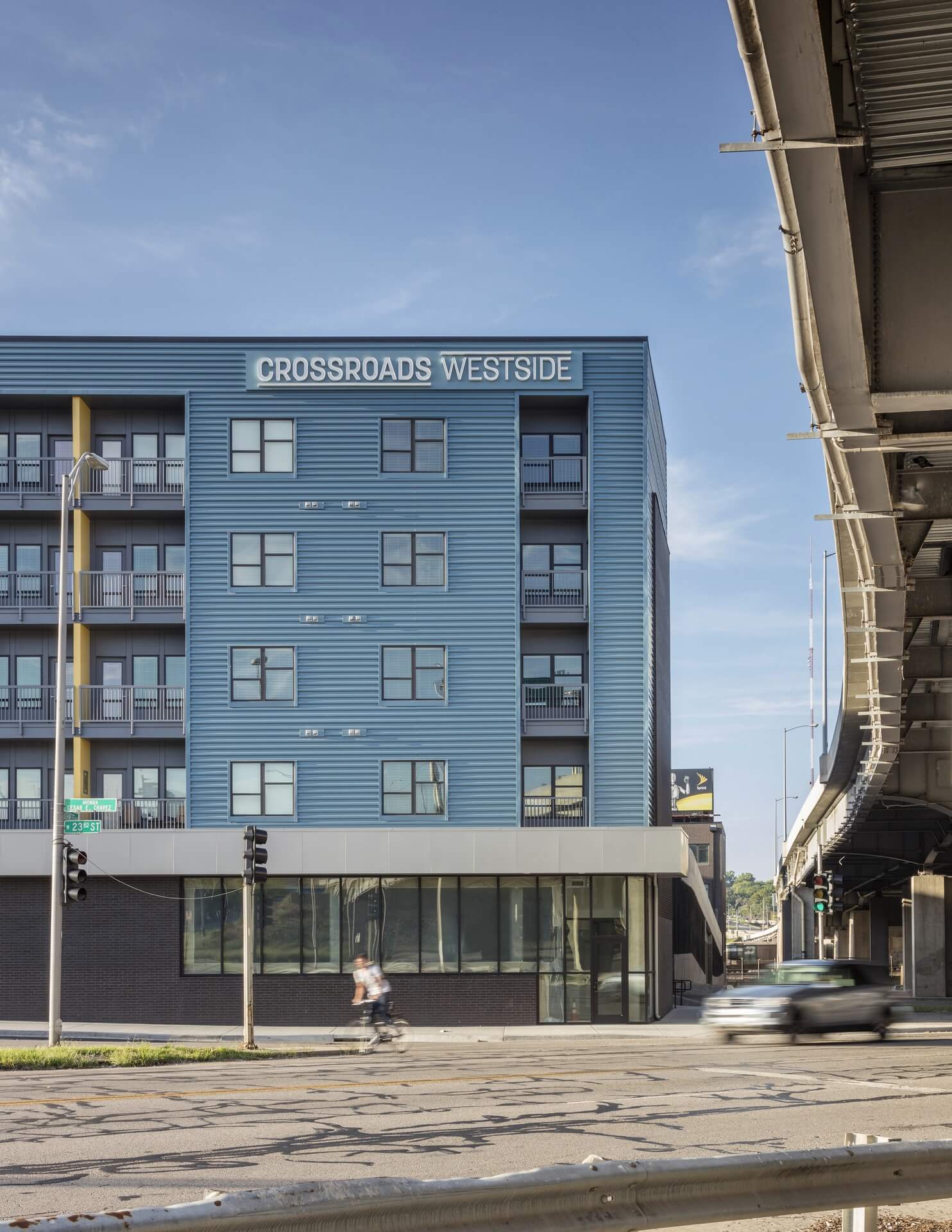 With the site bordered by busy roadways, the Helix team implemented measures to reduce noise. The walls facing I-35 and West Pennway were designed and built to have a higher STC (Sound Transmission Coefficient) rating than is typical.
Ultimately, our team was able to balance the two adjacent overpasses, aerial billboard easements, acoustics, parking, and amenities, in designing a large apartment complex that engages its urban context and will bring hundreds of new residents to the neighborhood.