History Behind Kansas City's Pickwick Plaza
One of Kansas City's earliest and largest mixed-use developments, Pickwick Plaza has a rich history as a downtown destination and transportation hub. Although the structure was substantially underutilized throughout the late 20th-century, the renovation of this iconic structure to its former glory is celebrating its grand opening today.
The large mixed-use complex, located at 9-10th & McGee streets, originally housed the Pickwick Hotel, an office building, a parking garage and one of the largest bus terminals west of the Mississippi. Designed in 1929 by Wight & Wight, the building is one of many prominent civic buildings designed by the Kansas City firm – including City Hall, the Jackson County Courthouse and the Nelson Atkins Museum of Art.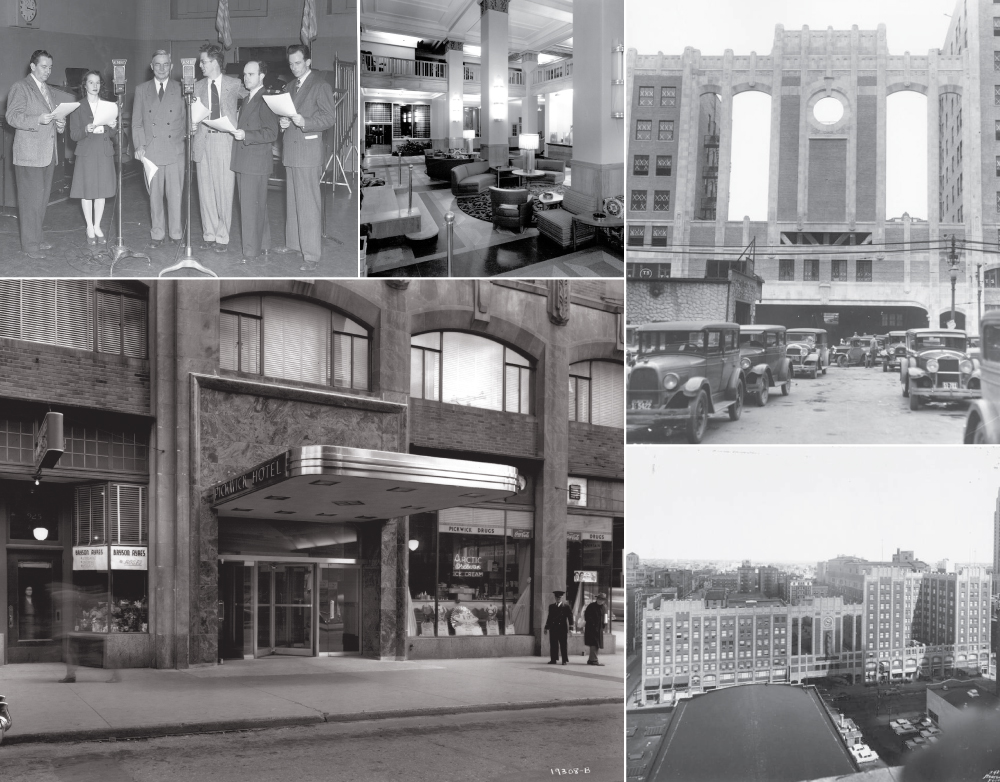 The mixed-use nature of the original building, including the hotel, office spaces, the bus terminal, retail — all within close proximity to the major governmental Kansas City buildings, anticipated a much greater future trend in mixed-use developments. The complex served business and government officials, locals and visitors, with many amenities all under one roof and a cohesive streetscape and exterior presence. In 1930, prominent radio stations KMBC and WHB relocated their operations into 11th floor penthouse addition atop the hotel building – broadcasting from that location until 1968.
The Pickwick Hotel was considered the place to stay when conducting business downtown or with government officials and was most notably known as a frequent retreat of Harry S. Truman during his early career with Jackson County government. His time in the hotel was largely spent writing what would later be known as the "Pickwick Papers" — a biographical mix of personal and political thoughts. The hotel remained operational throughout both World Wars and aided in Kansas City's growth. During that period from the 30's-50's, the bus terminal saw nearly 5,000 bus departures per month.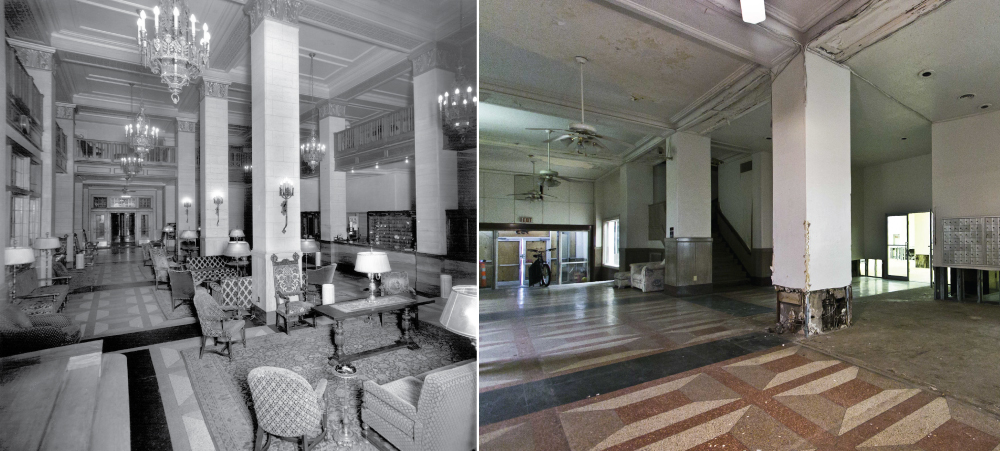 The historic Pickwick Hotel lobby as it was in 1930, and the existing conditions at the beginning of our renovation & restoration process.
Many downtown buildings were torn down during the 1950-70's, but luckily much of the exterior and primary interior spaces of Pickwick Plaza remained untouched. Following suburban flight and the national decline of downtown dwelling and public transportation in the 1960's, the building was converted into subsidized housing in 1972. The 233 units were often under-occupied and eventually left empty until a fire took a toll on the building in 1996.
The building was added to the National Register of Historic Places in 2001 and ultimately purchased by Gold Crown Properties in 2013 with the intent of converting it into 260 market-rate apartments with amenities and rental rates that would attract young professionals.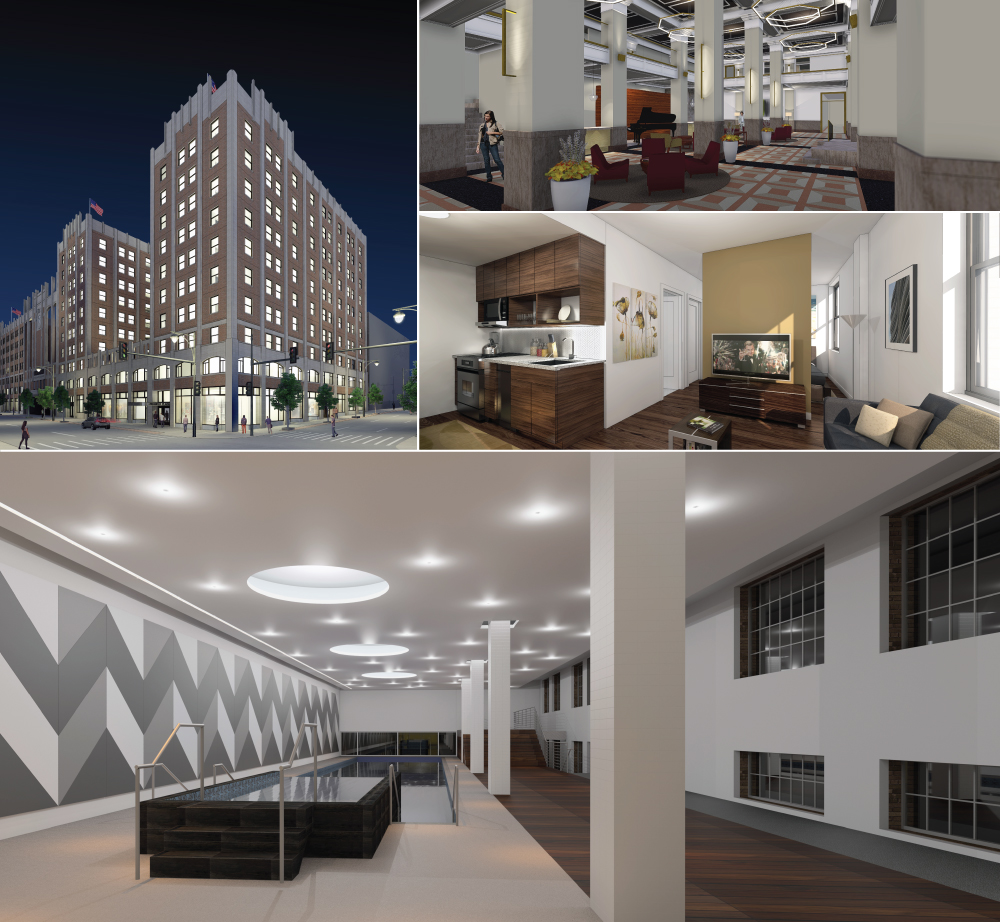 Helix partnered with Rosin Preservation to restore historic elements throughout the building. The lobby was restored to its original two-story height, allowing natural daylight to infiltrate the space. Large, historic windows maximize natural daylighting, reducing the need for artificial lighting in the units. To maintain consistency with the original character of the building and bring vibrancy to the surrounding area, Helix re-introduced street-side retail space, which has recently signed tenants such as UPS, a wine bar + restaurant concept by Cellar Rat and CityGym.
The new East 9 at Pickwick Plaza apartments feature a combination of traditional and unique amenities that are targeted towards downtown dwellers: a workout facility, a salt-water pool (located where the bus depot once was), garage parking, an office center, community room, on-grade retail, rooftop green space, high-efficiency appliances, washer/dryer hook-ups and walk-in closets. In line with the current "sharing economy" trend (think Uber and Airbnb), the City of Kansas City and developers have partnered with Zipcar — a national car-sharing company, allowing tenants to pay a monthly fee for usage of shared cars.
With its combination of residential, retail and office space, this iconic structure is once again an anchor development within the government district. We are proud to work alongside visionary developers like Gold Crown Properties to restore this historic landmark and continue to propel downtown Kansas City's redevelopment.