University of Kansas, KU Alumni Association to build Jayhawk Welcome Center
The University of Kansas and the KU Alumni Association will usher in a new era of student recruitment with the construction of a Jayhawk Welcome Center at the entrance to the historic Jayhawk Boulevard corridor of the Lawrence campus.
Funded entirely through private gifts, the $21 million, 30,000-square-foot structure will connect to the Adams Alumni Center, headquarters of the KU Alumni Association, at 1266 Oread Ave. As the new starting point for all campus visits by prospective students and their families, the Jayhawk Welcome Center will house approximately 20 members of the KU Admissions staff. The project also will include the renovation of the Adams Center, which opened in 1983.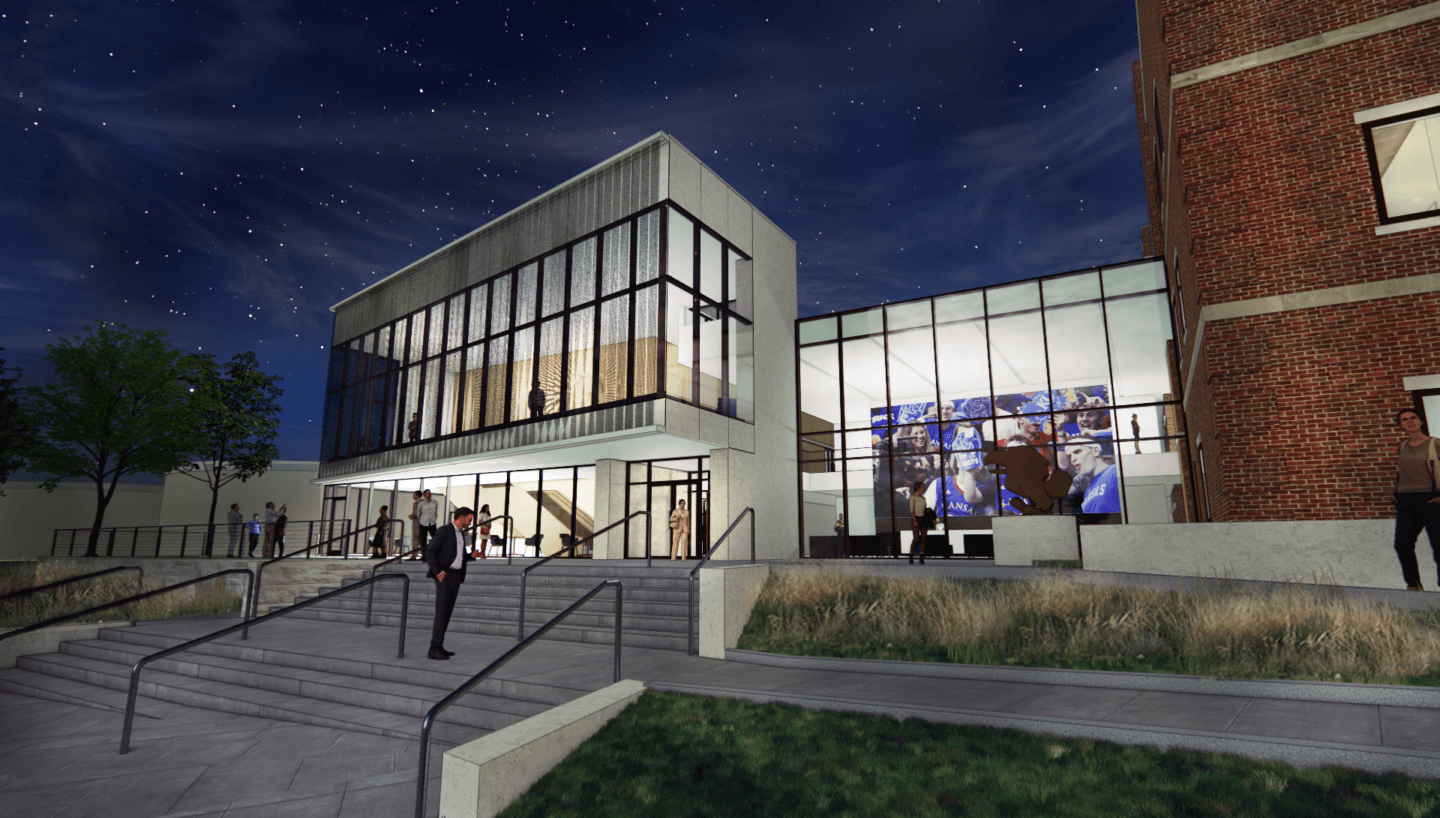 "The Jayhawk Welcome Center is going to be a real game-changer for our university." — Chancellor Douglas Girod
The Alumni Association and KU Endowment continue to seek donors to fund $8 million in remaining renovation costs, including $3 million to support new technology and $5 million to modernize the Adams Center and connect the existing structure to the new Welcome Center's event spaces.
"The Jayhawk Welcome Center is going to be a real game-changer for our university," Chancellor Douglas Girod said. "It will be a meeting place for every member of our community, including alumni, current students and, most importantly, prospective students who are visiting our campus and deciding whether to attend the University of Kansas.
"This new facility is crucial to our university given the headwinds we're facing in higher education. Across the nation, we are seeing fewer high school graduates, and that trend will continue for the next decade. That puts a lot of pressure on enrollment, which is why the Jayhawk Welcome Center is so important to our university and our mission."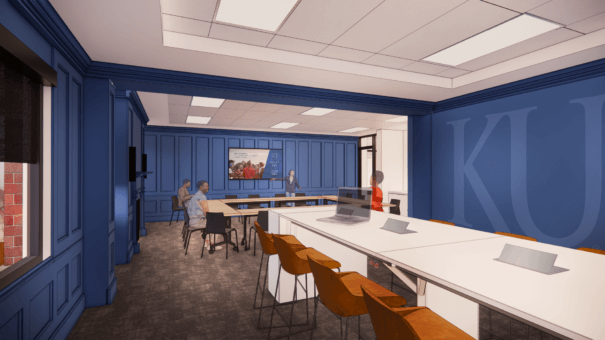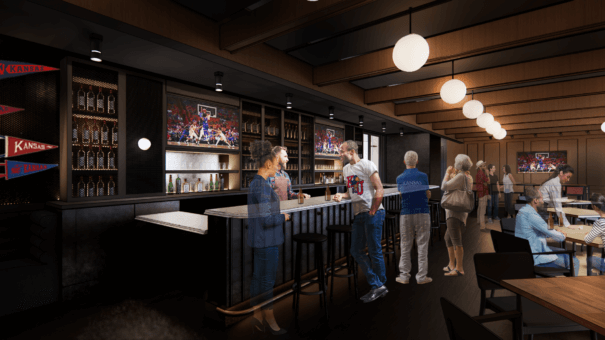 Recent KU enrollment trends confirm that the campus visit is a pivotal factor for prospective students. In 2019 and 2020, students who visited KU enrolled at twice the rate of those who did not visit campus.
Matt Melvin, KU vice provost for enrollment management, said the Jayhawk Welcome Center will play a vital role in student recruitment. "When you look at the college decision-making process, there are what we call the rational drivers of choice — quality and affordability — and emotional drivers of choice — fit and feel. The campus visit is all about fit and feel," Melvin said. "We want students who come to campus to say, 'This is a place where I can see myself changing the trajectory of my life.'"
Heath Peterson, KU Alumni Association president, described the project as an experience that will create a competitive advantage for KU. "When a prospective student and family walk through our doors, we want them to see how KU, at every step of the way, is going to position them for success, not only as a student but as a KU alumnus," Peterson said. "We're excited to create modern spaces for prospective students and families, current students, alumni, faculty and staff while preserving the best of history and tradition."
Since the Adams Alumni Center opened nearly 40 years ago, the KU alumni population has grown by more than 40%, and the Alumni Association has transformed its programs and services. The Student Alumni Network has grown to nearly 6,000 members; it's the largest student organization on campus and the largest of its kind in the Big 12. The Jayhawk Career Network, launched in 2018, connects current students with successful alumni worldwide for mentorship and career resources.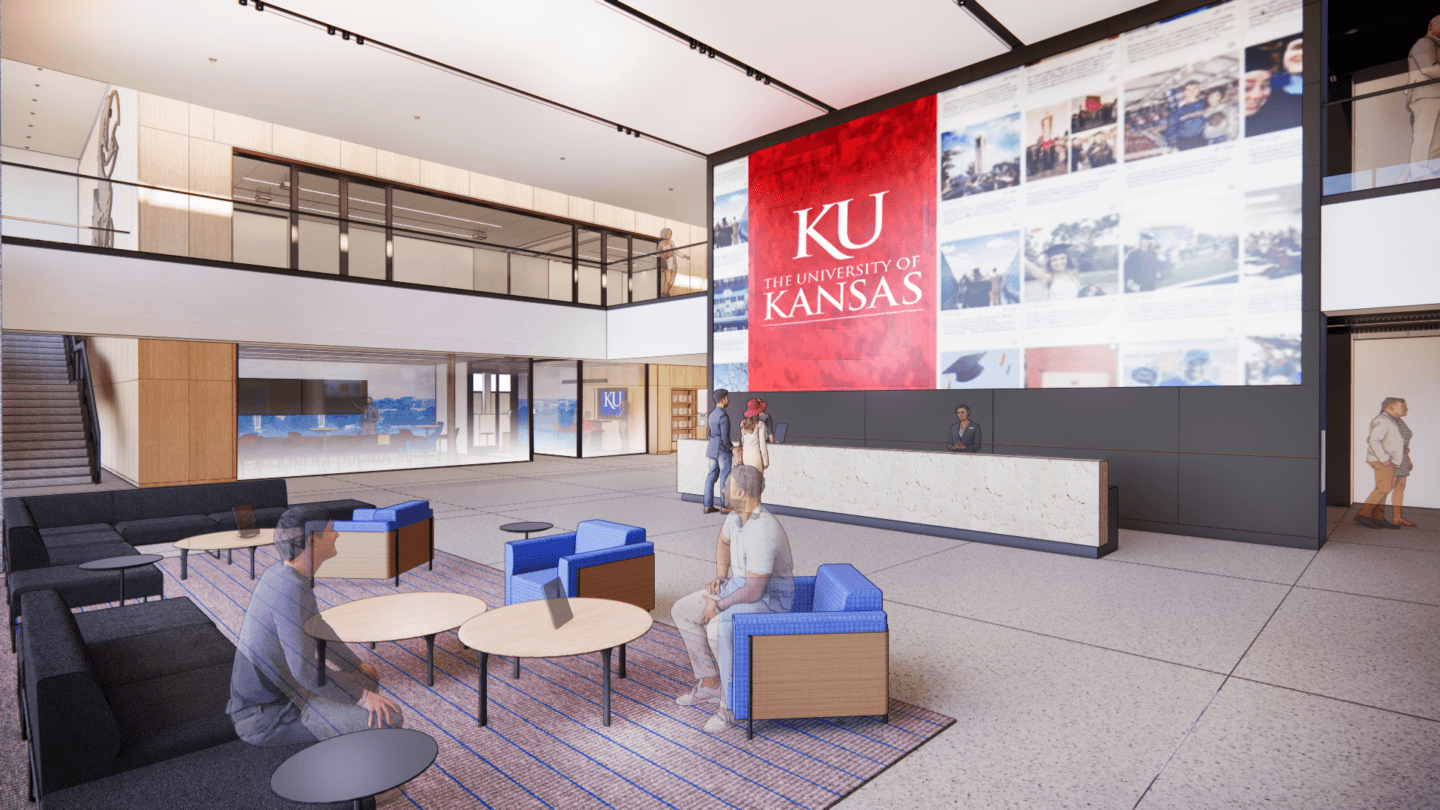 Donors to the Jayhawk Welcome Center have endorsed the project's purpose and location, said Dale Seuferling, KU Endowment president. "Donors understand that this is a critical time in the life of the University and KU must be competitive in recruiting the next generation of Jayhawks. The time has arrived for KU to up its game," he said. "As alumni reflect on their first impressions of KU, they immediately embrace the concept of a Welcome Center on Jayhawk Boulevard. That's the right location."
Features of the Jayhawk Welcome Center and renovated Adams Alumni Center will include:
expansive views of campus, including David Booth Kansas Memorial Stadium, the World War II Memorial Campanile, Dyche Hall and the iconic flags atop Fraser Hall
a two-story LED screen that will offer personalized greetings for visitors and customized videos, photo slideshows, animations and social media feeds; visitors will receive individual QR codes, which they can scan at each digital display to see content tailored to their academic, geographic or professional interests
a 360-degree virtual exhibit that captures experiences in classrooms, laboratories and Allen Field House as well as the walk down the Hill at Commencement
interactive displays of the global Jayhawk alumni network that feature alumni mentors, KU-led companies and career resources available through the Jayhawk Career Network
exhibits highlighting KU research, discoveries and innovations and KU's economic impact
stories of KU leaders and accomplished alumni, including recent graduates and notable Jayhawks throughout history
exhibits and artifacts that capture KU traditions and history
dedicated space for Student Alumni Network programs, the Student Alumni Leadership Board and Jayhawk Career Network programs
For more information on the Jayhawk Welcome Center, including construction progress, building features and donor support, visit JayhawkWelcomeCenter.org.
About the University of Kansas
The University of Kansas is a major comprehensive research and teaching university. The university's mission is to lift students and society by educating leaders, building healthy communities and making discoveries that change the world. The KU News Service is the central public relations office for the Lawrence campus.
About the KU Alumni Association
Through the support of members and donors, the KU Alumni Association advocates for the University of Kansas, communicates with Jayhawks in all media, recruits students and volunteers, serves the KU community and unites Jayhawks. For more information, visit kualumni.org.
KU Endowment is the independent, nonprofit organization serving as the official fundraising and fund-management organization for KU. Founded in 1891, KU Endowment was the first foundation of its kind at a U.S. public university.