The Integrated Workplace, Part 4: How the office can help recruit and retain talent

"If hybrid work is perceived as a non-negotiable element of work for the future, the office is recognized as pivotal to the new hybrid routine." — JLL, Workforce Preferences Barometer, 2022
The hybrid working model — once considered "the future of work" — has become part of our everyday lives.
As companies struggle to attract and retain talent amid the "Great Resignation" and asking employees to return to the office, hybrid work is no longer seen as just a perk. According to The Predictive Index, a third of executives believe the top reason their employees are leaving during the Great Resignation is because of inflexible work options.
Many people thought the rise of remote work during the pandemic would make the office irrelevant. But even as employees push for flexibility and the ability to work remotely, ongoing research shows that for many organizations, the office continues to be an essential tool for maintaining company culture. In the midst of an aggressive drive to recruit and retain talent, companies who move quickly to align their office space and culture with flex work policies will emerge at the forefront.
Helix principals Erika Moody and Alissa Wehmueller have leveraged their depth of workplace design expertise to guide our clients through an in-depth analysis of the role their workspace plays for their employees. They've gained real-time insights into how the office can be a powerful tool in sustaining a company's most important asset — its people. Here's a look at how three of our clients are evolving their space to respond to hybrid work policies: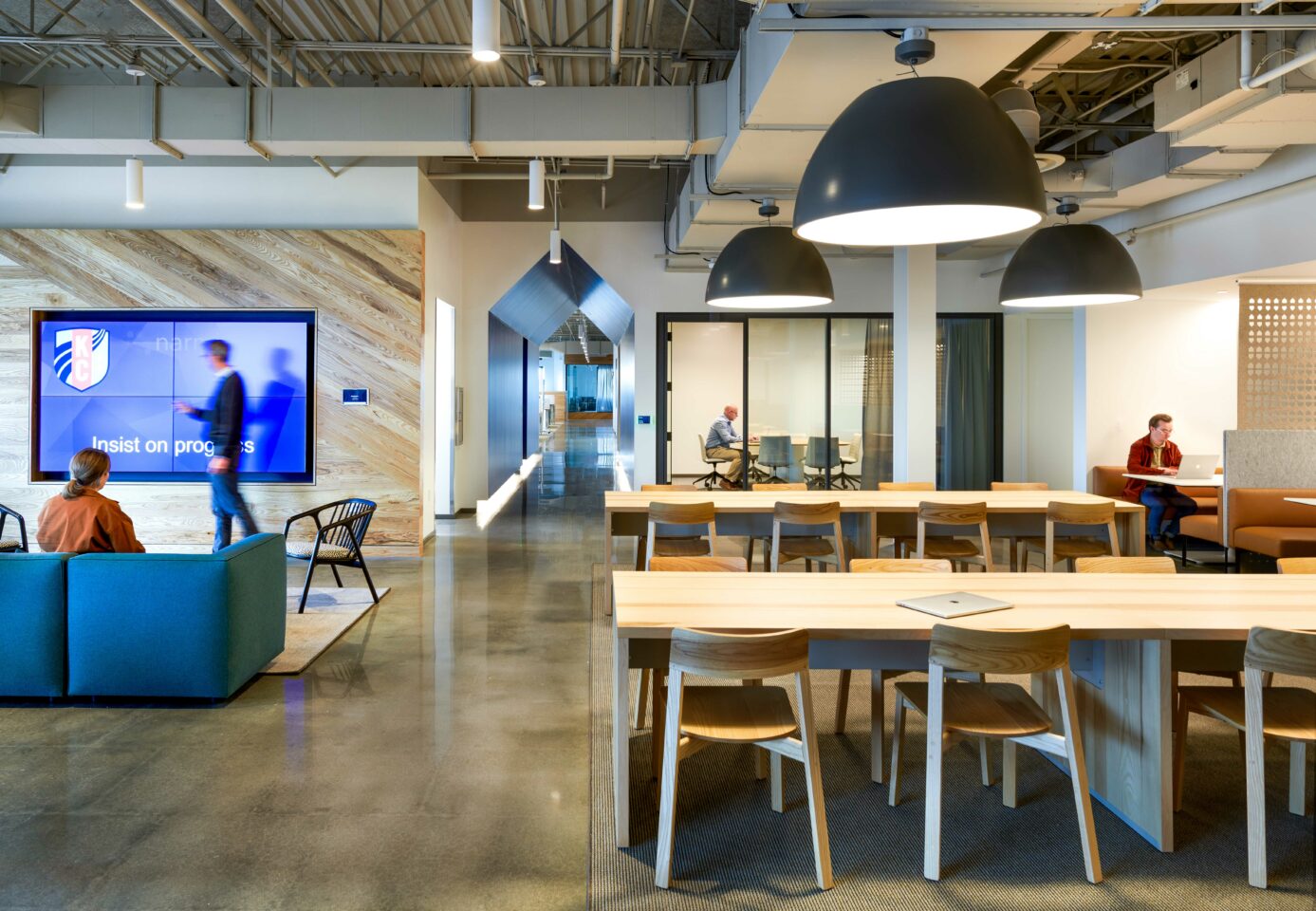 From I to We: Reallocating space from workstations to community gathering spaces
When Helix started working with a government tech company in 2021, their leadership saw their new workplace as an opportunity to foster connections among their employees.
In a time where many organizations are taking less space, their new office space will have the same square footage but reallocates their footprint by reducing private offices in favor of open-office workstations and a variety of different working postures. Although 80% of the workstations are assigned, the increase in training rooms, meeting areas, and formal and informal gathering spaces will cultivate a more open, collaborative environment.
The shift from individual to collaborative work space was in motion before the pandemic, but the hybrid work model has accelerated its implementation. Strategically investing their real estate dollars into a right-sized, high quality office will have a two-fold benefit for the tech company: employees who work within the office can more effectively work together, and the hybrid work model will allow the company to comfortably grow within the same footprint.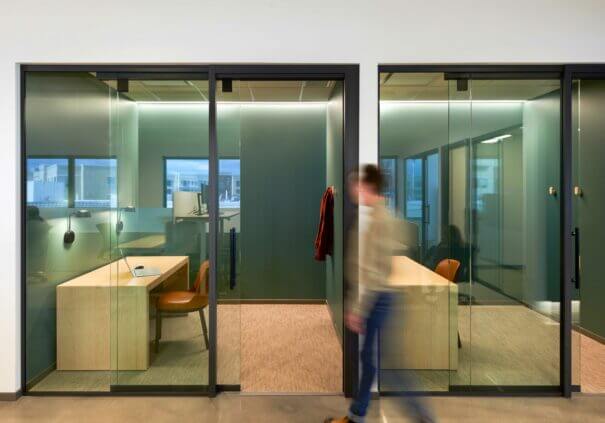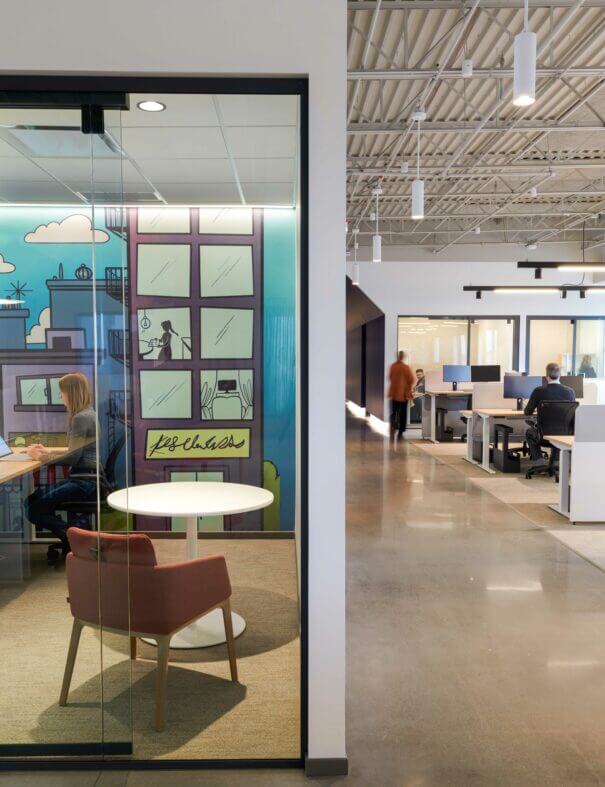 From Mine to Ours: Implementing free address
The onset of the pandemic and working from home just happened to coincide with First Federal Bank of Kansas City's (FFBKC) search for a new office. After seeing their employees successfully adapt to working from home, FFBKC understood that the purpose of their workplace has evolved. They turned their attention to creating an amenity-rich destination for their employees. Their first move was to find a space that was half of the square footage they originally thought they needed.
During programming conversations, Helix and FFBKC uncovered several drivers to create a new headquarters that is designed with intentionality and maximizes the entire footprint. They knew that some of their employees were craving in-person interactions and that certain roles were more mobile than others.
To fit their new hybrid work model, FFBKC embraced a free address seating approach— a dramatic departure from the private office environment they left. The office has 70 workstations to serve their 150 employees, and 94% of those workstations are unassigned. Clustered in neighborhoods throughout the space, the workstations are equipped with the tools that employees will need to be productive. If all members of a team come into the office for the day, they can sit together in a neighborhood for ideal collaboration.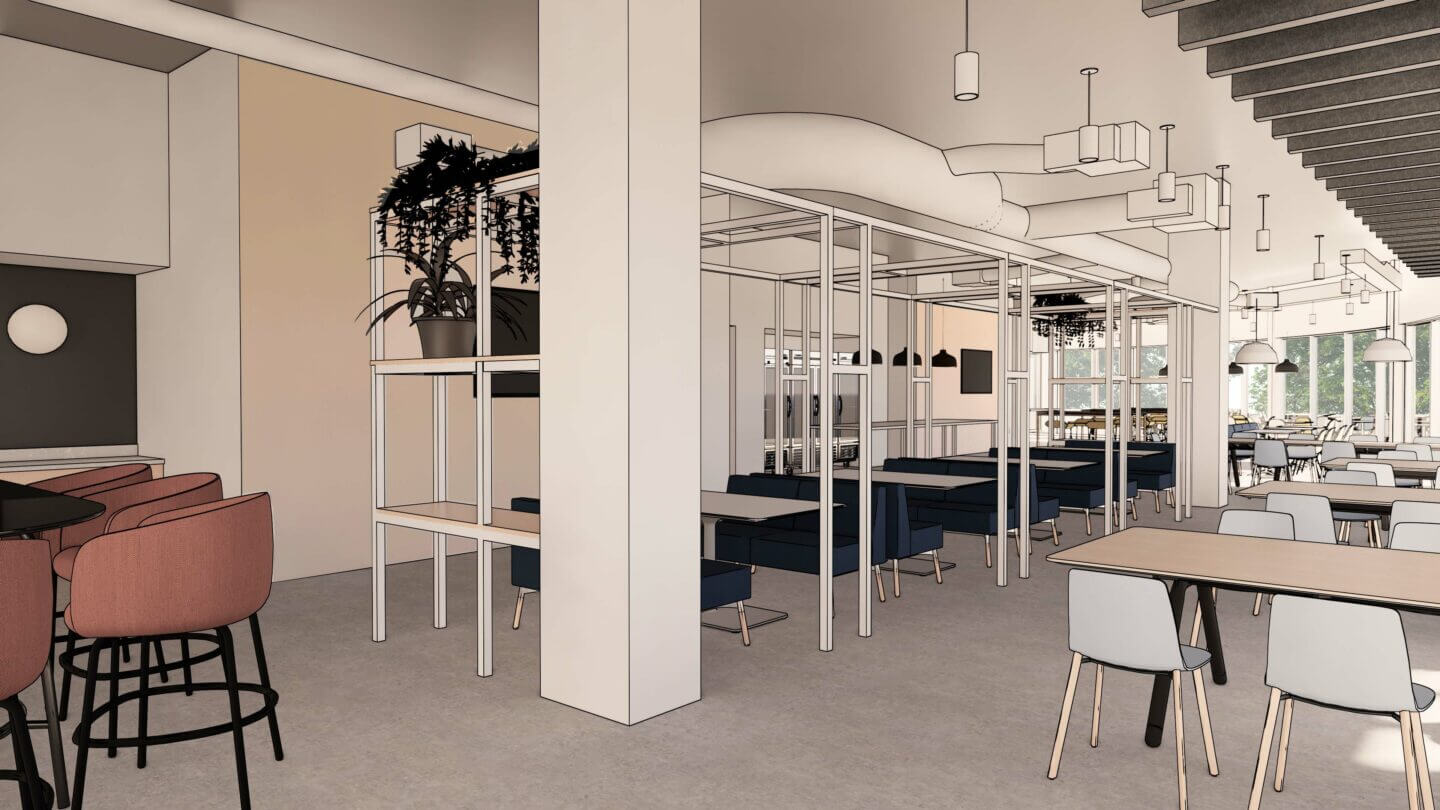 From Here to There: Creating an equitable working experience for remote and in-person employees
On a larger scale, a local member services organization recently engaged Helix to help them determine how much space they need for their 400+ associates, many of whom are working from home. Early programming conversations involved thoughtful discussions on what is currently working for their associates as they work from home, what they get at the office that they can't get anywhere else, and what kind of space they need.
Helix and the organization honed in on strategies that would retain their employees by promoting equity of space, regardless of whether they choose to come into the office or work remotely. Similar to other clients, the organization can shift its footprint from individual work spaces to collaborative meeting areas. All of these meeting spaces will be arranged and equipped with the proper technology to create a seamless experience for both in-person and remote attendees. This helps to ensure that no employee feels that their experience is inferior if they work remotely.
Helix's workplace design leaders Erika Moody, FIIDA and Alissa Wehmueller, IIDA, WELL AP, LEED AP can delve into your company culture and guide your organization through the critical conversations that determine how your office can work for your employees. Contact us at [email protected] to learn about how we can help you find actionable strategies for optimizing your office.