Synergy Services Children's Center Receives AIA KC Design Excellence Award
As a firm that focuses on people-centered design, we measure our success on the impact a building has on the people it serves. At Helix, we are perpetually in search of opportunities to go beyond the functional need of a space and create an exceptional experience. One of our projects that exemplifies this approach, the Synergy Services Children's Center was recognized with a "Merit Award" in the Architecture category at AIA Kansas City's annual Design Excellence awards.
Synergy Services is a Kansas City non-profit that helps victims of family violence find the safety, support, strength and skills needed to change their lives. Through a generous donation, the organization received a 2,500-square-feet, nearly 100-year-old farmhouse on a wooded, six-acre site. The home itself was not large enough to address their full programming needs, so Helix developed a plan to renovate the house and build an addition that was safe and welcoming for children of all ages. Drawing inspiration from the site, the design team created a concept reminiscent of a camp or cabin. The finished space feels warm and inviting, with wood finishes and connections to the surrounding acreage.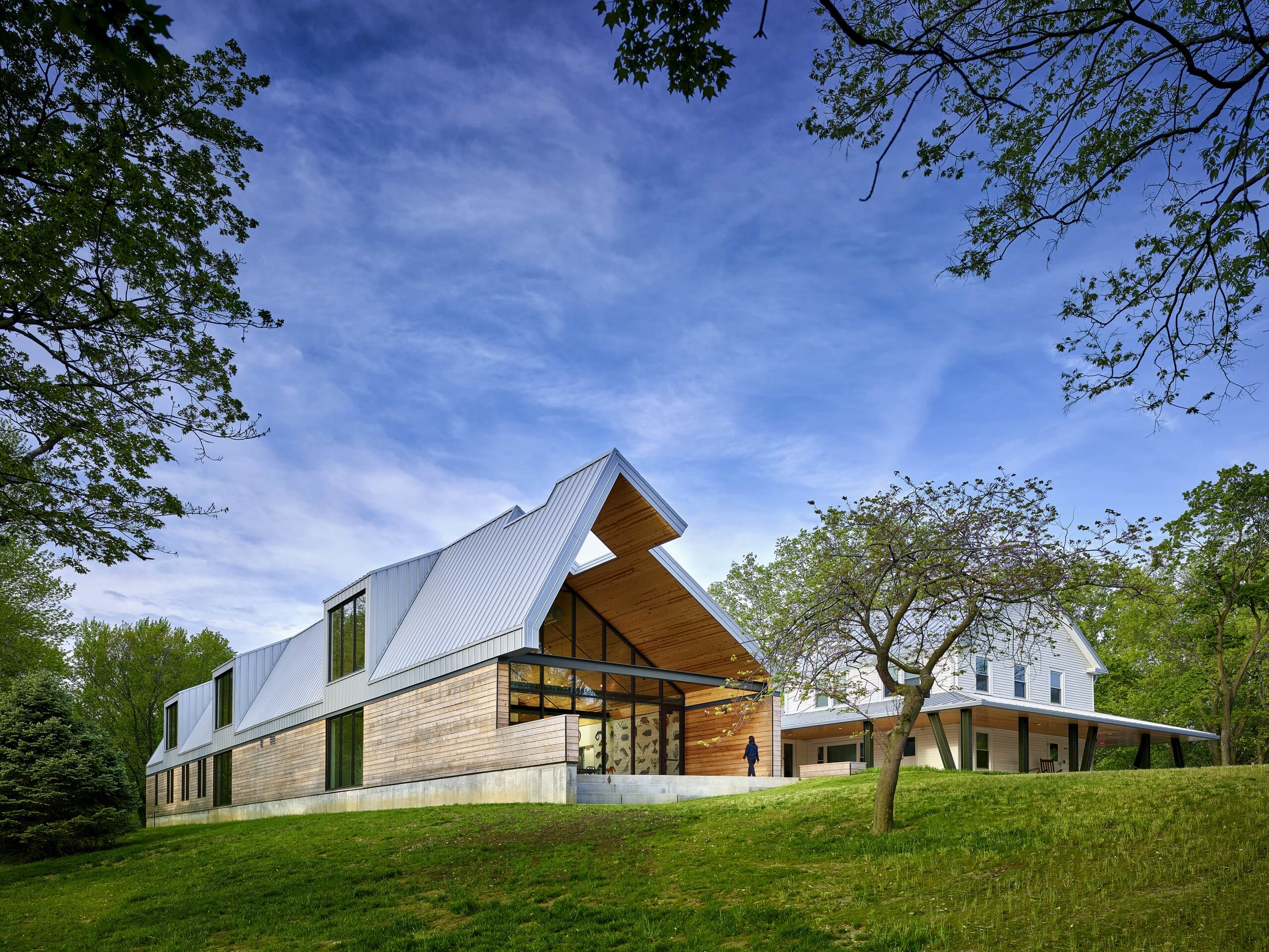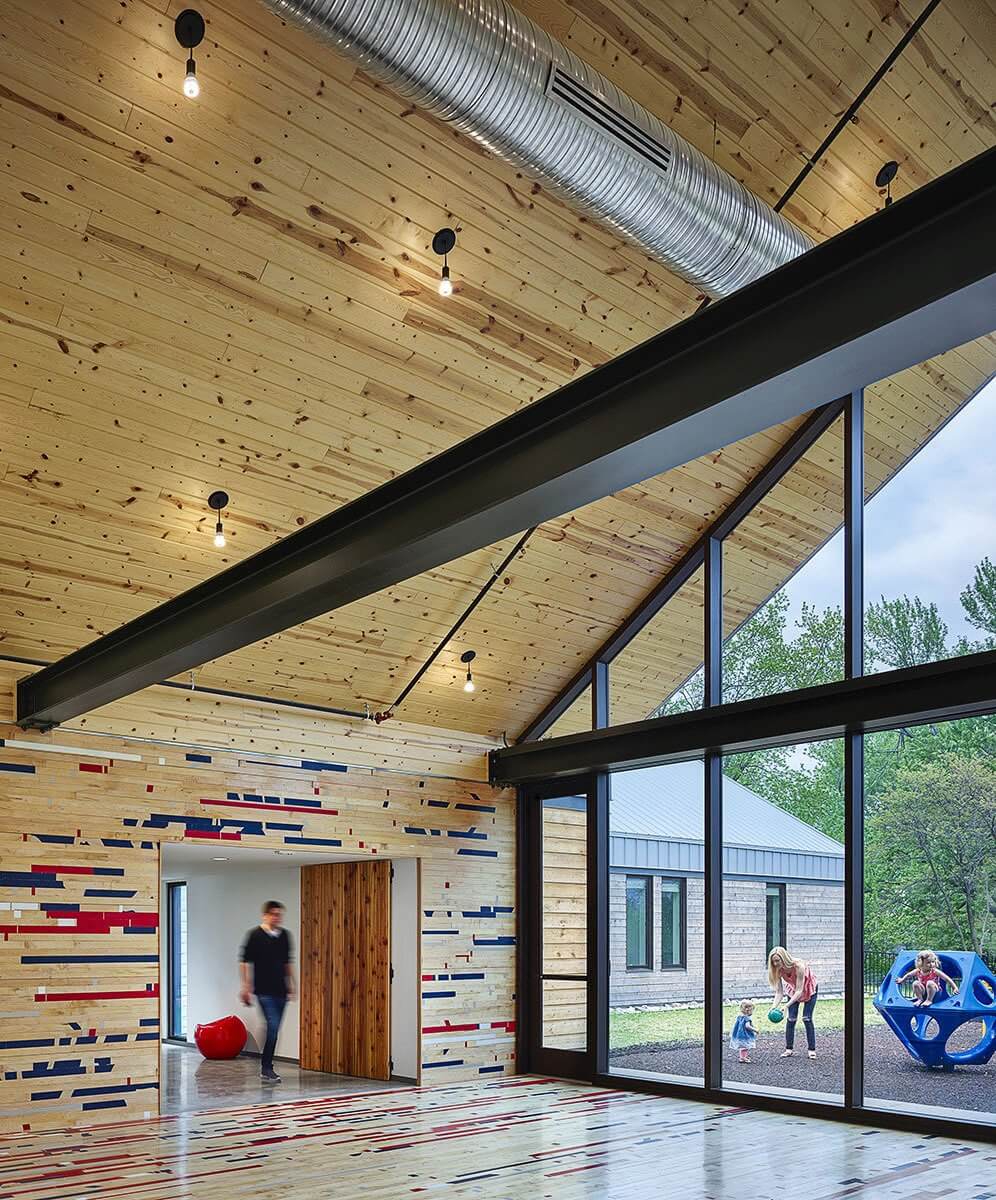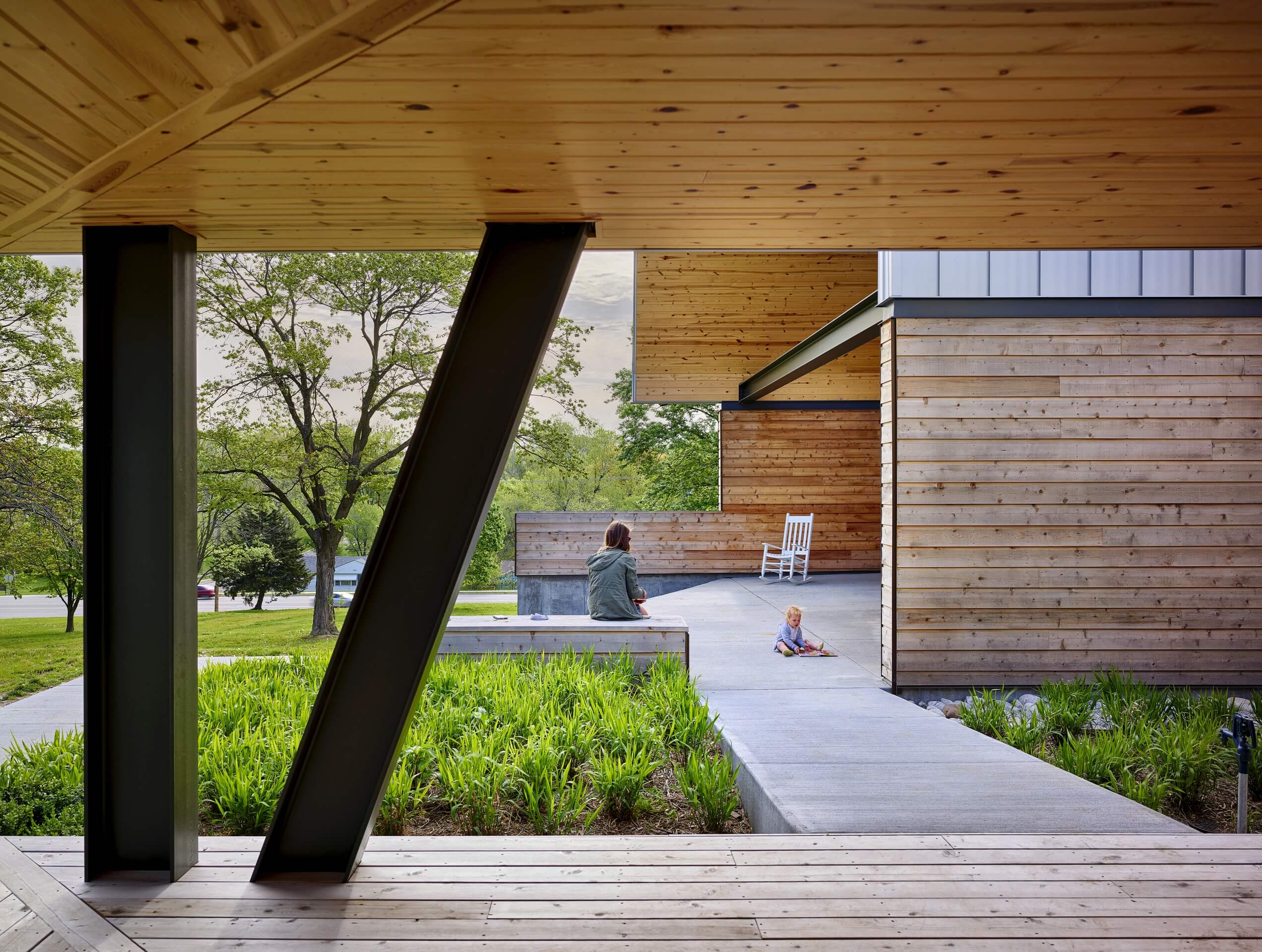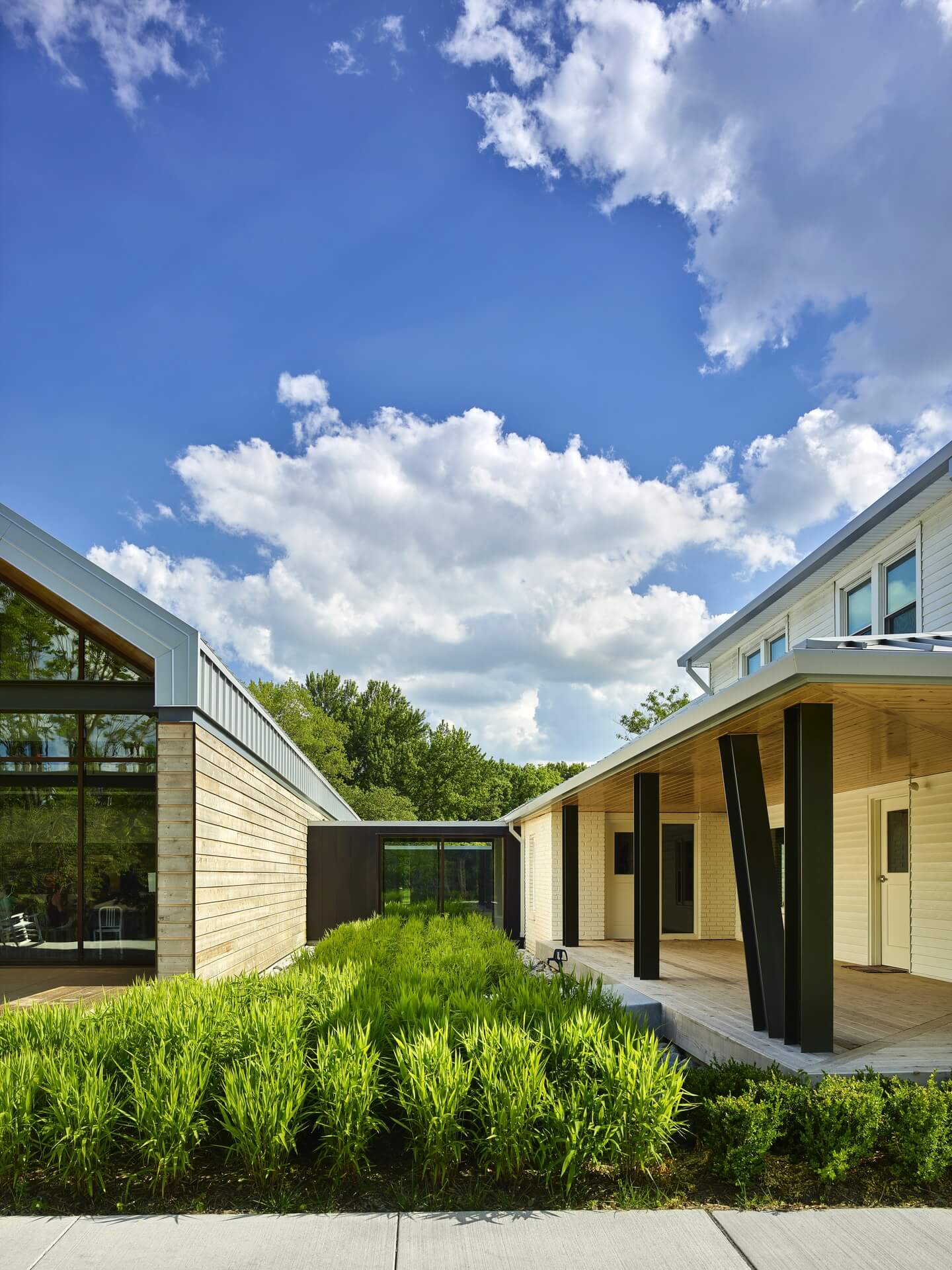 "The relationship between the old and the new was very strong, and the way that the new building was clearly of itself but created a strong dialogue with the original structure through the use of details, scale, proportion and form. The project was nicely filled with daylight, used the landscape in an interesting way to create courtyard spaces, and it really was excellent for its use."
— AIA Kansas City jury comments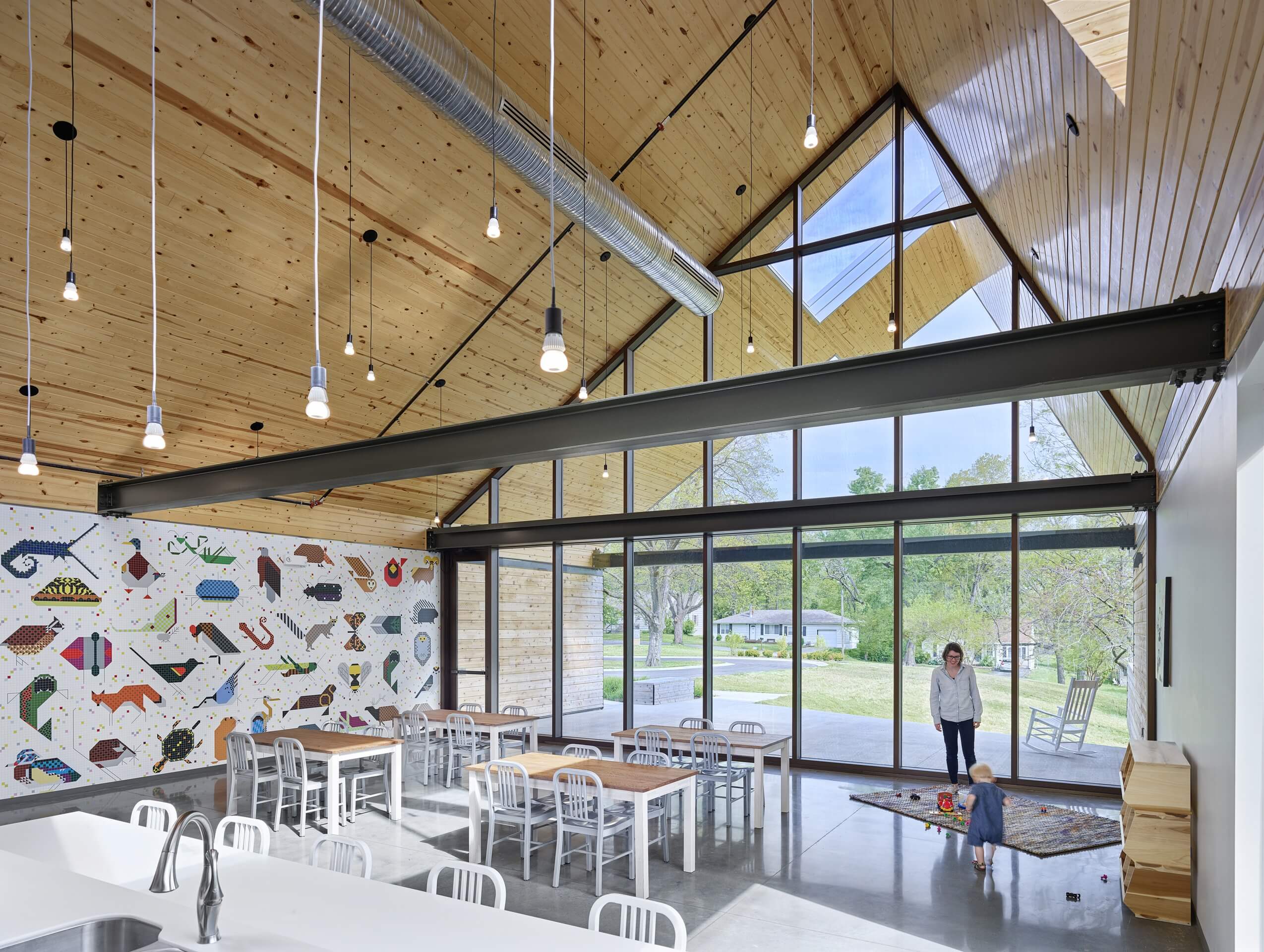 The farmhouse was repurposed to house counseling rooms, a therapeutic art room and a living room space. The 7,500 sq. ft. addition includes a dining room, bathrooms, bedrooms and a large open multi-purpose playroom with adjacent playground. An abundance of natural light and views to the surrounding woods were integrated to draw the outdoor environment into the interior. Natural pine wood was used inside and out to further this concept and add warmth to the overall space.
In addition to creating an environment where children feel at home in a safe, healing place, the design team also wanted to make sure that the children felt that this was a place where they could play without hesitation. Details, such as the Charlie Harper wallpaper filled with animals and durable walls and floors made of reclaimed wood from a gymnasium clearly communicate that this is a special place designed just for them. Vibrant color was used playfully in key spaces but sparingly in others to make the building into a canvas for the children and their own art.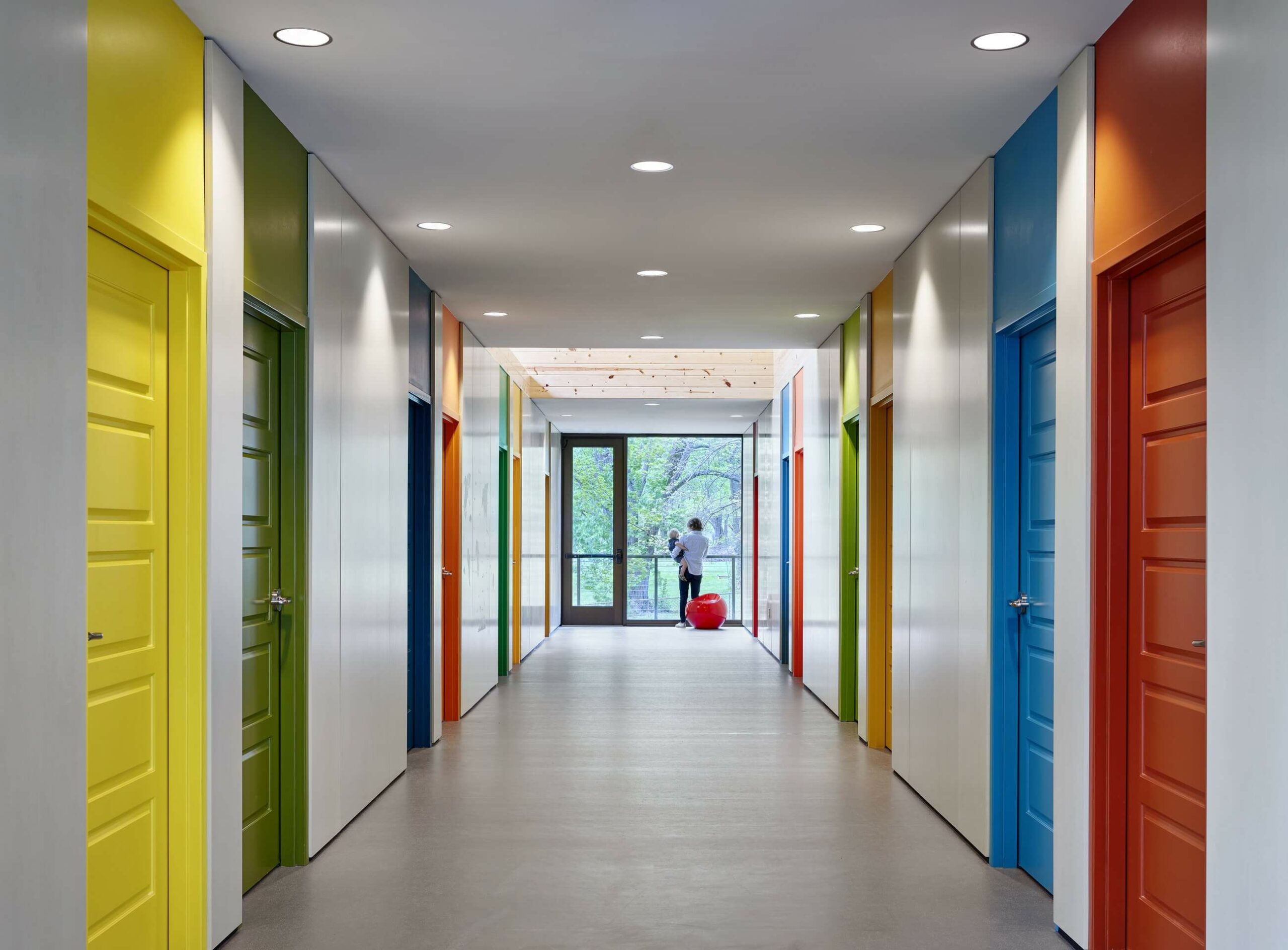 The new building has been an overwhelming success for Synergy; executive director Dennis Meier shared, "Everybody that comes here just falls in love with it." With the new center, Synergy has been able to serve twice the number of children as they did in the past.
AIA Kansas City also recognized two projects designed by Helix principal Doug Stockman while he was with El Dorado Architects: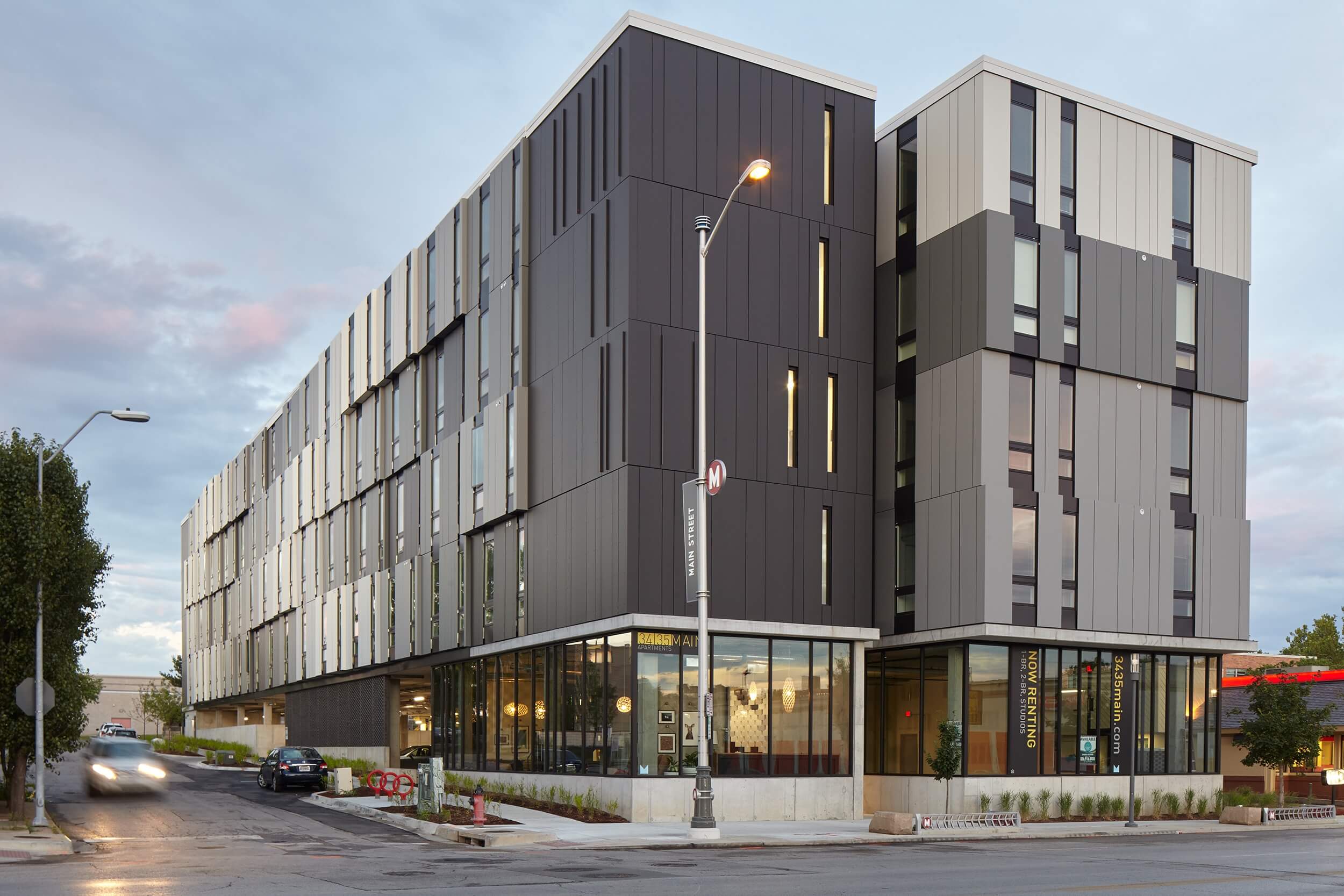 3435 Main — Honor Award, Architecture
"We really appreciated seeing a prefabricated module being used to achieve the quality of craft on the interiors, and the way that the module was pushed and pulled on the exterior facade created a nice energy." – Jury comments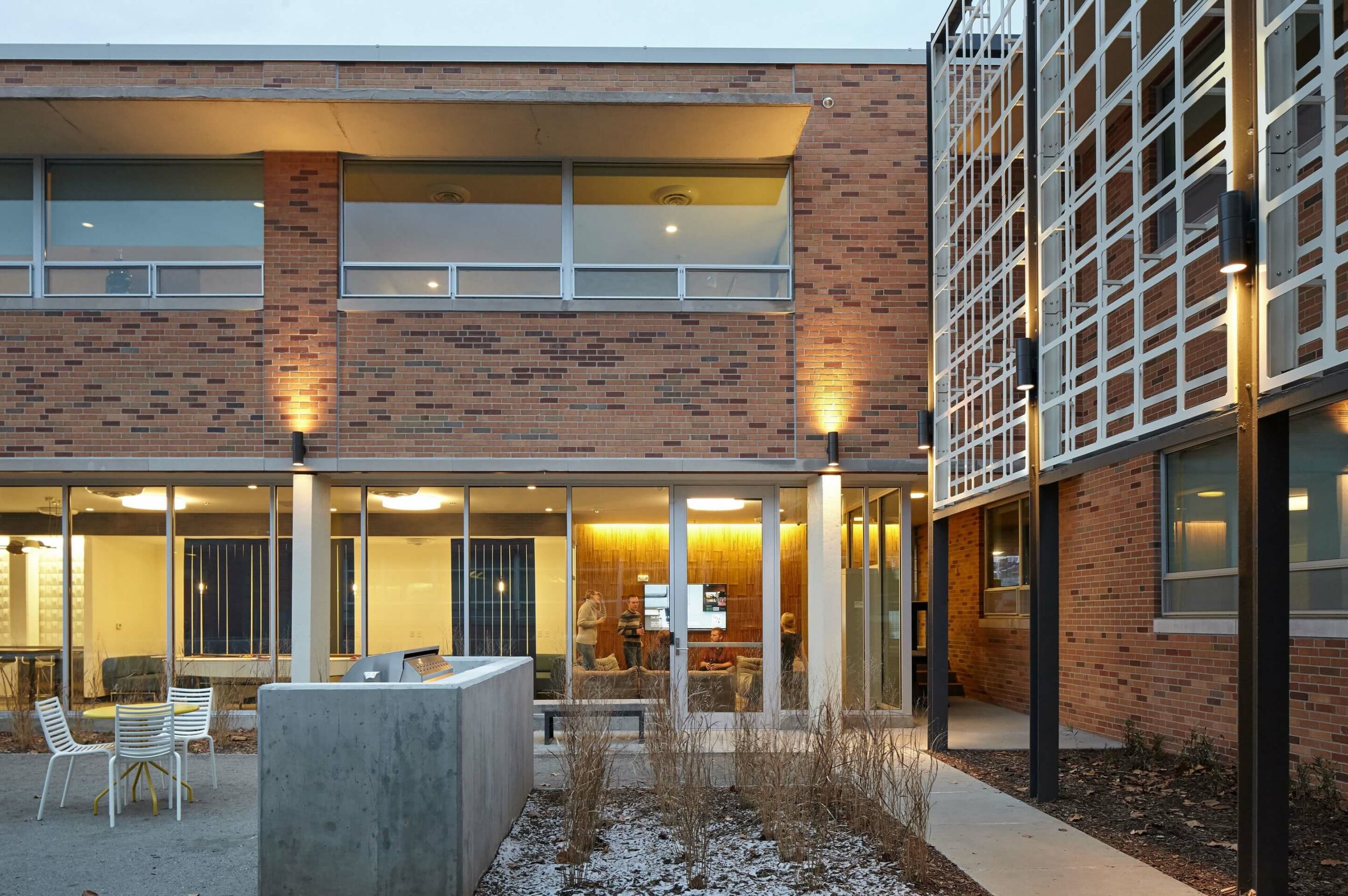 Interstate Flats — Honor Award, Architecture

"The project was about the original building, and actually taking it further and making it better. The architects riffed on a lot of the things that were in the original design and concepts, and they reveled in the details." – Jury comments
Of the 103 submissions received, 18 projects were recognized with Design Excellence awards. The 2018 AIA Kansas City design award jury was comprised of nationally recognized designers, including:
Matthew Kreilich, FAIA — Design Principal, Snow Kreilich Architects, 2018 AIA Firm Award winner
Jennifer Newsom, AIA — Architect, Artist, and Co-Founder of Dream The Combine, MoMA PS1's Young Architects Program winner
Jennifer Yoos, FAIA — Partner, VJAA, 2012 AIA Firm Award winner
Congratulations to our team members, clients and engineering/construction partners that helped make these award winning projects a reality!
Synergy Services Children's Center photography by Michael Robinson. 34 Main and Interstate Flats photography by Mike Sinclair.