Returning to the Office: Tips and tools to help you prepare your workspace

In the coming weeks as cities lift social distancing requirements, businesses will face the unprecedented challenge of determining when and how to return to the office environment. After months of working from home, our cultures have adapted and new technologies have been adopted. Although some of the changes we will make in response may be temporary, some will become lasting shifts in our physical workspace and our company cultures. As we embark on formulating Helix's own plan for returning to the office, we have the benefit of in-house workplace strategists that are guiding the process. While the plan for each company will vary, we wanted to share the insights and tools that we are developing to help you — our clients and friends in the business community — navigate the path forward.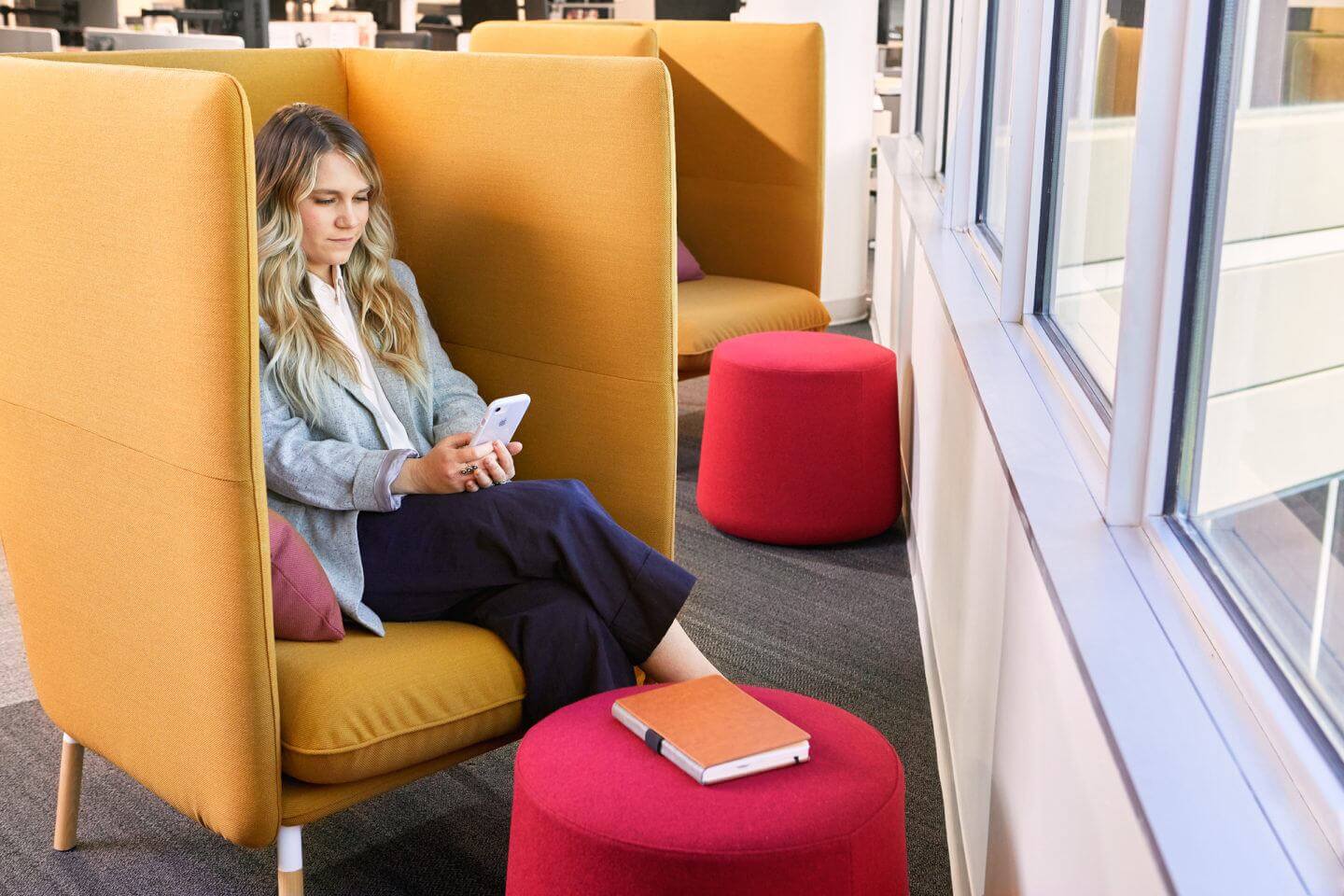 "We left the world in a very dense place."

The first, and perhaps most critical, step is to gain feedback from our staff, which will inform both our short-term plan for returning to work and long-term strategy for creating an integrated workplace. We developed a brief survey for our team members to understand what aspects of remote work are benefiting them, what challenges they are facing, any concerns they have about returning to an office environment and what we can do to create a safe, healthy and welcoming space to which they can return.
Modern office environments were not designed with social distancing in mind. As Helix principal Alissa Wehmueller noted in a recent podcast, "We left the world in a very dense place." In the short term, we anticipate workspaces will need to accommodate social distancing, not only for the physical health of employees but also the emotional wellbeing and peace of mind it offers. In our own office we are developing strategies to adapt our existing space without a substantial cost investment. These strategies can be simple and easy to implement — which means you do not need to completely revamp your workplace.
Cornerstones of our own plan include:
Adjustments to open office seating plan with 6 foot radius denoted at each workstation
Reducing seating capacity within conference rooms
Developing signage that clearly communicates protocols
Identifying ideal paths of travel to avoid cross traffic
Adjustments to existing furniture to create additional private seating areas for video and conference calls, as well as focused work
The new floorplans and protocols will be distributed to our entire team in advance of returning to work.
Along with appropriately distancing staff, we are developing additional protocols to instill confidence that we see our team's health and wellbeing as our top priority. In addition to enhanced professional cleaning, we are:
Implementing guidelines for individual cleaning practices
Placing cleaning products, hand sanitizer, masks and gloves in easily accessible areas throughout the office
Developing signage that clearly communicates all protocols
Installing touch-free door hardware in high traffic areas
Removing all unnecessary items that people would potentially share or touch
Adopting a "clean desk" policy to allow for easier professional cleaning
Providing disposable desk pads to be used in individual and shared spaces to minimize touching surfaces
While the immediate threat of COVID-19 will subside as treatments and a vaccine are developed, the expectations for health, safety and wellness will have a lasting impact on how we interact with each other and our work environment.
Virtual + Physical Workspace Integration
Realistically, most companies will have individuals that cannot return to the office environment. Currently, our company cultures live in the virtual world. As our offices reopen, it will be important to integrate our virtual and physical work environments to create a cohesive experience for all team members. How does your physical workplace support your virtual workers and vice versa? We are reviewing existing technology within our office to identify areas where we could strengthen connectivity between our team members, and we are soliciting feedback through our employee survey on any technology challenges that team members are currently experiencing at home so that we can respond with the appropriate solutions.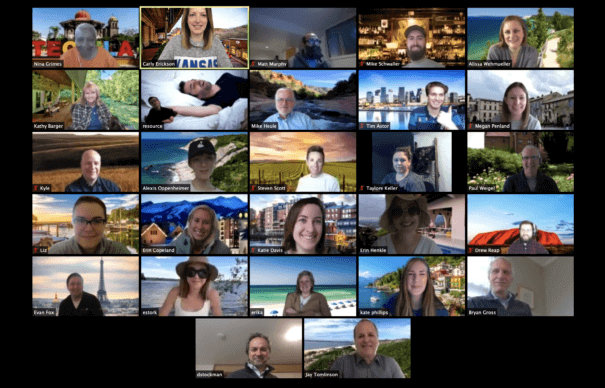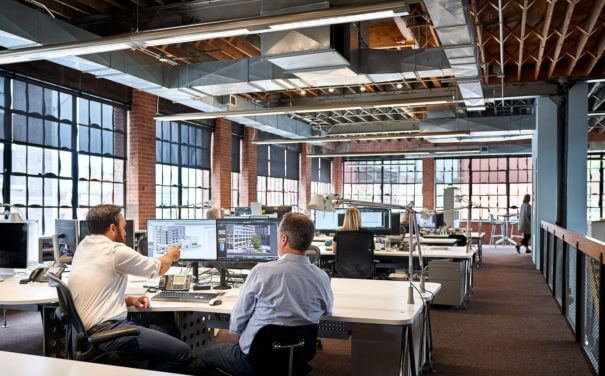 After months of working from the comfort of our homes, we have all developed new habits and workflows. As we transition back to the office, it will be more important than ever to create a warm, inviting place that connects us to our team members, our culture, and our organization's mission. Key aspects of working from home that our team has enjoyed include spending more time outdoors, integrating fitness throughout their day and having flexibility to work when they are most productive.
A few simple changes we are making to respond to this feedback are:
Incorporating additional plants throughout our office — this has the dual benefit of enhancing indoor air quality, while supporting biophilia and our innate connection to nature
Continuing our Helix Fitness Challenge to connect staff that work from home and work from the office
Slowly transitioning team members back into our office while providing flexible work hours
These small but meaningful changes reinforce our culture and beliefs. Beyond providing a comfortable workspace, we will be continually looking for ways we can insert beauty in the work environment.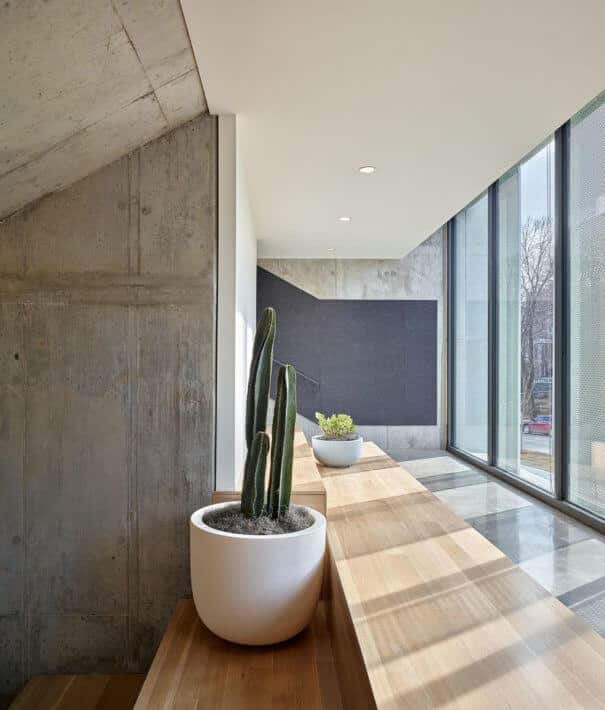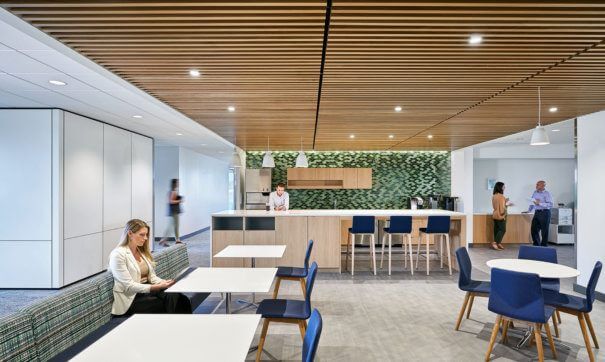 We plan to continually share new resources and insights with you as our own plan evolves. While we cannot offer answers as to what the future holds, we hope this is the beginning of a conversation that helps our community move forward.
We recognize that not every company has the benefit of dedicated, in-house workplace strategists who can guide them through the task of planning to return to the office. If you need assistance evaluating how your office can be adapted, our team can offer their insights — virtually — by reviewing your current office plans and discussing your organizational objectives. Please contact us at [email protected].. We are all in this together.
Resources + Further Reading