Sedgwick Hall Renovation + Addition
Reimagining an academic hall for Rockhurst University, using their worldview as a guiding light.
Originally built in 1914, Helix + CO Architects have partnered on the reimagining of historic Sedgwick Hall at Rockhurst University. The renovated and expanded building houses Rockhurst's existing Health Science programs and the absorption of St. Luke's Hospital School of Nursing. The integrated programming approach allows the school to utilize the same state-of-the-art facilities for their various pedagogies.
Location: Kansas City, MO
Size: 56,000 SF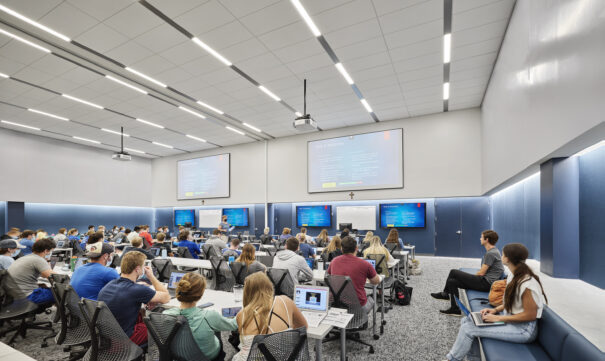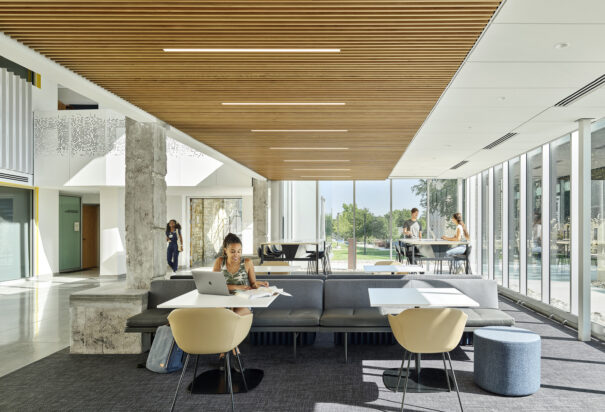 The design concept is based on two values of gratitude and simplicity, which can be seen within the community. The renovation and use of the existing historical structure represent gratitude while the new addition on the east side is built with simplicity at the heart of the design.
Students move between highly collaborative and social environments to more intimate spaces for one-on-one instruction or focused study. The Mabee Theater is the new entrance lobby, and two learning studios separated by a flexible partition allows it to easily be combined into one large space. On the upper floors, nursing labs and simulation suites are strategically arranged to provide natural daylight for students and faculty. The east side of the building has been opened up as a glass façade and the forum space overlooks open corridors, a new café, and space for events. On the east side of the building, new landscaping and hardscaping create a welcoming courtyard.
Students can seek greater knowledge from new pedagogy and state-of-the-art technology, and they can quietly reflect in the curated areas of reverence for Rockhurst and Jesuit history. Sedgwick Hall will be a constant source of inspiration.