Powered by Girl Scouts: Bold mural in Camp Prairie Schooner motivates and inspires

Adorning a vast wall of the new Aquatics Center at Camp Prairie Schooner, a vibrant and colorful mural has become a source of inspiration for the Girl Scouts of Northeast Kansas and Northwest Missouri.
As part of the Girl Scout's commitment to instill courage, confidence and character in young girls, the organization commissioned Latina artist Emily Alvarez for the custom mural. Emily embraced the high ceilings and expansive wall to create a piece of art that is as bold in its messaging as it is with its colors.
"This space was just perfect for a punch of color and an opportunity to visually tell the Girl Scout story. The mural is meant to inspire our Girl Scouts to go after their dreams and have big adventures," explains Gina Garvin, Chief Brand and Marketing Officer for the Girl Scouts of Northeast Kansas and Northwest Missouri.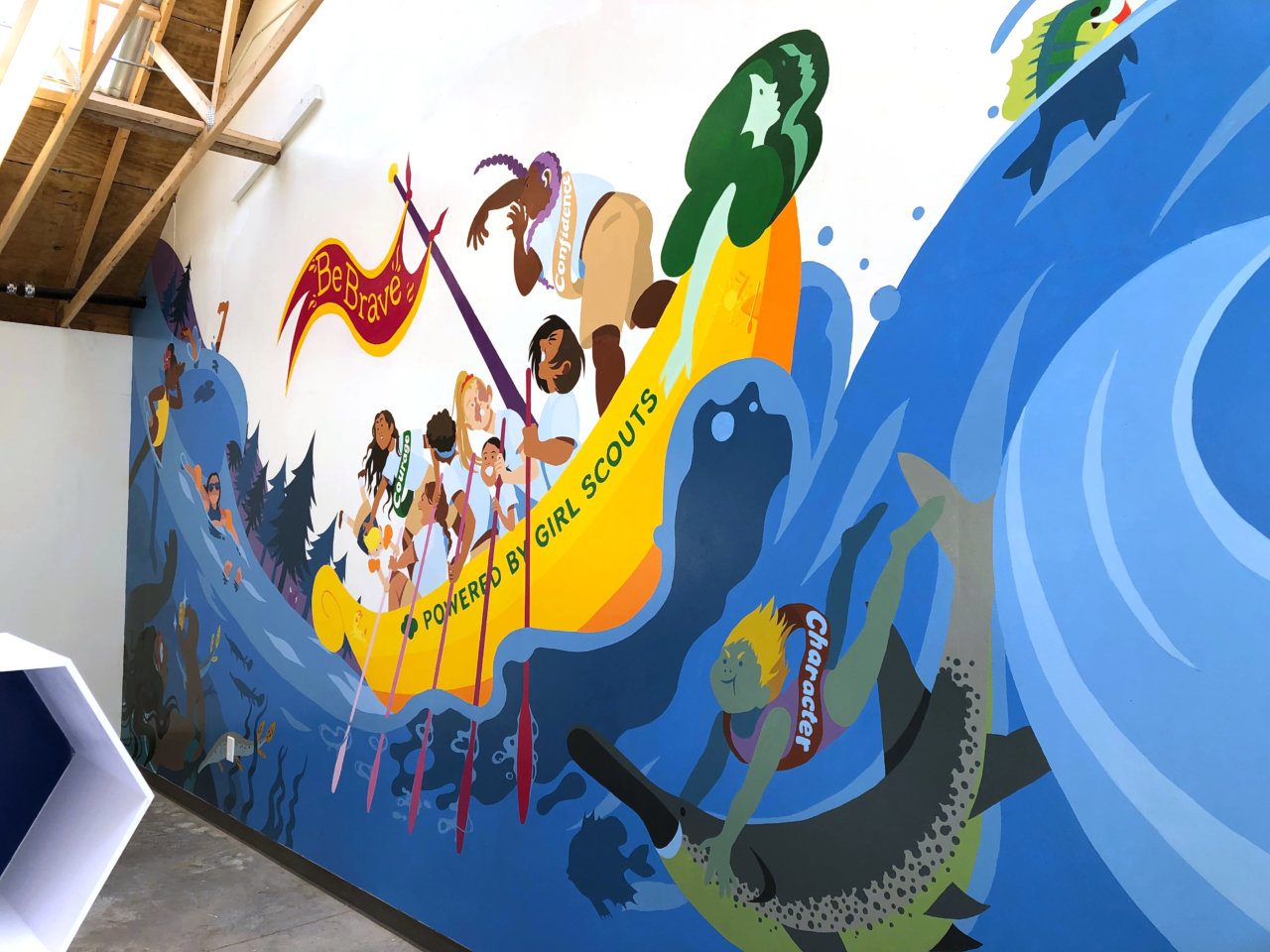 The color palette for the mural was carefully selected to complement the custom blue and white cubbies that were designed by Helix, while staying aligned with the Girl Scouts brand. Other important brand elements are also woven into the artwork, including the Girl Scouts sash, logo and mission.
Most importantly, the multi-faceted mural celebrates the strength of Girl Scouts of all ages, races, and abilities. Each element offers something that resonates with any Girl Scout who experiences the space.
"The best part is watching a Girl Scout walk into the locker room. They are already super excited by the building itself, but then their eyes widen as they walk right over to the mural to take in every detail. The details of the mural allow each Girl Scout to connect to a different place. There's nothing like a Girl Scout taking in this mural, being inspired and then walking through the doors ready to experience the majestic pool area," says Gina.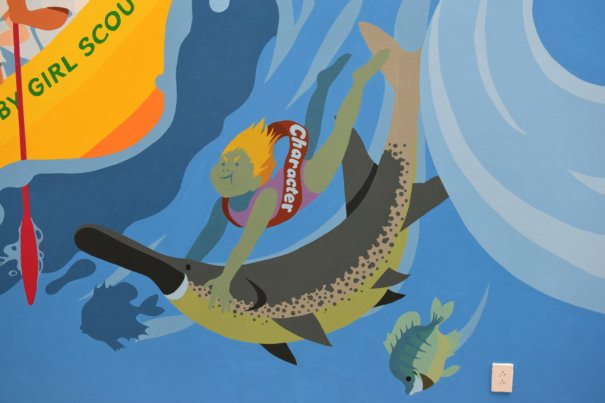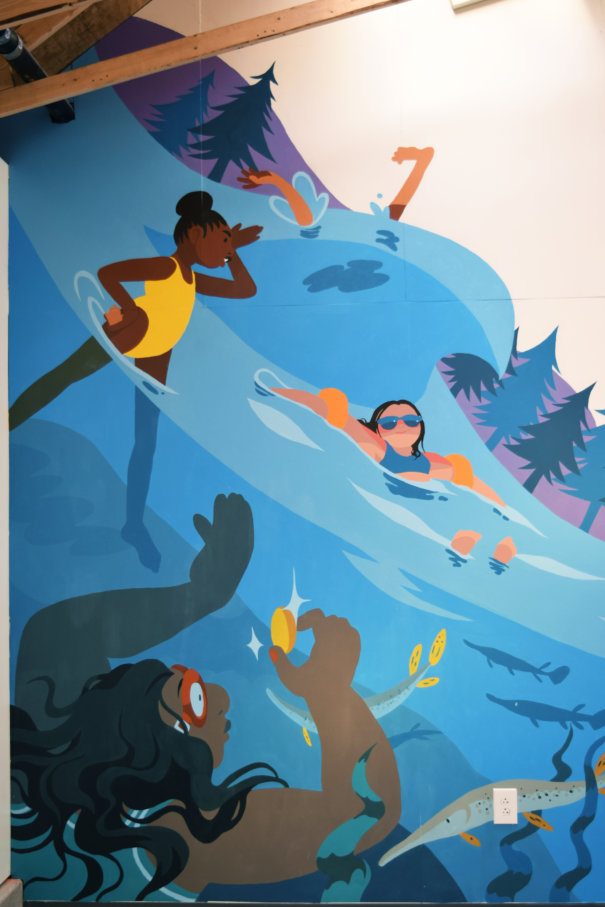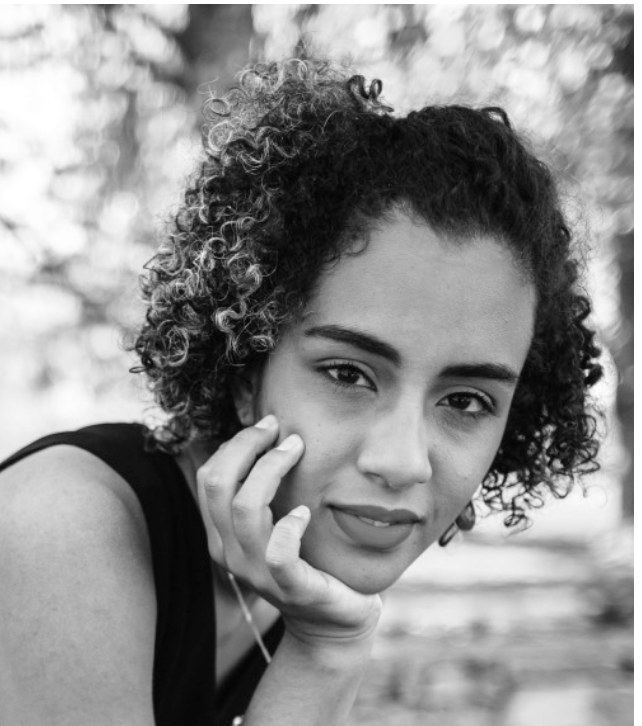 Artist Emily Alvarez is a graduate of the Kansas City Art Institute (KCAI). Her experience with murals, love of visual storytelling and children's illustration made her a great fit for this art piece.
"We couldn't be more pleased with what Emily produced," says Gina. "She captured the essence of Girl Scouts and will be a forever friend to Girl Scouts."
Read below to learn more about Emily and her work on this piece:
How did you become a mural artist?
I had always been interested in large-scale work but began realizing that interest during my time at KCAI. One of my college classes participated in a mural project in the Scarritt neighborhood of Northeast Kansas City. I was lucky enough to design the central three figures of the panels: three women caryatids representing the Vietnamese, Somali and Mexican community in that area. During the course of this project, I learned about the satisfaction of creating work that is impactful in its scale and accessibility, and how murals are a successful platform for elevating underrepresented and underappreciated members of society.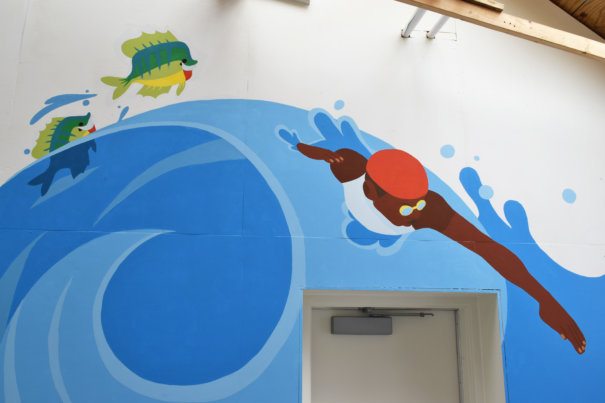 Can you share about your creative process? How did you work throughout the project, and what materials are you using?

I start pieces by going through a lengthy sketching process, while trying to capture key messages that the mural is intended to communicate. My technical emphasis is mostly on achieving a dynamic composition first, and thinking about colors second. I derived a lot of inspiration during the sketching process from children's books and how well they entertain the eye with details, leading the viewer around the page through composition alone. I generally paint in solid fields of color, so I usually map them out and mix paints one-by-one in separate containers later. I then translate the piece to my wall in a color-by-numbers fashion.
What were your initial goals for the Girl Scouts mural? What is the final concept?
My initial goal for this mural project was to decorate the locker room space in an effort to make a blank stretch of wall more inviting and exciting to a younger audience. While working on the concept, and meeting with the Girl Scouts representatives, it grew beyond that into a piece that focuses on inclusivity and teamwork. I really enjoyed working with girls and young women in mind, as I felt that I really wanted to create something that I wish I had seen when I was their age. Ultimately, I wanted to create something dynamic and fun, that hopefully would leave a positive impact on young minds; depicting scouts of various ages, ethnicities and physical appearances all having fun alongside one-another. I hope that regardless of what the people around them look like, every girl feels considered, supported and welcome.
Photography by Helix Architecture + Design and Emily Alvarez.