Local Entrepreneurs Build Lasting Relationships and New Headquarters through HEMP Connection
When Duey Williams joined the Helzberg Entrepreneurial Mentoring Program (HEMP) over 15 years ago, he was new to Kansas City and working to make the business he had just purchased, Skyline E3, a success. It was in this organization he met Jay Tomlinson, founding principal of Helix Architecture + Design. The three-year program, which offers mentoring and connections with fellow entrepreneurs, is known for helping set the foundation for lasting relationships.
Williams credits long-term relationships, like those made through HEMP, for Skyline's success. In fact, he said support from entrepreneurs helped the organization grow during those difficult years.
"HEMP is not a soliciting organization. However, entrepreneurs in the program support one another. People want to do business with people they know and trust, and HEMPers recommended my work outside of their own organizations. These connections were an important contributor to Skyline's growth."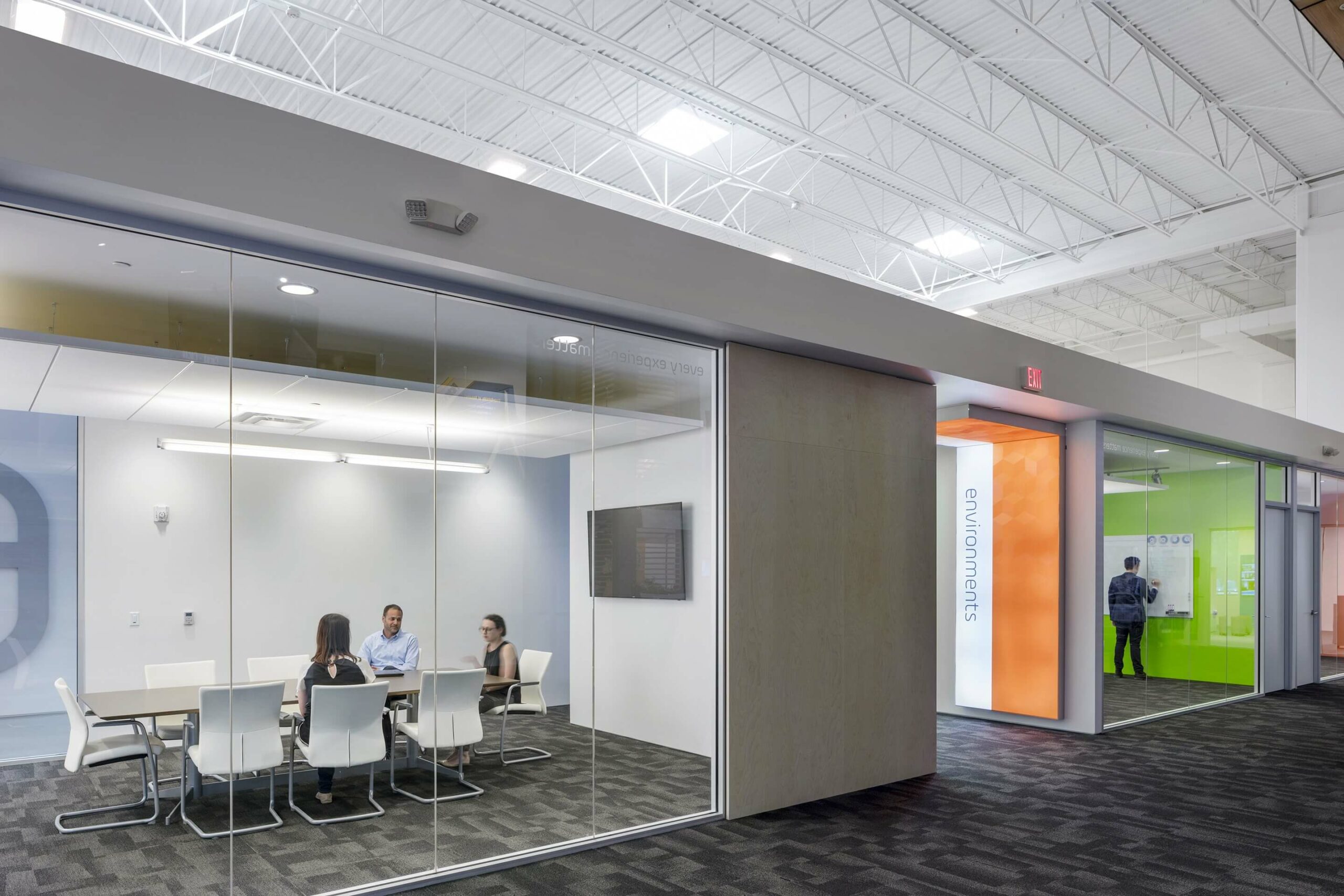 Skyline E3's revenue is now seven times what it was when Williams purchased the business in 2000. With their expanding size and market reach, they needed a physical space that could better accommodate their personnel and client growth, while showcasing their products and company values. When it came to finding an architect that could bring his vision to life, Williams looked to his HEMP connections. Skyline E3 hired Helix Architecture + Design to create a new, 53,000-square-foot headquarters that would provide a state-of-the-art showroom for clients and a modern workplace for employees.
"I like to do business with people I know and always wanted to work with Jay," said Williams.
In the design of their new headquarters, Skyline wanted to invigorate company culture, create a sales area for clients and have room for growth. Helix worked closely with the company's leadership to define their goals and unique amenities they wanted to incorporate for clients and staff. An impressive entrance and lobby, community space and conference rooms which operated as show rooms were key aspects of their vision.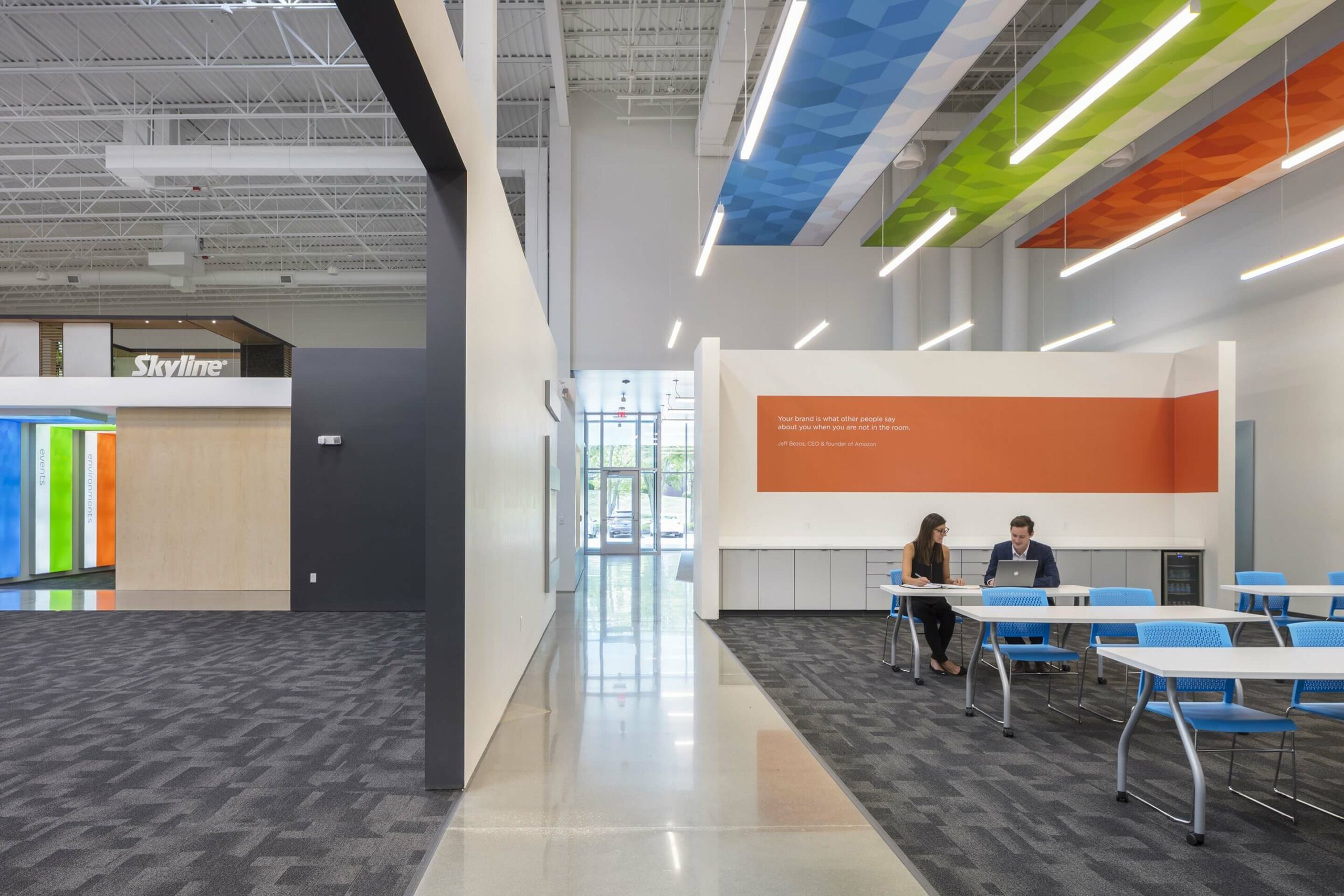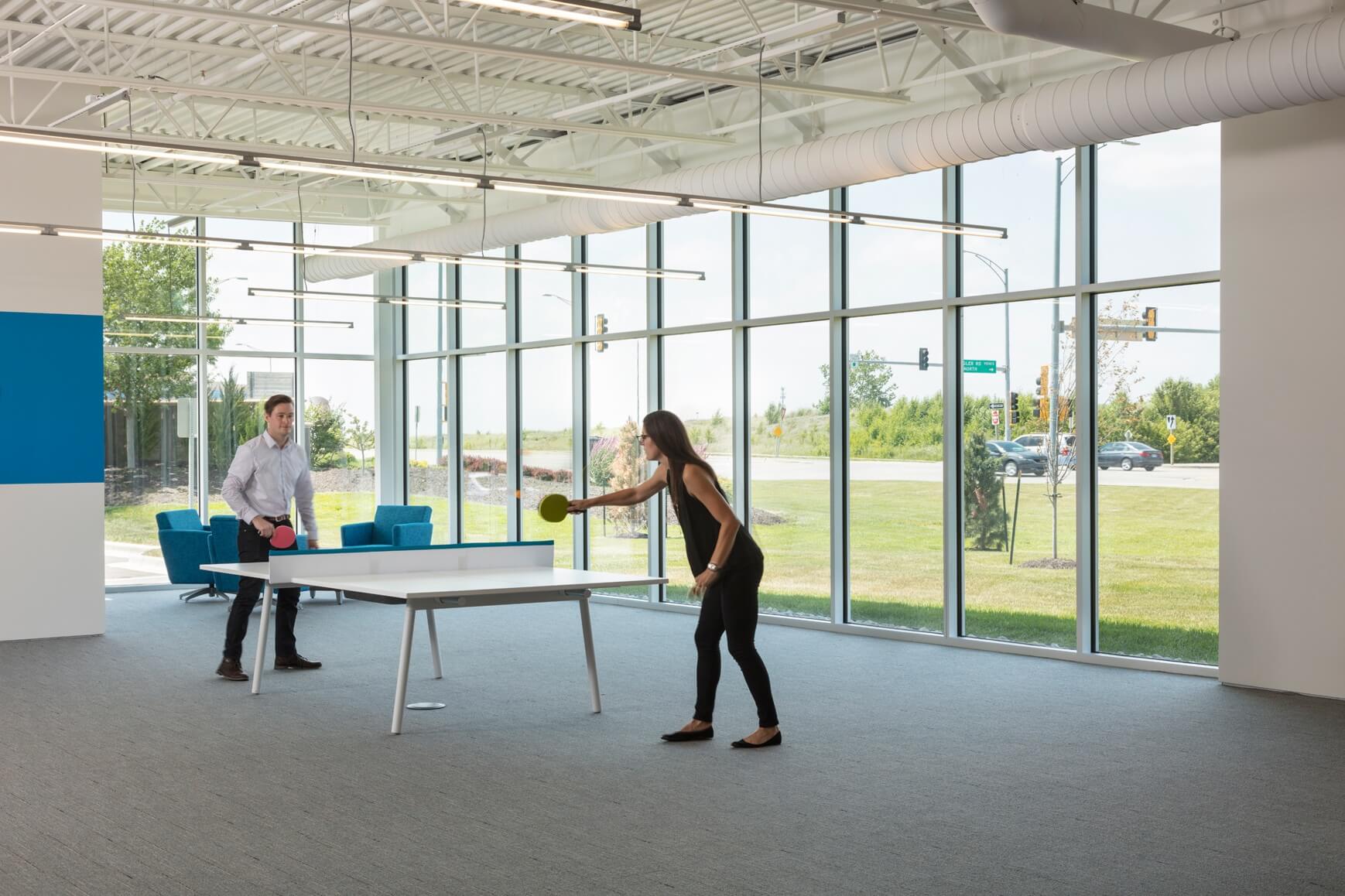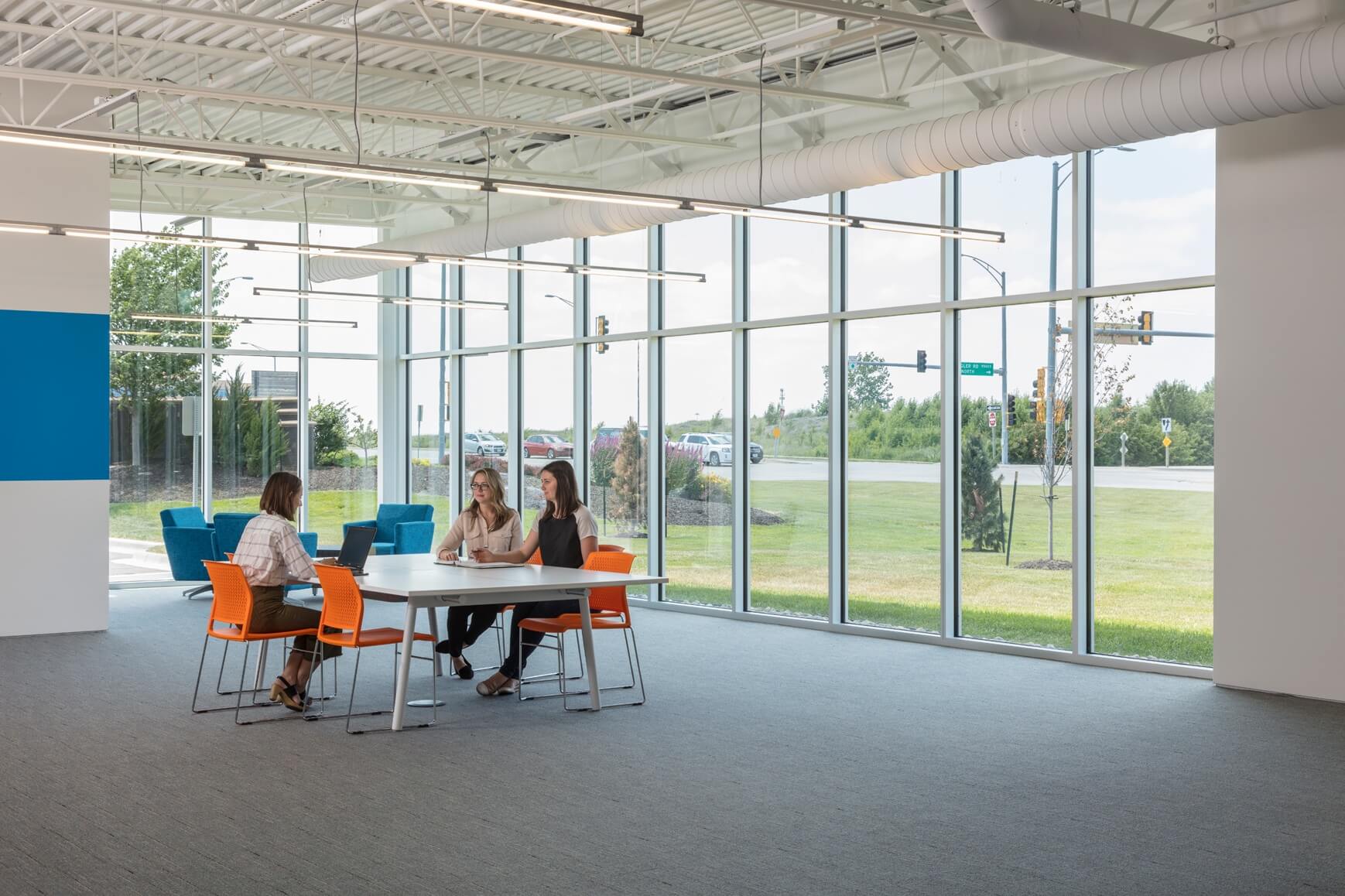 The showroom and office space within their new headquarters provides an open and relaxed sales environment for clients with ample room for the company's large display options. The open office environment offers flexibility and encourages collaboration among Skyline E3's growing team. Bright pops of color, branded graphics and a conference table that converts into a ping pong table convey the energy and values of the company. The warehouse storage that comprises half of their building provides ample room for growth as the company continues to expand.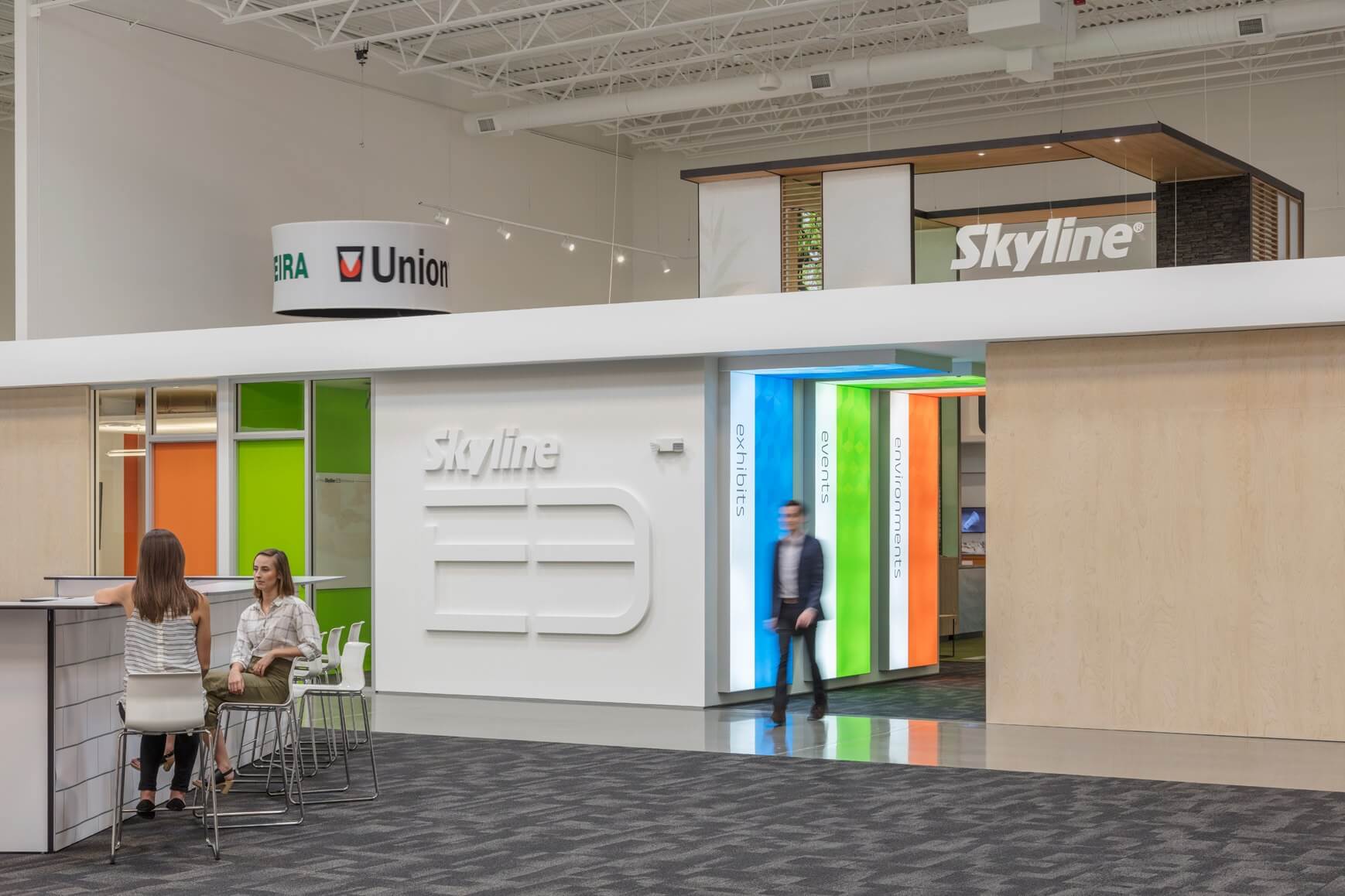 Key spaces were designed to accommodate the company's desire to expand client and community outreach. The prep and staging area allows Skyline to showcase work to clients visiting their facility. A seminar room is used for team meetings and is also available to other area businesses.
"It's important to our company to support entrepreneurs. We offer seminars at our new headquarters that are designed to help businesses improve their ROI at tradeshows. It's one of the ways we give back to the community for its continued support. Having a newly designed facility helps make these initiatives possible," said Williams.
Continuing to foster local entrepreneurs has been important to both Williams and Tomlinson throughout their careers. Since graduating from the HEMP class of 2001, Tomlinson has remained active in the organization and currently serves as a HEMP fellow.
"HEMP is a key component of Kansas City's entrepreneurial ecosystem," said Tomlinson. "The program offers an objective sounding board for firm leaders that is invaluable."
If you are an entrepreneur or small business owner interested in learning more about how you can benefit from the program, visit the HEMP KC website.
Photography by Bob Greenspan and event photos courtesy of Skyline E3.