Like a Captivating Story, New Mid-Continent Public Library Branches Come to Life
Several branches of Mid-Continent Public Library (MCPL) are starting a new chapter following the first phase of renovations, as part of a significant effort to enhance all 31 existing branches and construct two new locations..
In collaboration with Sapp Design Architects, Helix Architecture + Design has partnered with MCPL and the community to bring new life to the library system. After an overwhelmingly successful capital plan, Helix and Sapp looked to library staff and users to inform the program, spaces, and technologies that will be most impactful for the new libraries. More about the capital plan and community meetings can be found in this blog post.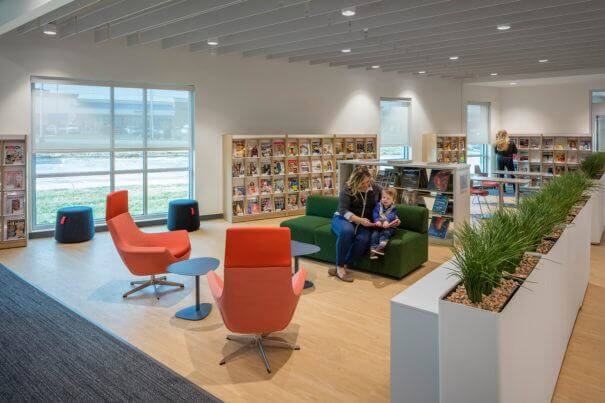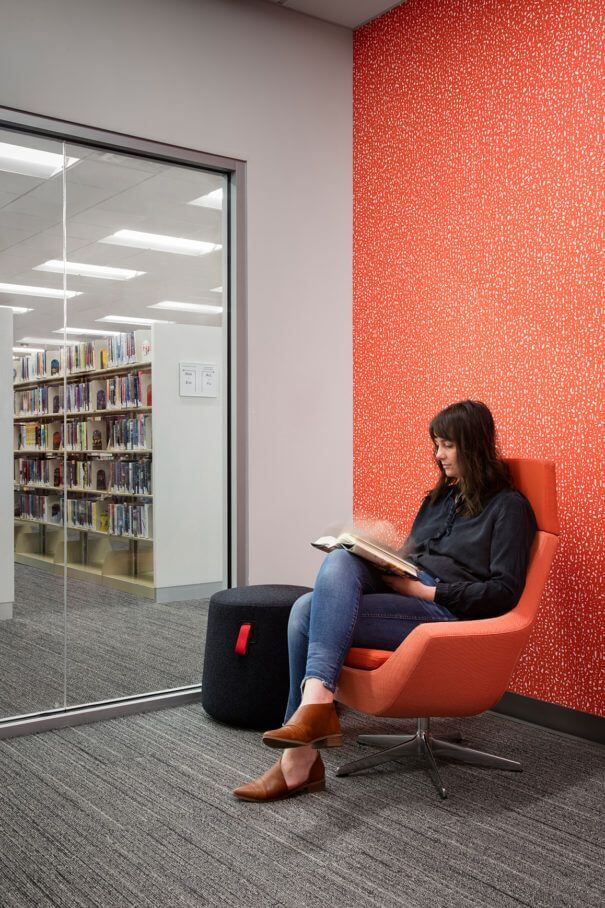 Although each branch is unique in location, size and layout, MCPL, the design team and the community established overarching goals for all of the libraries. It was vital to MCPL that the renovations (or in some cases, new branches) enhance the way they serve their guests in a functional, comfortable space that is also beautiful and inviting.
Following the renovations at the recently completed Antioch and Blue Springs South branches, large windows pull natural daylight into the libraries, and updated lighting complements the daylight to brighten the overall space. Even small touches, such as changing the ends of the bookshelves to white instead of a dark wood, bring a new energy.
The materials, furniture, colors and graphics are part of a set of design standards that provide MCPL with a consistent aesthetic, but when implemented across each branch, still offer variety in the ultimate look and feel.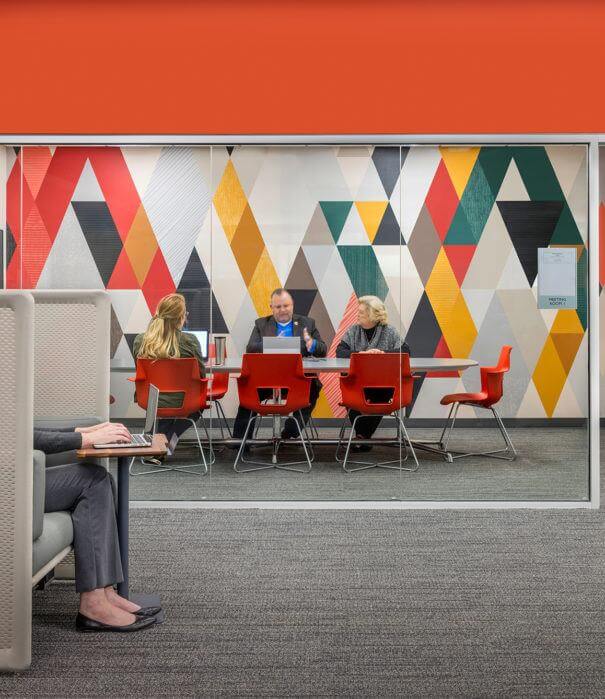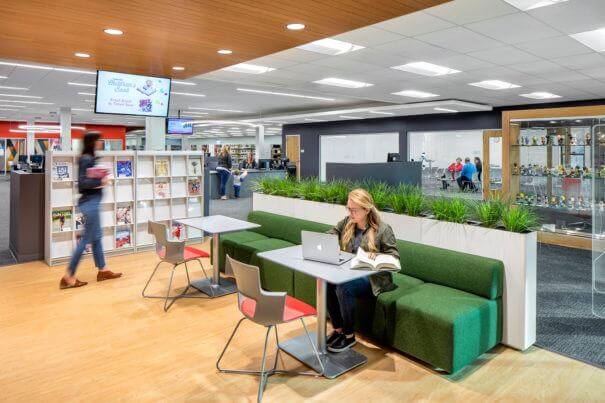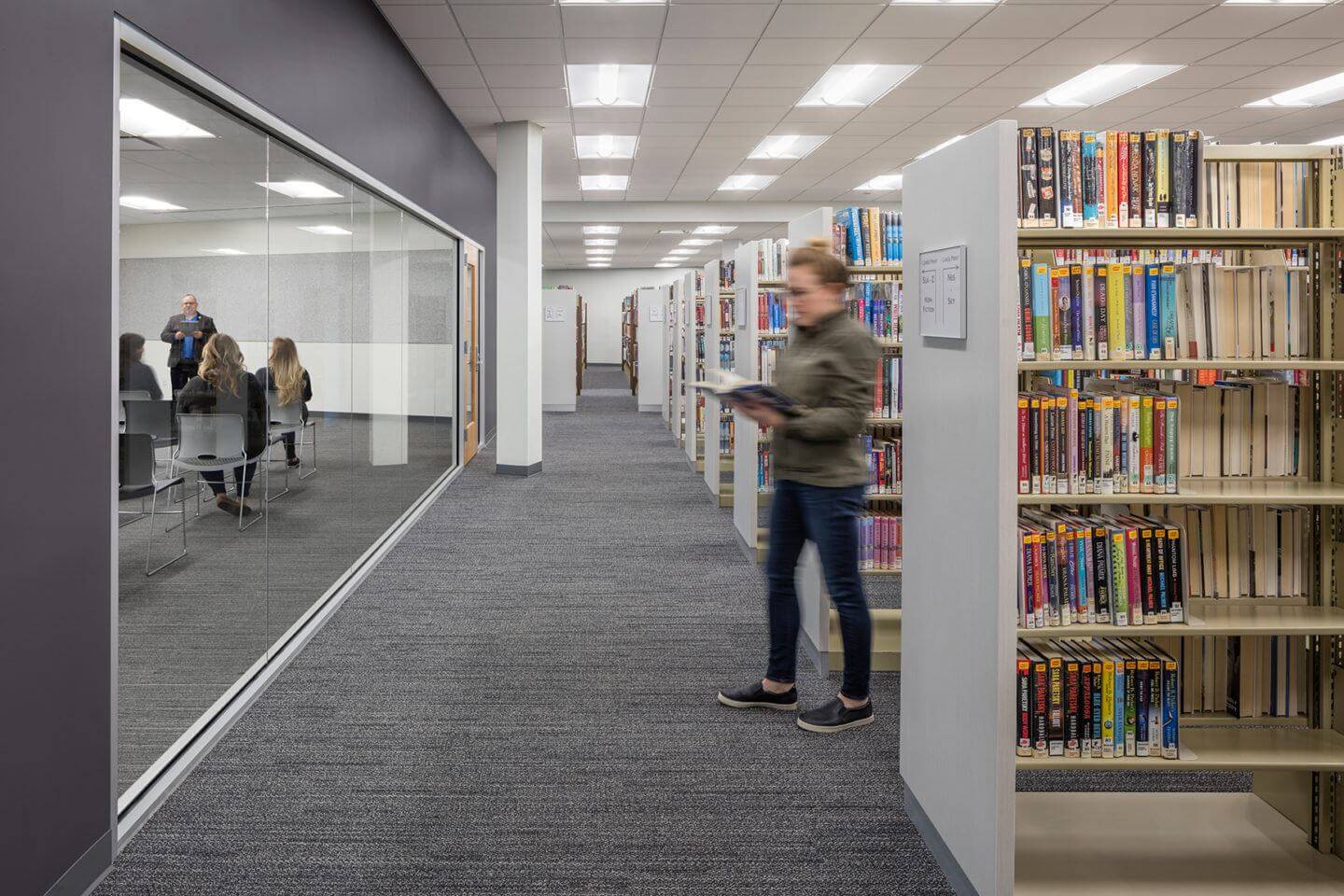 Not only have the renovations changed the physical feel of the libraries, but it has also changed how people interact with the space. MCPL staff and patrons have already found their new favorite reading nooks, and each library has become a more functional community asset, with large meeting rooms and collaboration spaces to accommodate groups. Integrated technology throughout the branches provide modern conduits to information while still being in balance with the books and periodicals.
Phase II design services kicked off in 2018, and Phases III and IV will start in 2019. The library is targeting completion of all upgrades by 2022. The latest updates on the remaining projects can be found here.
Photography by Bob Greenspan.