KC Tech Firm Supports Rapid Growth with Flexible Work Environment
Valorem has been surpassing expectations with their rapid growth since they opened their doors in 2009. They recently completed their third headquarters expansion. A Microsoft partner, they have expanded beyond their Kansas City headquarters with offices in St. Louis, Missouri; Seattle, Washington; Kochi, India; and Herrliberg, Switzerland. With their remarkable rise, recruiting and retaining top talent is critical for this cutting-edge company.
When Helix principals Evan Fox and Alissa Wehmueller began working with Valorem, their goals were to provide room for growth and create a space that would attract top talent. They chose their building in the heart of the Crossroads, because it would help them achieve both. Our team has assisted Valorem as their headquarters has expanded three times, and the number of employees has more than tripled – all within their existing location.
Working with a rapidly growing technology company presents some unique challenges and opportunities, but like every workplace client, success is driven by thoroughly understanding and creating a space that responds to the culture, technical requirements and workstyles of the talent they want to attract.
Flexibility was a key priority from the beginning for this young company. Their workspace features an open, free-address office environment, along with a limited number of private offices. Free addressing is attractive to tech talent, but also allows the company to save on real estate expenses by housing more people in their space. By choosing a free address approach, Valorem offers employees the freedom to work wherever they would like within the space without spending money on workstations that are vacant much of the day. This provides the adaptability they need for continued growth, while getting the greatest value out of every square foot.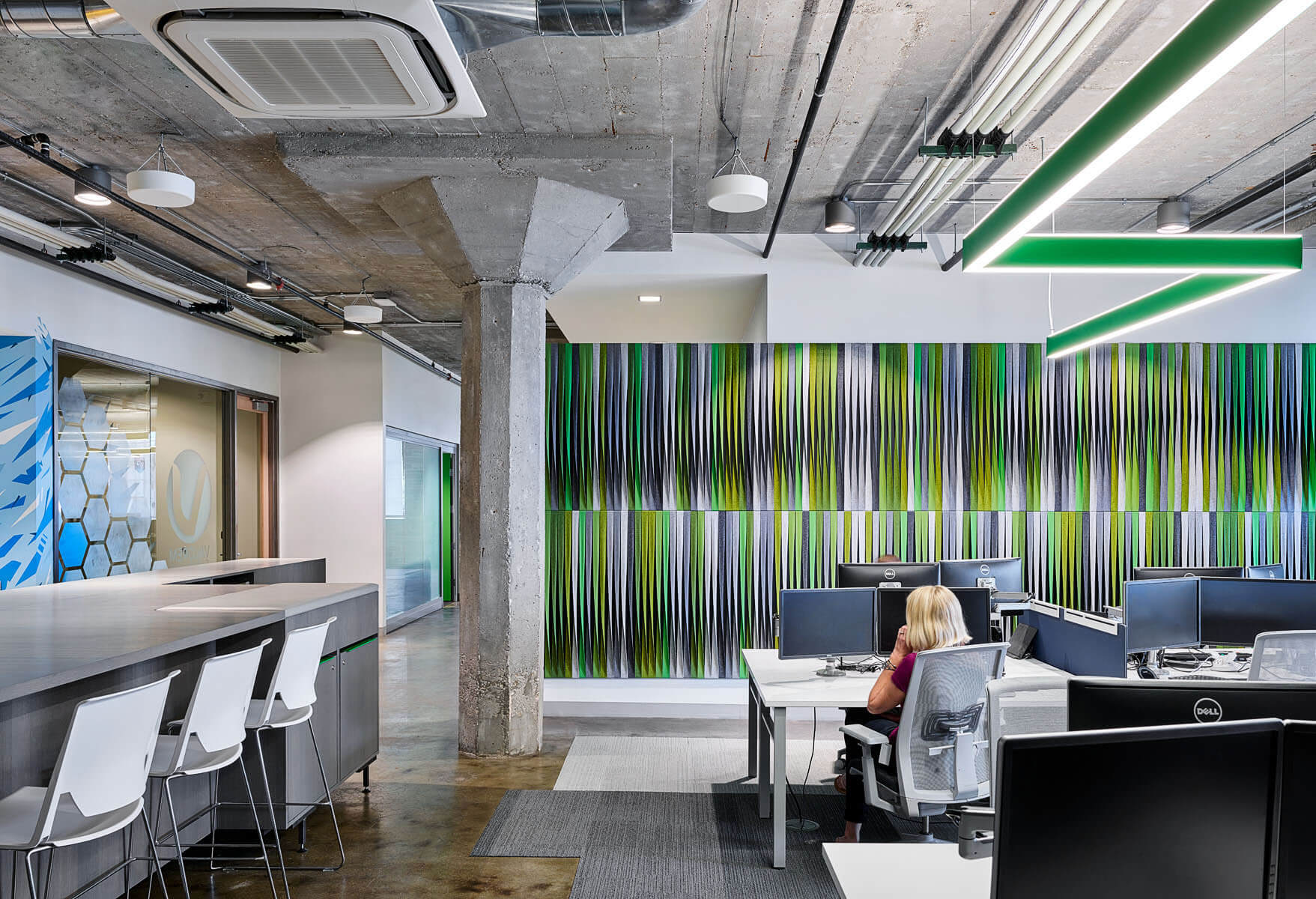 Throughout the building, there are a variety of spaces for collaboration, socializing and focused, quiet work that team members can choose from throughout the day. Lockers in the back allow employees to stow their coats and bags easily. And employees are able to personalize the space. At Valorem, we added a wall for staff to write-on.
Another key component was helping them communicate and celebrate their brand while connecting to creative culture of the Crossroads Arts District. We used the Valorem logo as a jumping off place, incorporating green and blue throughout the space. One visual representation of this is a large, focal felt well, which was made by local fabricator, Hinge Woodworks. Building upon their location in the heart of Kansas City's arts community, Valorem partnered with local artist Phil Shafer (known as Sike Style) to paint a mural in each of their renovations. This has become a recognizable component of their workspace and were such a hit that Valorem hired Sike to do a mural in their Seattle office.
While these solutions are eye-catching and aligned with their company culture, they are also cost-effective. The felt wall pulls triple duty, offering visual interest, providing an acoustic treatment and acting as a partial room divider for workstations.
Throughout our work with Valorem, there were considerations specific to their industry and nature of their business. For example, they needed space for huge screens at workstations, and their conference rooms required substantially more technology than most. To provide a desirable work environment for developers and non-technical staff, some spaces are dark to support heavy computer work, while others have lots of bright, natural light.
When it comes to supporting a company's growth, organizations should consider flexibility and ways incorporate their culture into their space. Valorem is evidence that a one-size fits all approach isn't effective.
Photography by Michael Robinson.