Kansas City Design Week 2016 | April 7 – 16
Thursday kicks off Kansas City Design Week 2016! Get ready to experience everything from the Design Olympics to lectures on creative failure. We got the inside scoop from Helix's own Sam Loring, AIA, who is co-chair of the event for the second year in a row.
"Design Week is about celebrating all things design in Kansas City. It showcases our incredible local design talent, allows designers in different professions to meet each other and experience various design viewpoints – all in a fun, festive atmosphere!"
The week is centered on the convergence of ideas, information-sharing and inspiration from designers from across the architecture, graphic design and interior design industries.
"There are several events that are specifically for architects. One is a working session on the 3-D modeling software, Dynamo. This software could help revolutionize the way that architects design buildings," Loring says. One of three co-chairs, he explains each one represents the three major local design organizations: AIA, AIGA and IIDA.
It's clear to see the value of designers sharing ideas across industries, as processes, challenges and successes often follow similar patterns. As the website states, the week is a good way to keep up with "constantly changing perceptions, share ideas and coming together to make things beautiful and functional." …Music to our ears.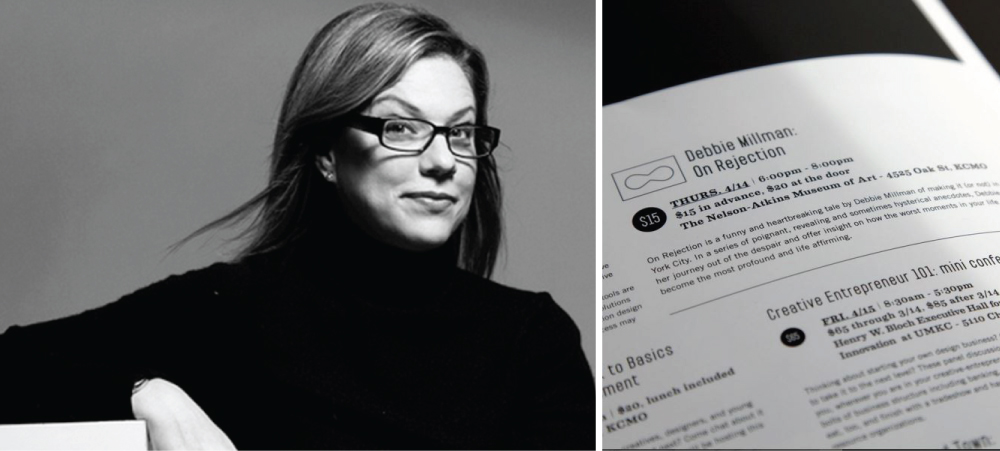 One of the highlights of the week will be Thursday's Debbie Millman On Rejection: How the worst moments of your life can turn out the be the best. She was named "one of the most influential designers working today" by Graphic Design USA. Millman is also an author, educator, brand strategist and host of the podcast Design Matters.
So what event (of the many) is Loring most excited about attending?
"I am excited about the Bread and Butter Concepts on Designing an Empire presentation. It will be fascinating to see how the entire branding and design process works for a restaurant. Every element from the way the menu is planned, to the interior space design, and how it all comes together to create one brand. I'm also excited to eat some Republica food!"
Join us at Helix on Friday night as we host one of many Open Studio Night open houses! We'll be sharing a behind-the-scenes look at our design process for the Boulevard Visitor's Center. Plus, what Boulevard party would be complete without yard games, beer and popcorn? You won't want to miss it.
There are still tickets available for many events – so join in on the fun at kcdesignweek.org