10 Kansas City Buildings Celebrating 100 Years
Here at Helix we love old buildings, so it's no surprise that our own office has quite a history. It was built in 1916 as the Exide Battery Factory and officially turns 100-years-old this year. We shared a blog post last week about the history of our own building and it made us curious what other buildings in Kansas City share a similar history. Here are some of our favorites!
1. Exide Battery Depot (Helix Architecture + Design), 1916
Located in the heart of the Crossroads at 17th and Walnut, the Exide Battery Building is on the National Register of Historic Places and is one of thirteen buildings that are part of the historic Walnut Street Warehouse and Commercial Historic District. It was originally designed by architect Herman Stroeh and built by Fogel Construction.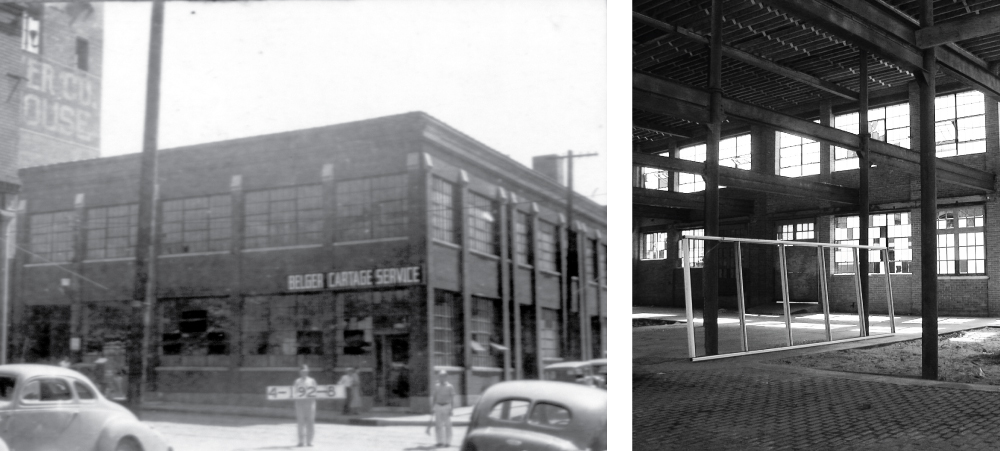 Historic Exide Battery Deport photo | The interior of the Helix building before construction began.
2. H.E. Lee Mercantile Company, 1917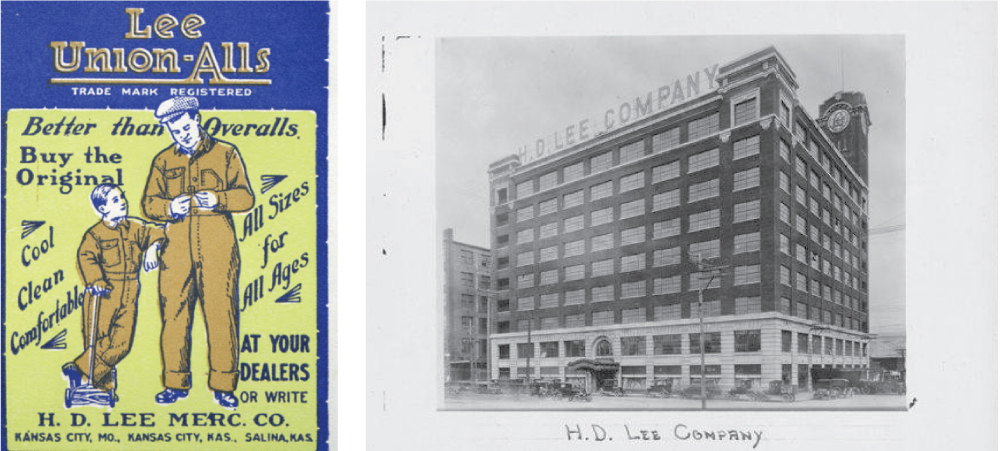 Lee's Union Alls, invented in 1913 and manufactured in Kansas City's Crossroads Historic Freight District. H.D. Lee Mercantile Company, 1917. H.D. Lee Mercantile Building in the Historic Freight District of Kansas City, circa 1928.
This monumental and iconic 850,000 square foot building, located at 30 W. Pershing Road, is one of the most stunning buildings in the city. During it's lifetime as a functioning train station, until the 1980's when the station closed, this space accommodated hundreds of thousands of passengers. Traffic at Union Station peaked during WWI with nearly 80,000 trains passing through the station (approximately 270 trains a day)! To give an idea of scale, the three major arches on the front facade are nearly 90 feet in height.Most recently it was the location of the biggest rally Kansas City has ever seen- the celebration of the Kansas City Royal's World Series Championship. Reminding the city that, even at 100 years old, she still knows how to party.

Union Station during construction in the 1910's & Union Station last fall during the Royal's Celebration rally.
4. Coca-Cola Building (Western Auto Building), 1914
You may know this uniquely shaped 12-story building on 21st and Grand as the Western Auto Building, but this 100 year old treasure was once the regional headquarters of Coca-Cola in Kansas City. Built in 1914, this building was designed based on the pie-shaped plot of land it was to be built on. The building was later sold to Western Auto in 1948, and it's iconic "Western Auto" sign was placed on top of it in 1952. This building was added to the National Register of Historic Places in 1988 and is now is home to residential loft condos. From Coke to cars to condos, this pie in sky is a great slice of KC history.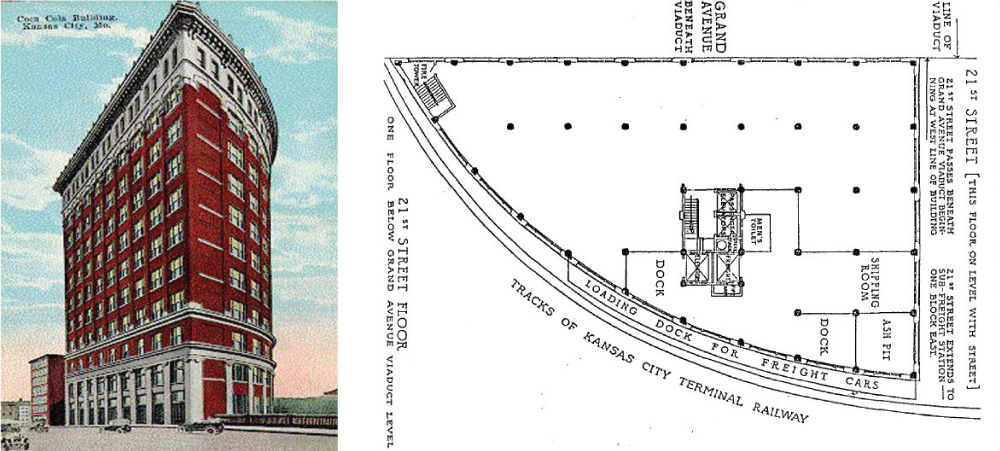 Coca-Cola Buiding, built by the Candler family (owners of the soda company) and designed by Arthur C. Tufts. With the curved facade of the building, it may be one of Tufts most unique designs. An original plan of the building, part of the building's 1988 submission for the National Register of Historic Places.
5. First Children's Mercy Hospital (Kansas City University), 1915
Construction on Children's Mercy Hospital's first hospital building was completed in 1915 at 1750 Independence Avenue. That hospital would eventually become the home of Kansas City University's administration building in 1921. In 2015 that building, as well as their academic center were renovated in partnership with Helix to ensure their students can utilize it for the next 100 years. Interestingly enough, although the school and building both had their starts separate of one another, they are both celebrating their centennial in the same year. Congrats KCU on 100 years!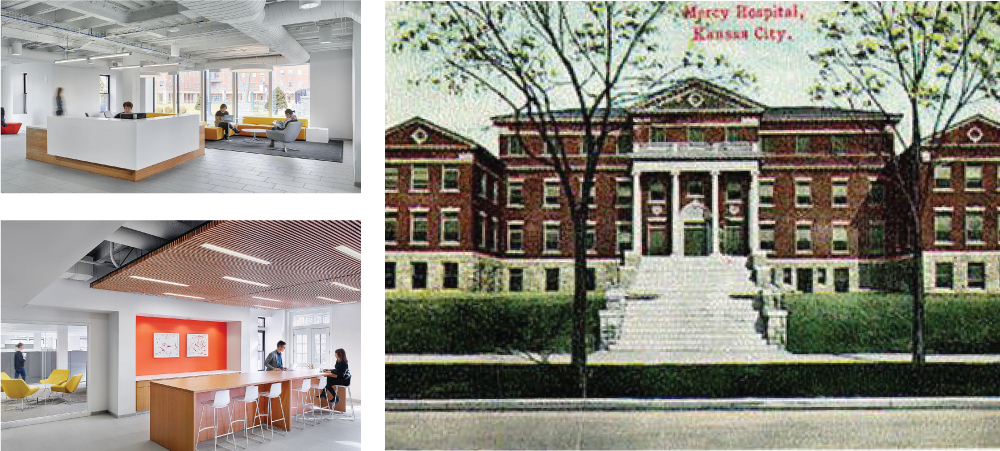 The former Children's Mercy Hospital, now home to Kansas City University's Administration Building, was recently renovated by Helix.
6. Federal Reserve Bank, 1914
The first Federal Reserve Bank building in Kansas City, located at 928 Grand, opened in 1914, as a temporary home, until the official building across the street, at 925 Grand, could be built and opened in 1921. That building, was home to President Harry S. Truman's office following his return from the White House in 1953 until the Truman Library opened four years later. Pictured below is the location at 925 Grand in the historic Financial District of KC; the bank announced its relocation to 29th & Main in 2002, just south of Liberty Memorial, where it houses The Money Museum. There you can see billions of dollars in the vault, hold a 27 lb. gold bar or explore President Truman's impressive coin collection.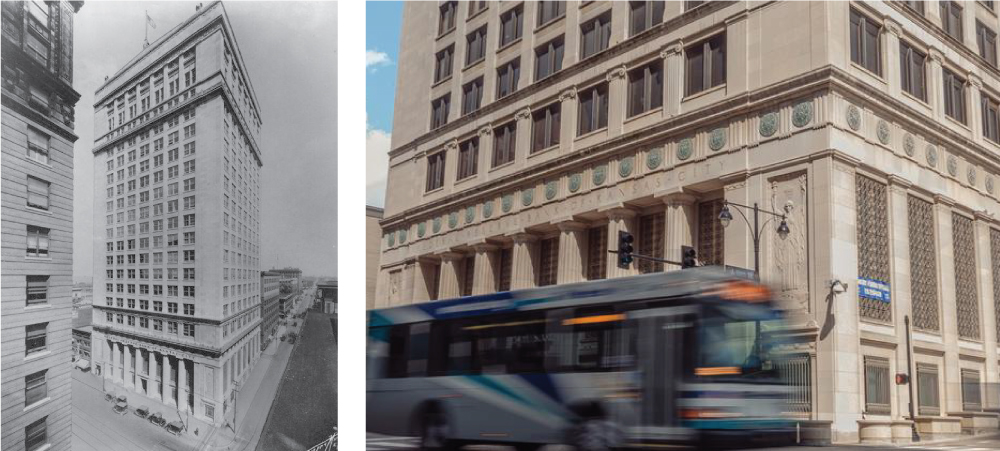 Federal Reserve Building building on 9th & Grand circa 1928, and now in present day.
7. Rockhurst College (Rockhurst University), 1914
Construction of Sedgwick Hall, located on the westside of Rockhurst's campus (53rd & Troost), was completed in 1914. Thus began many young men's high school education. The 25 acres of land had been purchased by Reverend Michael Dowling, the founder of the college, in 1909. College courses were first offered in 1917 and today this campus educates roughly 3,000 students. Today, Sedgwick Hall houses Mabee Theater, classrooms and several faculty offices.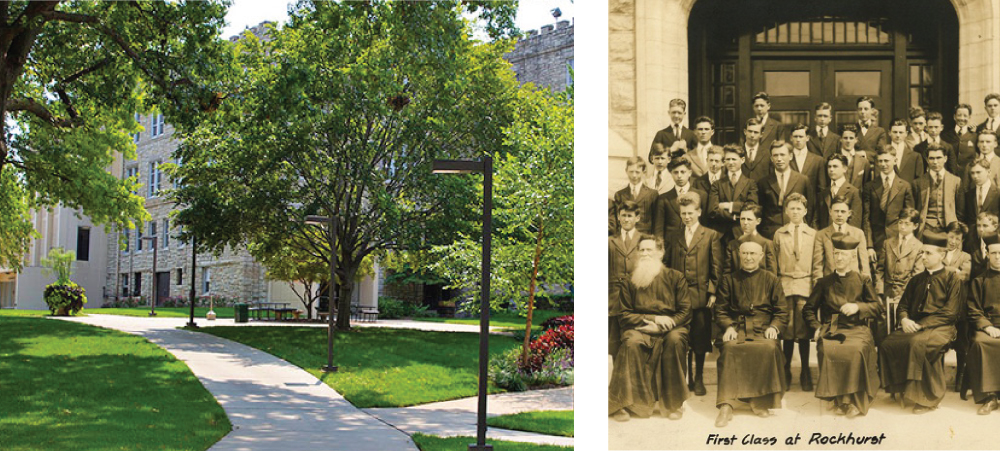 Sedgwick Hall, built in 1914, was the first building on the Rockhurst University campus. First graduating class at Rockhurst College.
Built in 1914 after Julius Rosenwald pushed residents of the city to raise $80,000, this YMCA was the first civic center in KC built to serve African Americans. However, the building's most significant historic value lies in the year 1920. That was the year eight independent black negro baseball team owners met over lunch in this very spot. They formed the Negro National League and later the Negro Leagues. Just a short walk down from the Negro Leagues Baseball Museum, the space was just recently converted into the Buck O'Neil Education & Research Center, the latest addition to the museum. This historically and culturally rich building is an important part of Kansas City past. Seeing it restored and used today brings so much to the 18th & Vine district.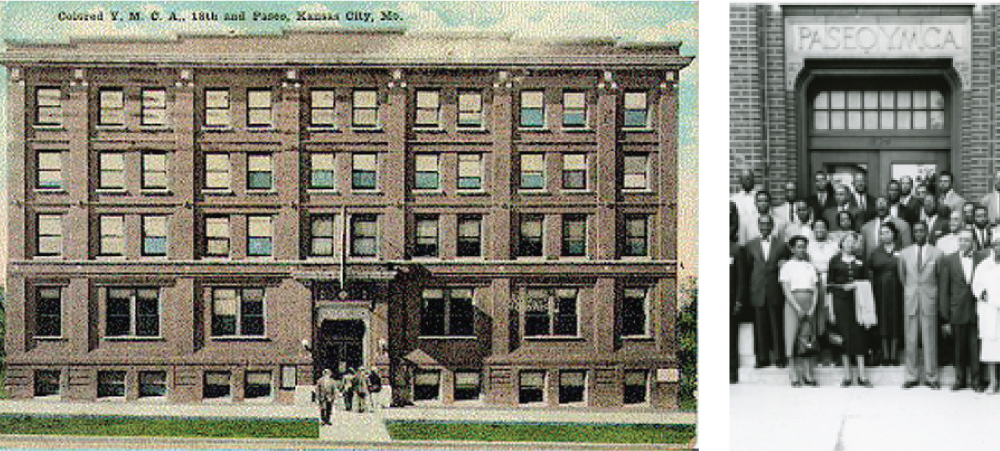 The Paseo YMCA was a large community effort that successfully resourced the neighborhood with the YMCA's facilities.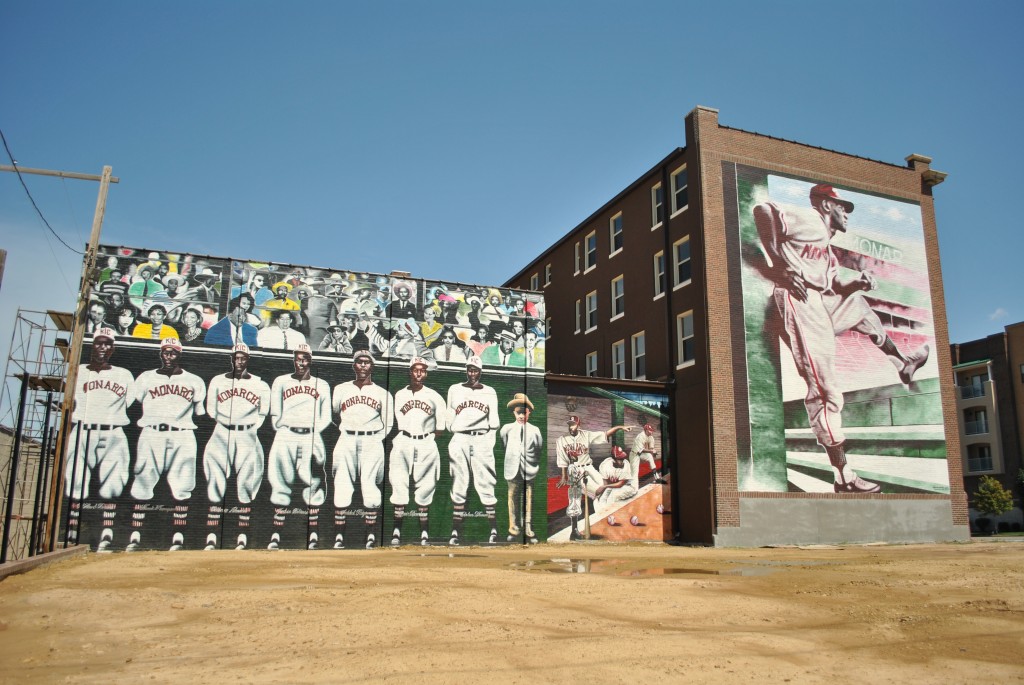 The south side of the Paseo YMCA building, today the Buck O'Neil Education & Research Center, is home to these murals depicting the Kansas City Monarchs.
9. Muehlebach Hotel (Marriott Downtown), 1915
The son of Muehlebach Beer Company's founder, George E. Muehlbach Jr., bought the former First Baptist Church on the southwest corner of 12th Baltimore in 1913. After demolishing the building, he completed this 12 story hotel for $2 million dollars in 1915. The hotel went onto be visited by every President from Theodore Roosevelt to Ronald Reagan, and celebrities such as Helen Keller, Ernest Hemingway, Babe Ruth, Frank Sinatra, Elvis Presley and The Beatles. After changing ownership several times from 1960 until 1996, Marriott Hotels bought the building and made it into an extension of their existing downtown location. The original lobby and ballrooms have been restored and are used today as banquet halls.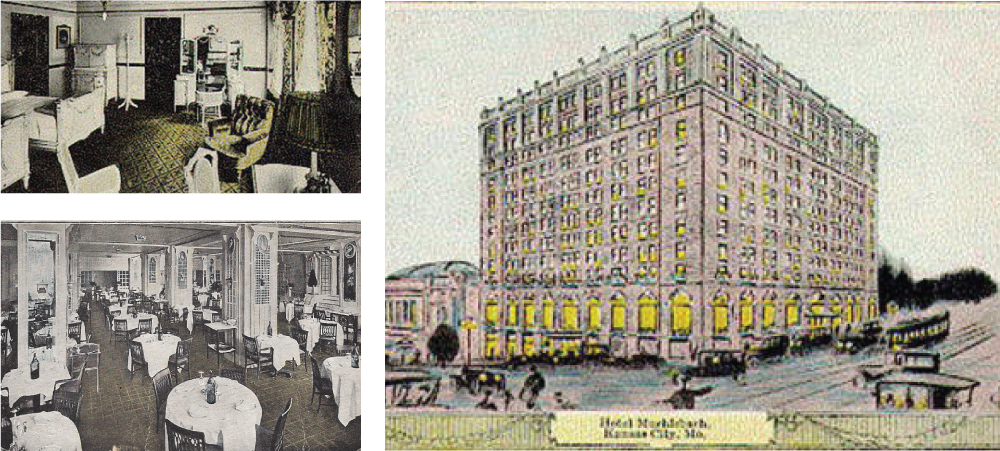 Historic Muehlebach Hotel as it was in 1915 seen in this promotional post card. The State Suite was the location that the Muehlebach's finest guests would have stayed – including many U.S. Presidents. The Plantation Grill inside historic Muehlebach Hotel.
10. Firestone Building, 1915
Built in 1915 by Firestone Tire Rubber, this building was the largest investment the company had made to date: $300,000. Harvey S. Firestone chose Kansas City mainly for its "good roads," and its central location to many farming communities and business opportunities – knowing the farming industry would be a key to the success of his company.
At the southeast corner of 20th Grand, this site was considered midtown 100 years ago, but today it is a part of the Crossroads Arts District. Currently the first and eighth floors are used as an event space with other commercial tenants occupying the other floors of the building. If you look closely when driving by, you can still see the glowing historic Firestone letters in the windows – one letter on each floor.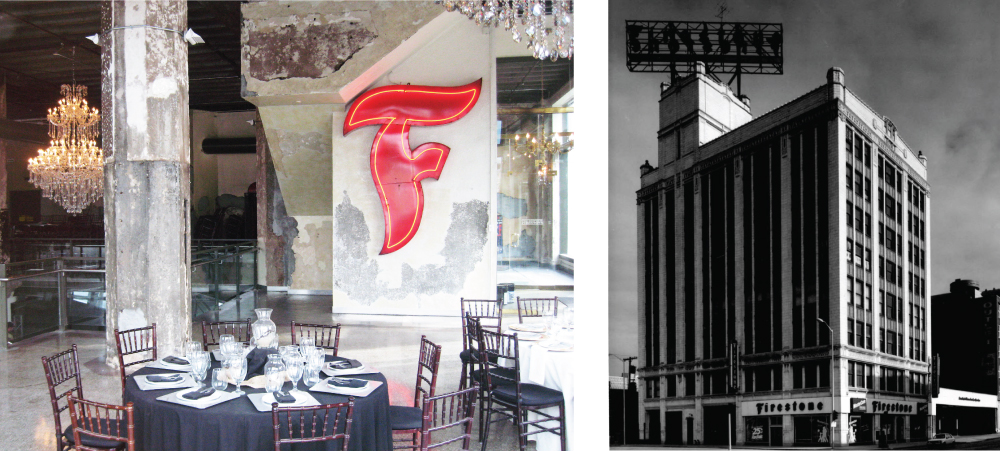 The Firestone building today, with historical sign lettering, used as an event space. This image of the elevations were a part of its submission for the National Register of Historic Places.