Helix Architecture + Design and Blackbird Design Studio Announce Merger
Newly integrated firm will offer expanded resources, combined leadership and award-winning design talent
Kansas City is experiencing unprecedented real estate development right now, a golden era of investment in our community. Helix Architecture + Design and Blackbird Design Studio recognized an opportunity to strengthen their position in the marketplace by joining forces. The merger will offer clients access to combined leadership, expanded resources and unrivaled design talent.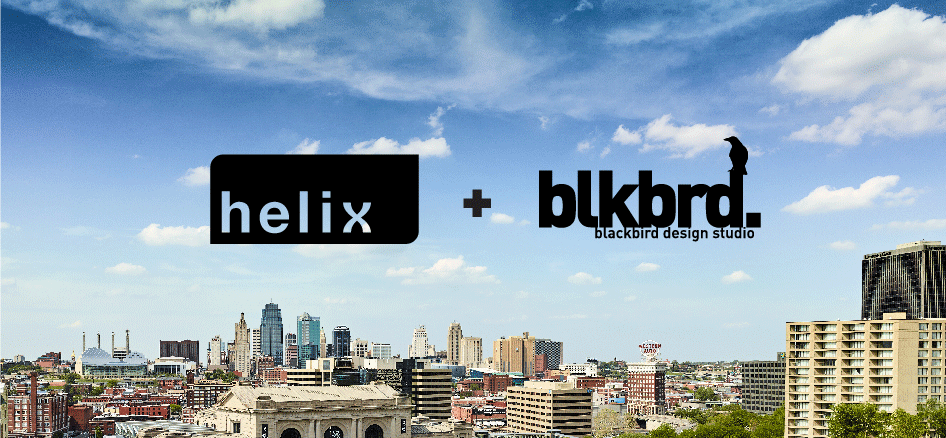 "The pace of change within our industry is rapidly accelerating," said Reeves Wiedeman, founding principal of Helix Architecture + Design. "New firms bring fresh ideas and different approaches to the way we have always done things; established firms bring a depth of knowledge, experience and stability. We see other firms locally and nationally following one of these two paths. In merging Helix and Blackbird we are bringing together the best of both worlds – stability, mentorship, extraordinary talent, a nimble approach to change and the ability to truly lead the industry into its next era."
The impact of Helix and Blackbird's work is present throughout Kansas City's streetscape, boardrooms and academic halls. Their portfolio of work spans venues for the arts and local restaurant concepts to new civic buildings and some of the largest corporate headquarters in the city. While both firms maintain diverse practices, each brings complementary expertise to the merger.
"We started Blackbird Design Studio to chart our own course, elevate design and elevate our city. Over the last three years we have continuously had the opportunity to do that," said Erika Moody, founding principal with Blackbird Design Studio. "This merger allows us to continue what we started on a larger scale; it allows us to be stronger, better, faster with a team and network in place that will help us continue to propel our city, and our region, forward."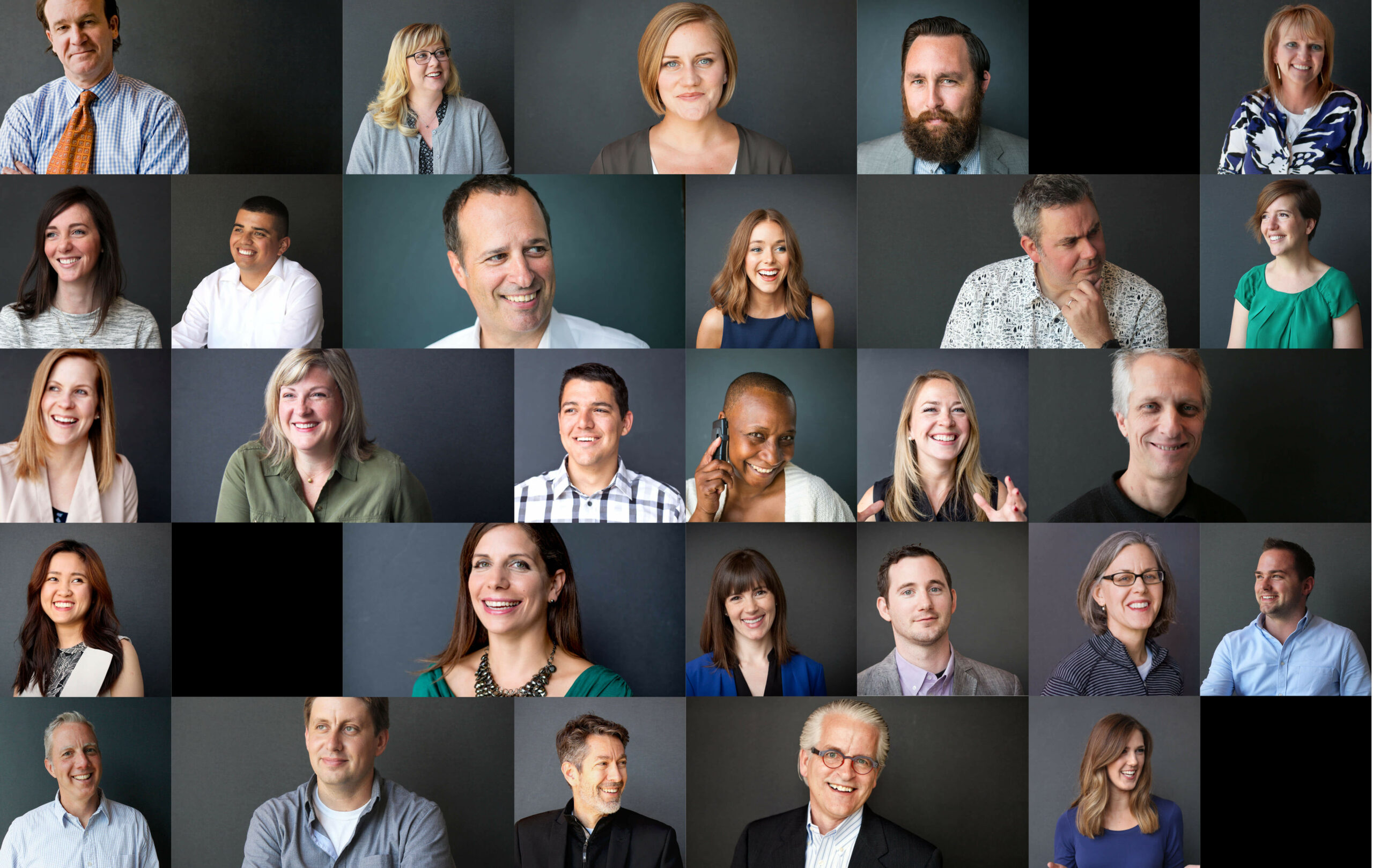 The Helix + Blackbird team
So how did two firms go from mutual admiration to marriage?
The relationship between Helix and Blackbird started as a partnership to land a new client both firms were pursuing. When a trusted industry partner, who knows both firms well, asked firm leaders if they had considered making this partnership permanent it set the wheels in motion. The two firms had complementary areas of expertise, culturally similar studio environments and a shared vision for the quality of work they wanted to create. With large projects on the horizon, they were eager to begin working together. Things moved quickly from there.
For nearly 25 years Helix Architecture + Design has operated in downtown Kansas City. Long known for their experience renovating some of the city's most notable landmarks, Helix has become a go-to firm for building owners and developers investing in the urban core. The firm's civic engagement and advocacy for investing in the arts and education has also resulted in a substantial portfolio of work for the city's top academic and cultural institutions. They are currently leading some of the most significant projects in downtown Kansas City, including the renovation of Traders Towers into a "smart" apartment building, the new Crossroads Westside development, the transformation of the historic Pickwick Plaza hotel and bus depot into a new mixed-use development, the ongoing transformation of Kansas City University's campus in the historic Northeast, the recently completed Boulevard Brewing Co. Visitor Center and the University of Missouri – Kansas City's proposed Conservatory of Music and Dance in the Crossroads Arts District.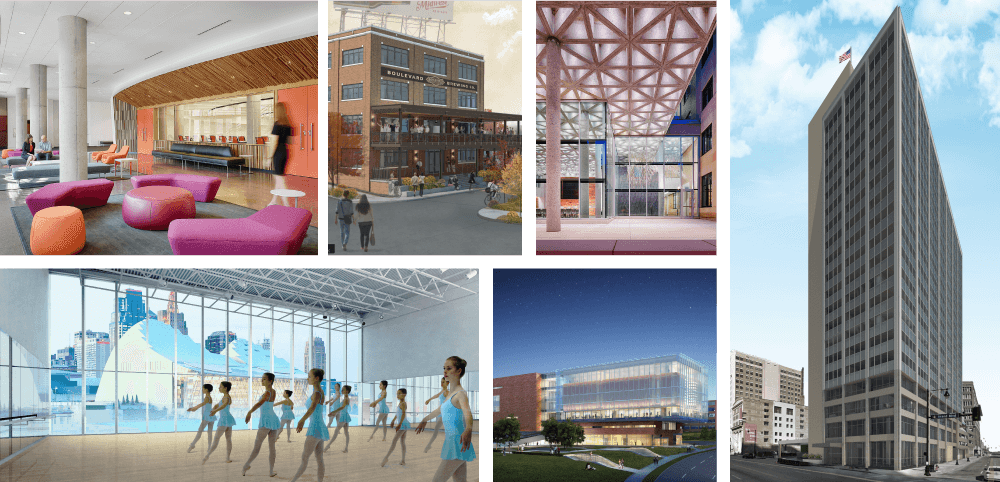 Starting top left, going clockwise: KCU Academic Center, Boulevard Brewing Co. Visitor's Center, KCPD Headquarters, Traders Tower, University of Kansas Medical Center – Health Education Building, UMKC Downtown Conservatory of Music & Dance.
When Moody and co-founder Trevor Hoiland started Blackbird, they brought with them an extensive portfolio of corporate office projects. During their time as principals with 360 Architecture they led the design of the H&R Block's world headquarters, AMC's new Theatre Support Center and the renovation and expansion of Black & Veatch's world headquarters. Since founding Blackbird they have built upon this expertise to grow their portfolio of corporate office projects throughout the region while expanding to other markets. Current and recently completed projects include Olsson Associates corporate headquarters and multiple regional offices, the renovation of the Creamery Building into flexible office suites for small to mid-sized companies, Synergy Services Children's Campus, an award-winning office and showroom for furniture manufacturer HighTower, the headquarters for rapidly growing tech company Valorem Consulting and Corrigan Station, a mixed-use development that includes the renovation of the historic Corrigan Building and adjacent new construction that will house office and retail space.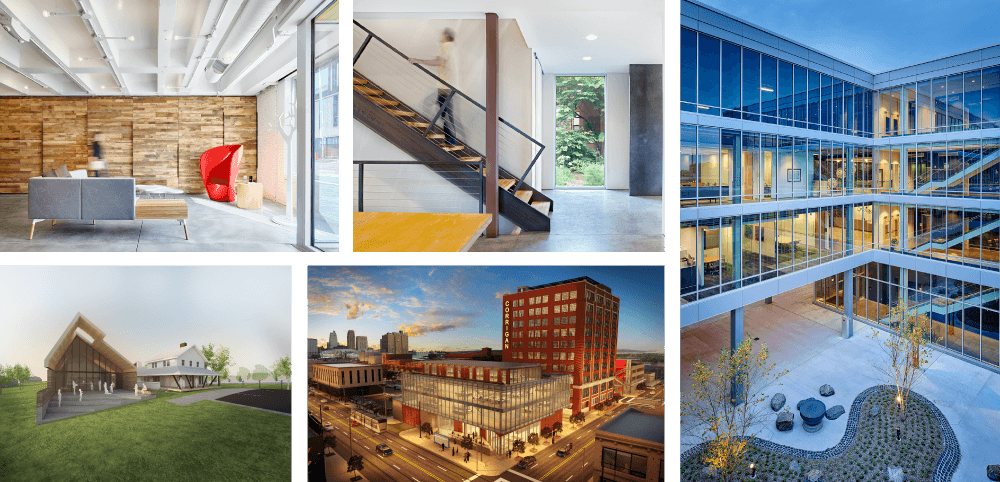 Starting top left, going clockwise: HighTower Furniture, Shepherd Residence, Olsson Associates headquarters, Corrigan Station, Synergy Services Children's Center.
As Helix and Blackbird merge operations, these niches fit together well, each expanding upon the experience and expertise of the other. Culturally the two firms were a natural fit as well. Within both design shops, passion and humor go hand in hand.
"We love what we do; we take our work seriously but not ourselves," said Hoiland. "We recognize that our clients are trusting us with a significant investment; they are letting us help shape not only their physical environment but their culture, their vision and their brand. We want the end result to be special but also make the process enjoyable along the way."
Both firms also share a similar philosophy that leadership within the community is a key component of their business. Each of the firm's principals and many of their staff invest significant time on behalf of civic and non-profit organizations.
"We believe that investing in the arts, education and a strong urban core is central to the vibrancy of our city," said Jay Tomlinson, founding principal of Helix Architecture + Design. "Design is a key component of our commitment but equally important is our engagement in the broader issues that are impacting our community."
The firm will consolidate operations into Helix's existing headquarters in Kansas City's Crossroads Arts District. Existing Helix leadership comprised of Wiedeman, Tomlinson, Michael Heule, Bryan Gross, Kristine Sutherlin and Alissa Wehmueller will expand to include Blackbird principals, Moody, Hoiland and Evan Fox. The firm will continue to operate under the Helix Architecture + Design name but launched a new brand identity in tandem with the merger.