Helix Architecture + Design Receives Top Honors at AIA Kansas City Design Excellence Awards

As a firm that focuses on people-centered design we measure our success on the impact a building has on the people it serves – how it functions and the experience it creates. Sometimes it's a simple gesture, an unexpected use of materials or unique form that transforms a space and takes it from good to great. At Helix, we are perpetually in search of these opportunities to go beyond the functional need of a space and create an exceptional environment and experience.
On Friday evening, two Helix projects that embody this approach were recognized with three AIA Kansas City Design Excellence Awards, including the top honor, "Project of the Year." The Kansas City University Academic Center received an "Honor Award" in the Interior Architecture category and the renovation and expansion of the Kansas City Police Department Headquarters brought home both an "Honor Award" in the Architecture category and the highest award of the evening, "Project of the Year."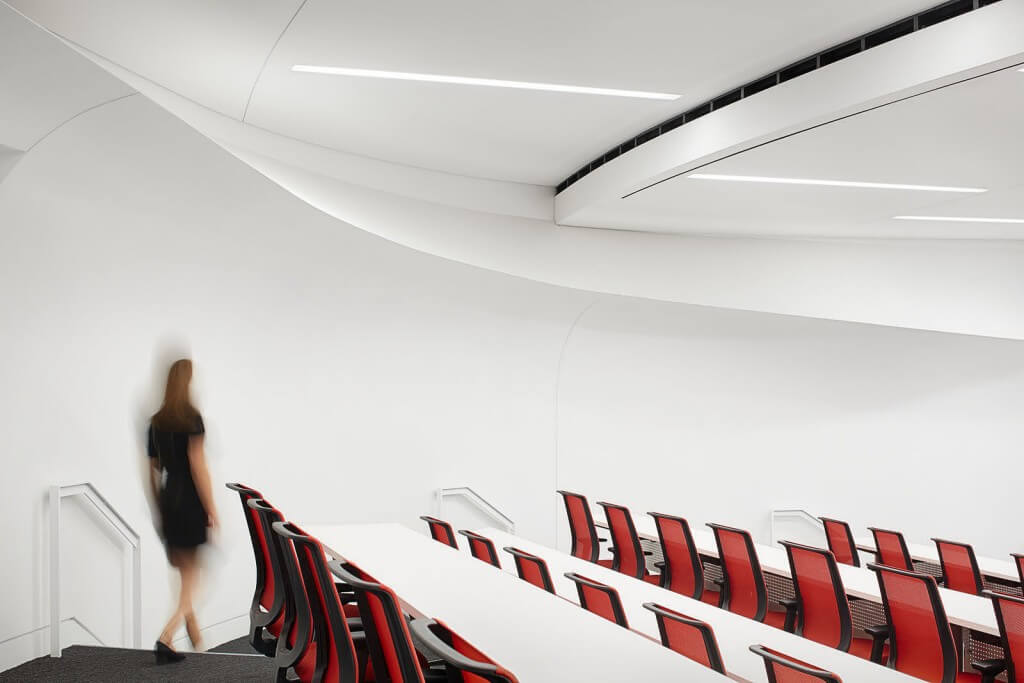 KCU Academic Center: Interior Architecture Honor Award
The KCU Academic Center renovation transformed an underutilized, 1,500-seat auditorium into a state-of-the-art learning facility and hub for student activity. The design team developed the innovative concept of stacking two lecture halls within the footprint of the existing auditorium. This resourceful solution saved nearly a third of what it might otherwise cost to build a new lecture facility. The Academic Center's transformation from a seldom-used facility to a hub of active learning and collaboration has given KCU students and faculty a truly functional, beautiful new home.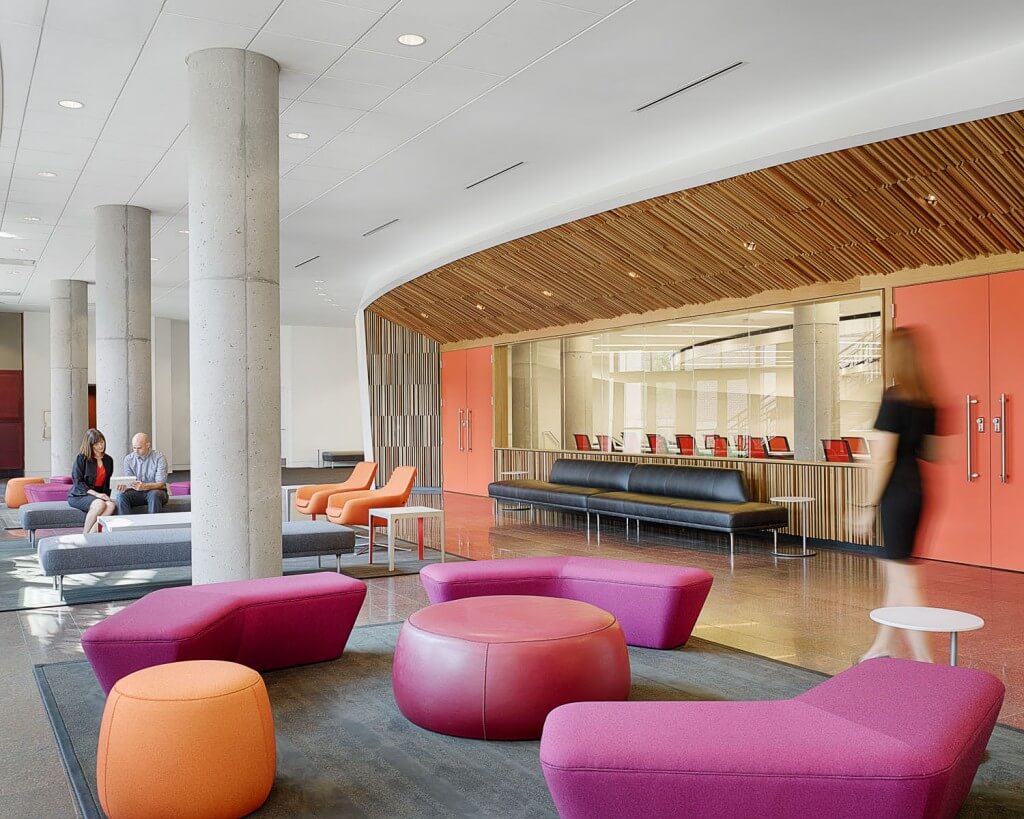 "Very few projects were as simple and pure as this one was. The notion of literally this found space they took one theatre and then created a classroom within that theatre made the building so much better, very sustainable idea… It literally doubled the square footage and the functions within the structure. The other thing that we appreciated was that given the new restraint in terms of what you had left in terms with volume and size was the use of color, they essentially just used one color, this color red and then a little bit of wood to add texture, everything else was white. And so we thought that was very powerful and a really nice way of bringing the strength of the idea through; nothing got lost. It was a very simple move and we appreciated it because of that."
Luis Bernardo, FAIA
, principal with Design Collective, Inc.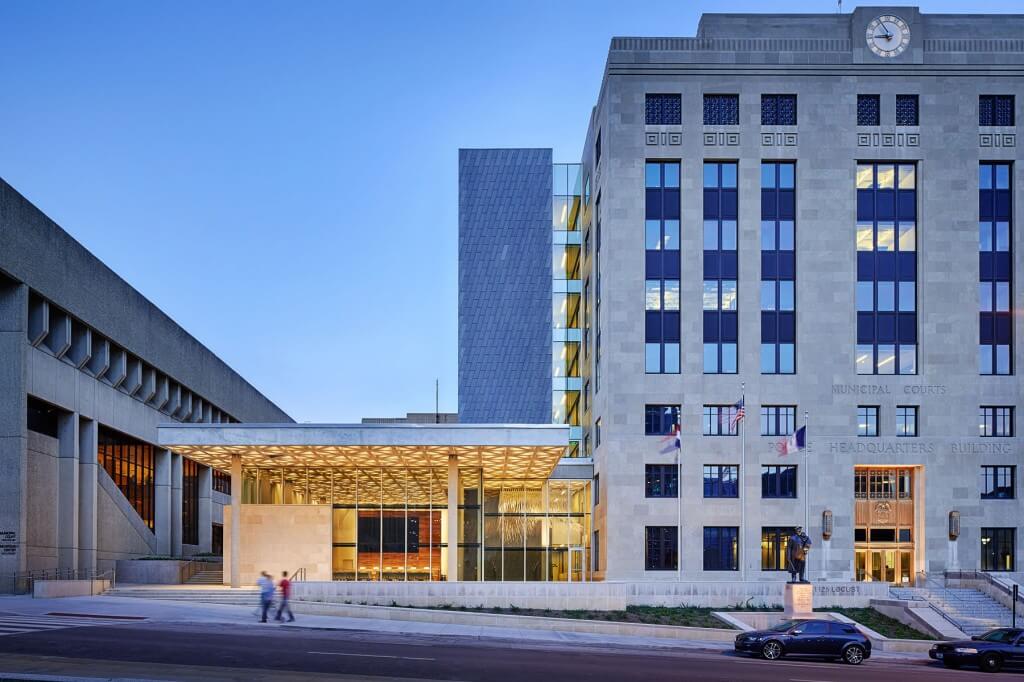 Kansas City Police Headquarters : Project of the Year + Architecture Honor Award
The renovation and expansion of the KCPD Headquarters was designed to re-position the facility for another 70-years of service to the community while respecting the character of the historic structure. An important goal of the project was to increase transparency and expand police interaction with the community. This involved extensive changes to the first floor including the addition of a community room, which allows the public to engage in the Board of Police Commissioners meetings and serves as a venue for Police community outreach programming. The pattern of the concrete structural roof system in the new addition is adapted from Art Deco details that are found throughout the historic Police Headquarters building in both ornamental and functional roles.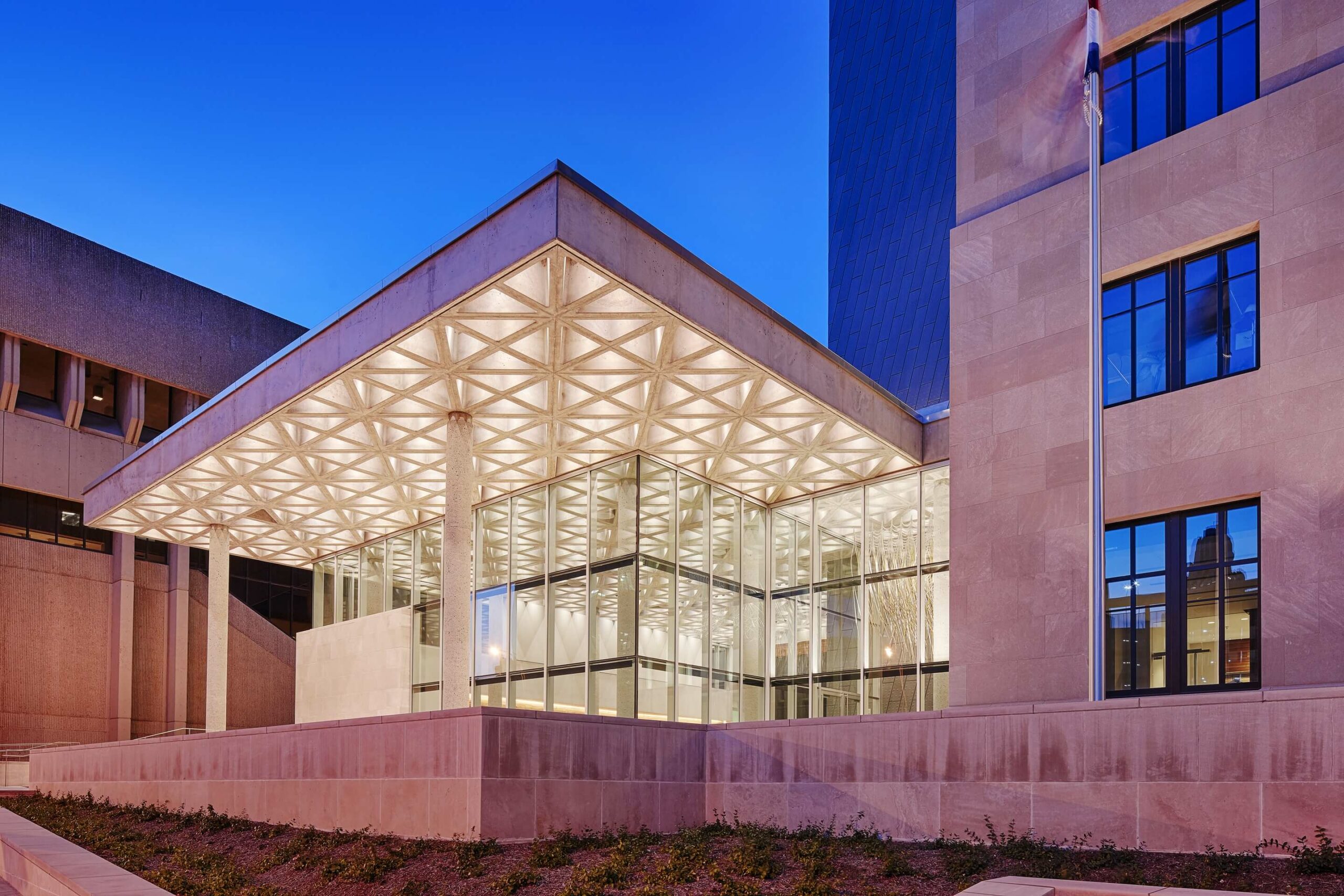 "The Kansas City Police Dept. project says everything that's right about how a police department relates to its community. They took a limited program and communicated a welcoming civic presence that communicates that the police are an integral part of their community. This is civic architecture at its finest."
Steve Ziger, AIA, partner with Ziger/Snead Architects
"This one as soon as I opened up the file it was like, whoa, this is a winner this is probably going to be the grand winner. It was such a powerful and strong statement right from the get go… The program was just really bathrooms, a fire stair and a small meeting room. But what they did with that and how they took the details of the building and transformed that into this whole new ceiling structure that just comes alive at night with light, the incorporation of public art, it really spoke to what a public building can be. And in these times for it to be an addition to the police headquarters of course is a great moment for the community. It was everybody's number one project."
Luis Bernardo, FAIA
, principal with Design Collective, Inc.
"The Kansas City Police Department Headquarters was such a beautiful project in many ways but really poignant and timely for us. The day that we got together and reviewed all the projects was a day that the news cycle was completely dominated by communities and struggles frankly with their police departments. At a time when our country is really struggling with these complex issues it was really wonderful to see a project where such an important civic institution as the police department headquarters project really spoke to the strength and spirit of community for Kansas City."
Luanne Greene, FAIA, president of Ayers Saint Gross
The 2016 AIA Kansas City design award jury was comprised of nationally recognized designers, including Luis Bernardo, principal with Design Collective, Inc.; Luanne Greene, president of Ayers Saint Gross and Steve Ziger, partner with Ziger/Snead Architects.
Congratulations to our clients at the Kansas City Police Department and Kansas City University of Medicine & Biosciences, our construction partners at JE Dunn Construction and McCownGordon Construction, all of our engineering partners and our Helix design team members. Successful projects are only achieved through strong relationships across all team members and these awards truly belong to all of you.