Fast-Growing, Digital Agency's New Headquarters Designed to Evolve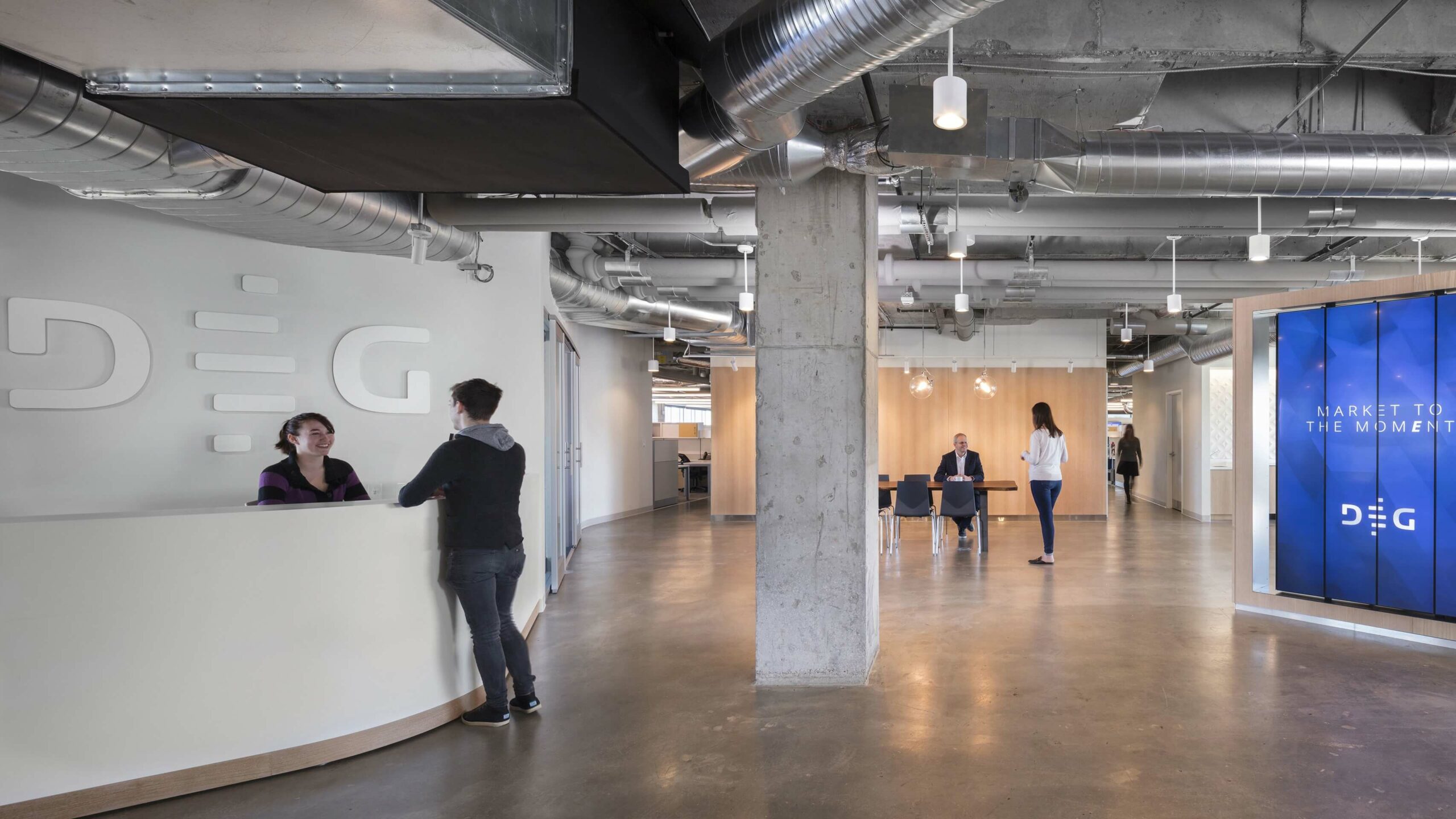 DEG, a full-service, digital agency, is one of the fastest growing digital marketing firms in the country. They had already outgrown their Corporate Woods headquarters, and with plans to double in size over the next five years, they needed a space that could serve them well into the future. DEG hired Helix to design a new home that could adapt alongside their industry and accommodate the continued growth of their company.
As an organization, DEG is constantly evolving, and they were looking for a workspace that would perform in the same way.
"What is different about DEG is we are fully committed to the idea that we will anticipate change, not just react to it," CEO and co-founder Neal Sharma said in a recent interview with the Kansas City Business Journal. "The idea is that evolution is our middle name, and we are building the company's culture to be one that anticipates and embraces change and expects it."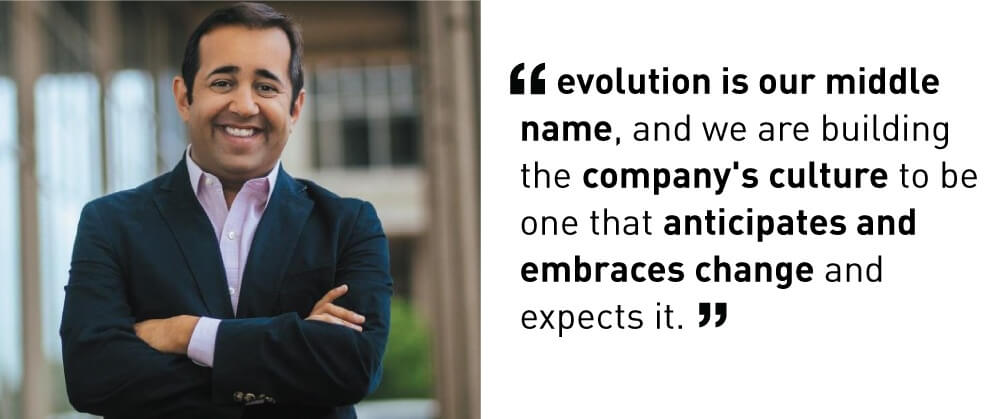 Over the years, DEG has maintained an employee retention rate north of 90 percent, so every design decision was made with their team in mind. Their new, 30,000-sq.-ft. space, located on the fifth and sixth floors of 6601 College Boulevard in Overland Park, has a mix of private office and open workstations. Organized by team, each section offers internal conference rooms, called scrum rooms, as well as quiet solo rooms where employees can take a phone call or do focused work. The wide range of seating options, including task chairs, benches, stools, soft seating, rocking chairs or treadmill workstations, allows employees to work when and where they will be most comfortable and effective throughout the day. The lobby features a Brew Bar, stocked with coffee and beers, along with an open cafe that can be used for dining, socializing or a place to plug in and work.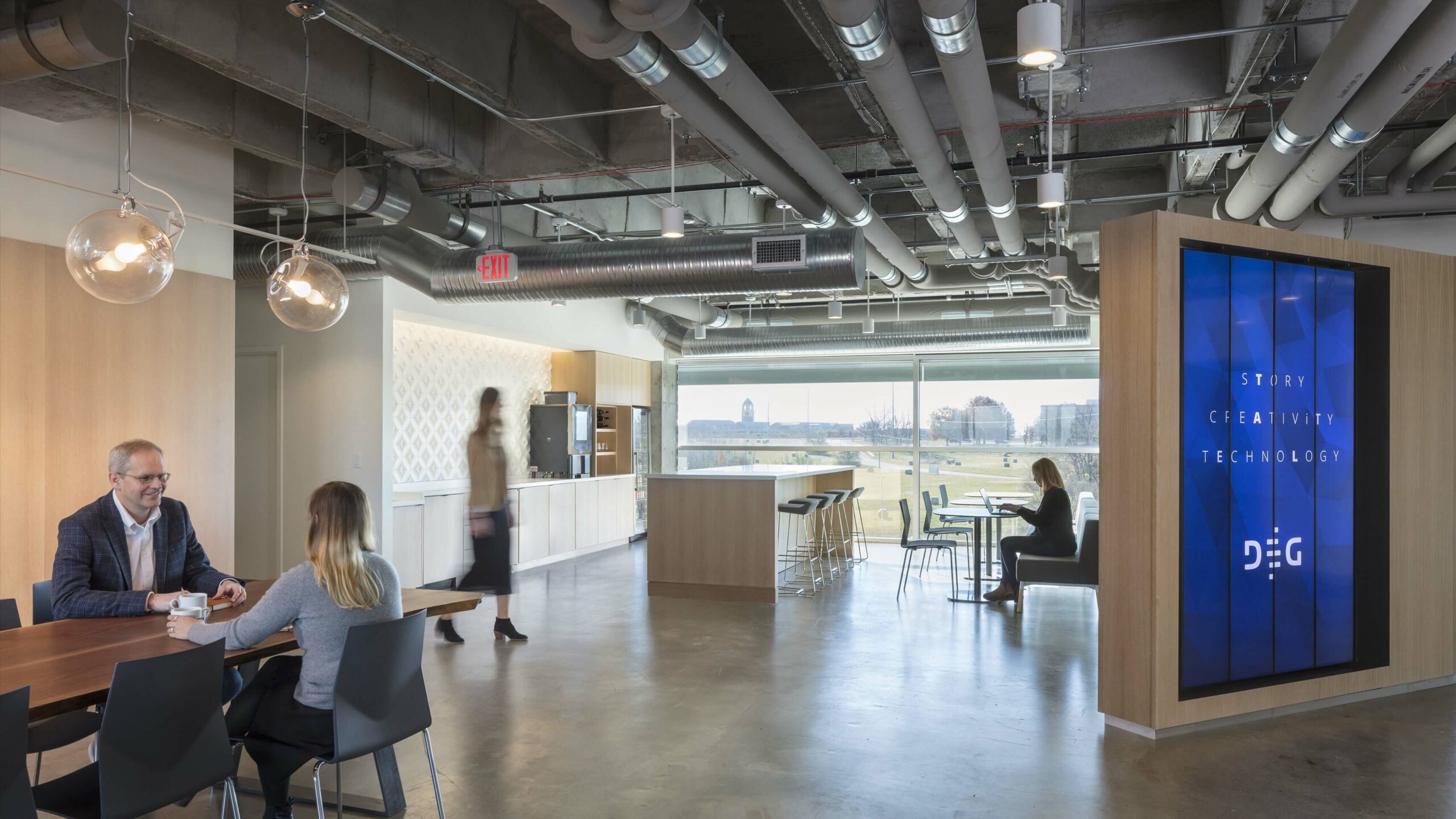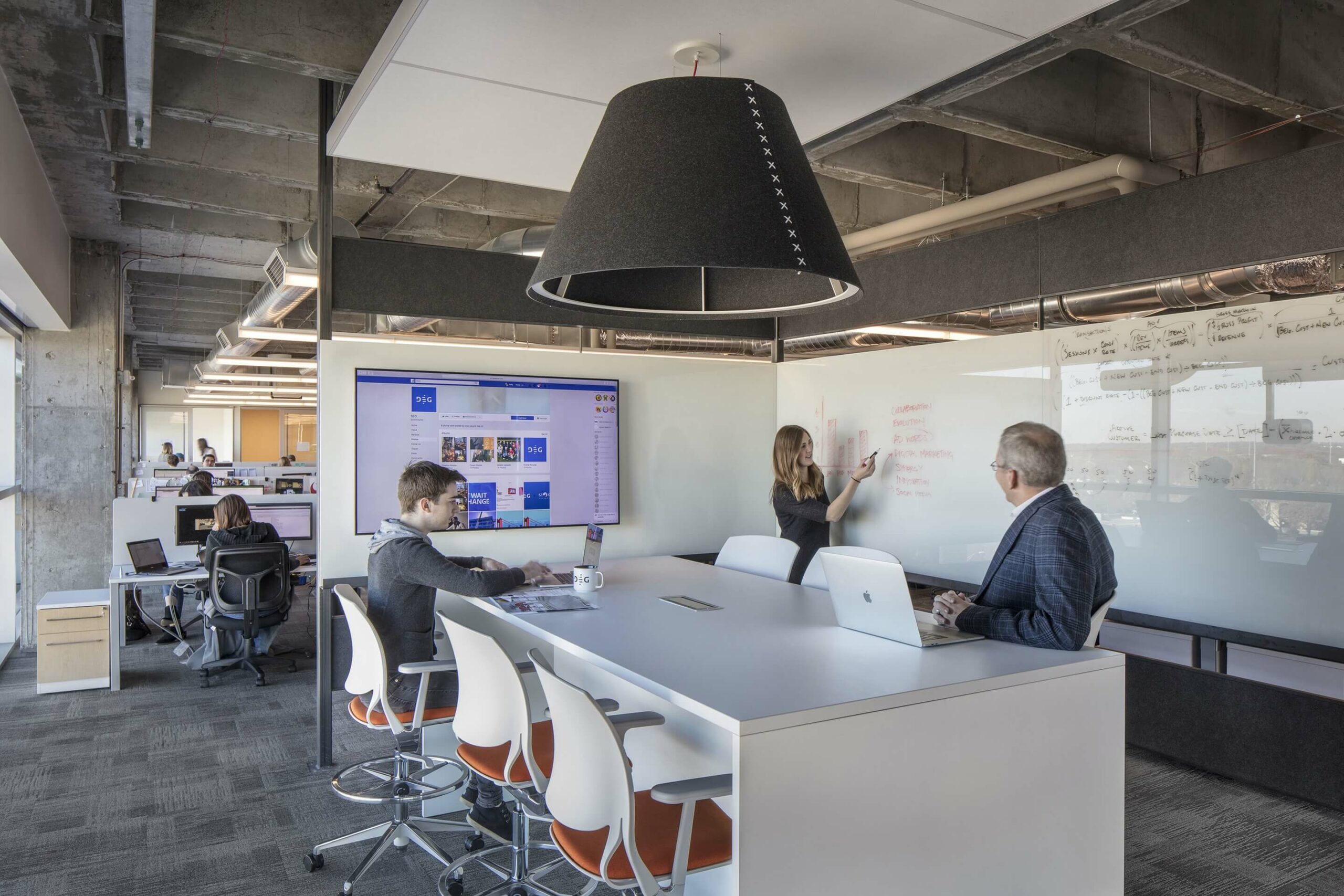 In alignment with their position as a full-service digital agency, technology was used purposefully throughout the space to showcase their work. The main lobby display can be customized to each client coming into their office, and a social media command center that spans six screens displays all of the metrics they are tracking. The theater also has nine, bezel-less screens that can be used independently or as one large screen for client presentations. To make technology accessible and easy to use, every TV is paired with a custom built box that houses every cord, cable or adapter that someone might need for a presentation. The high-tech environment is balanced by low-tech solutions that add warmth and approachability to the environment. Felt wraps around the exterior L-shaped walls of the scrum rooms and can be utilized for pin up presentations, employee artwork or as an opportunity to present large format brand ideas to clients.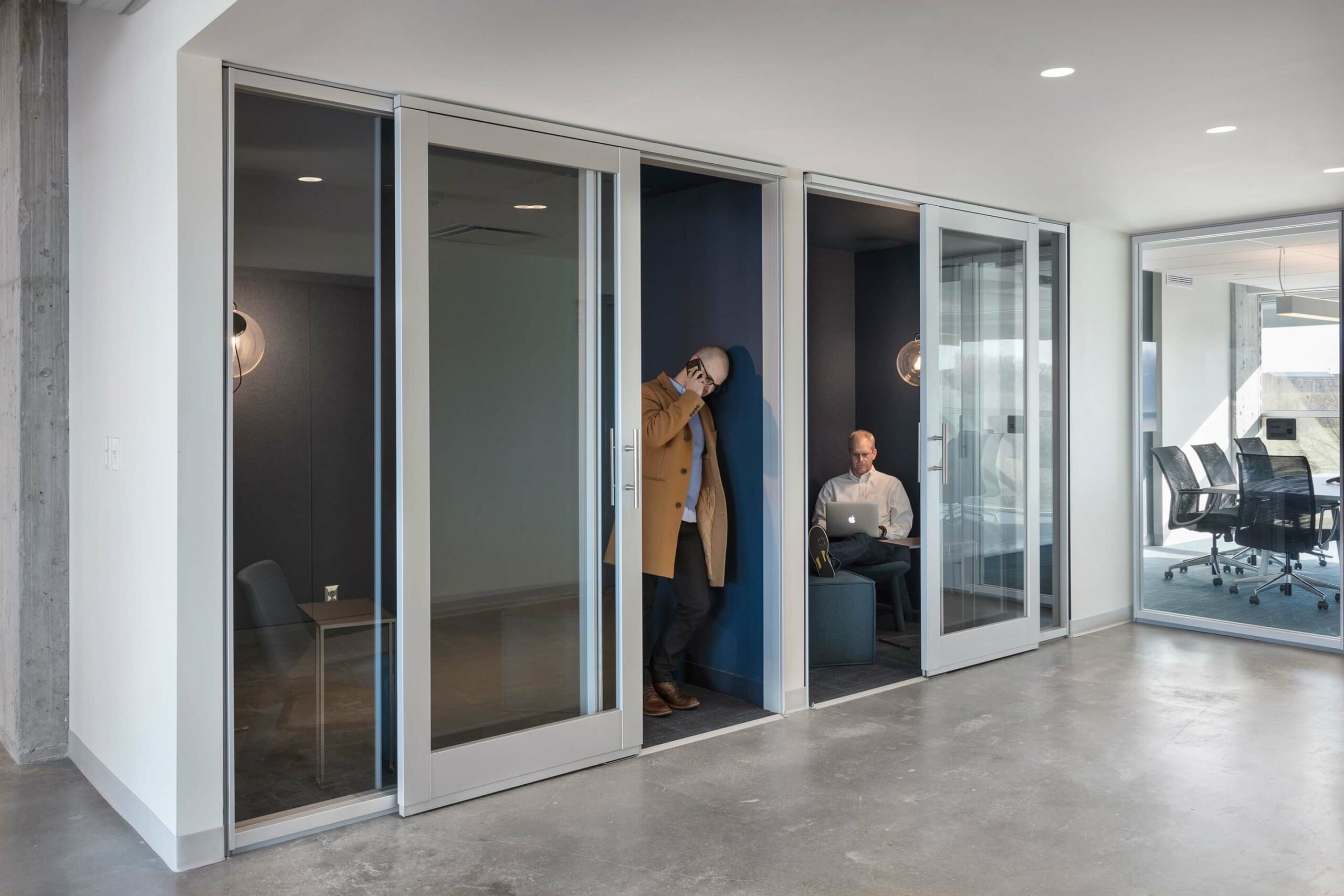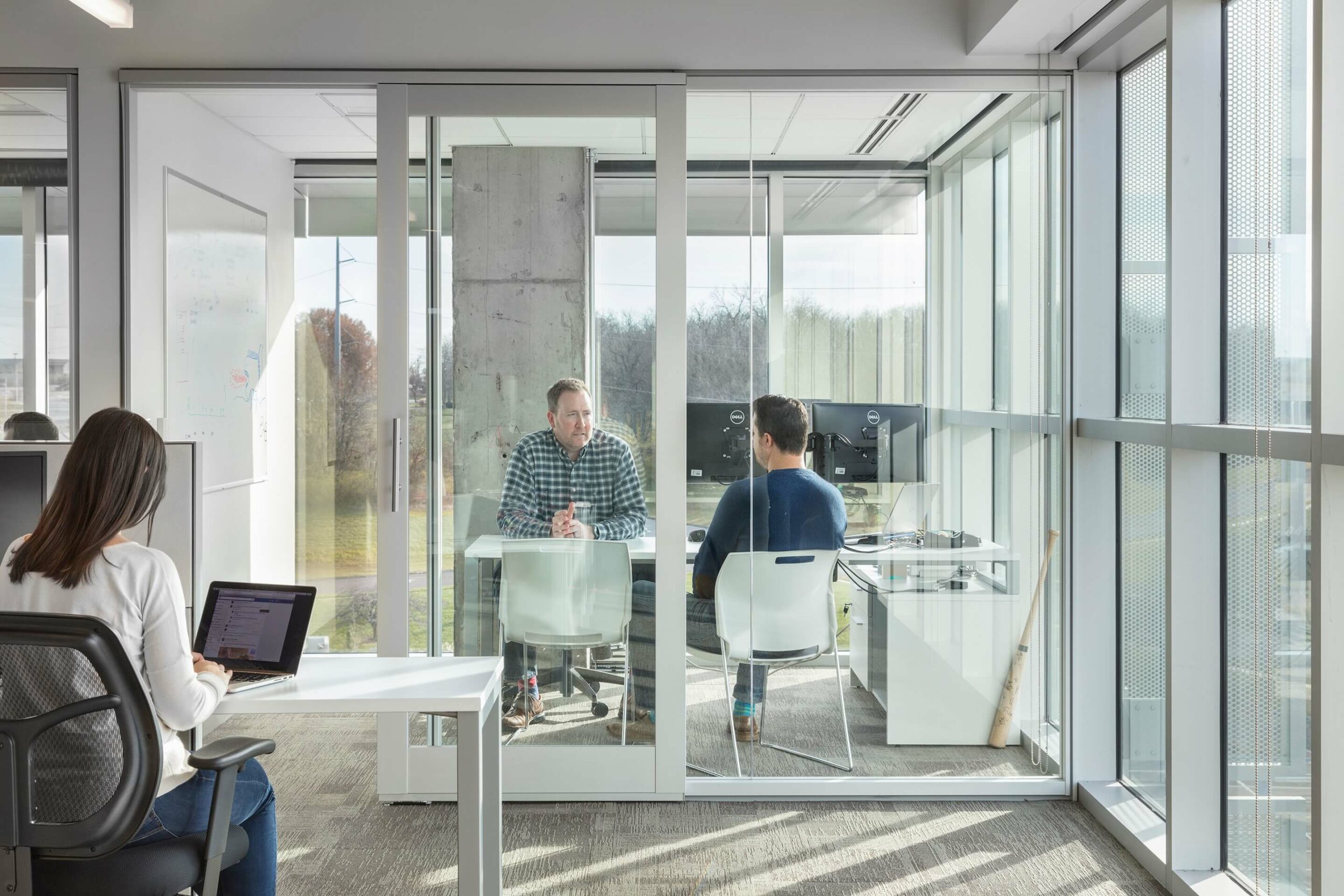 In anticipation of future growth, Helix developed a floor plan that would allow DEG to maintain a consistent design as they expanded beyond the fifth and sixth floors. The workstations, internal conference rooms and other key components are laid out in the same manner on each floor, providing continuity of wayfinding. In order to make each floor feel special and encourage movement between floors, there is a unique amenity space on each, such as the brew bar and lounge on the sixth floor and a staff cafe on the fifth floor.
True to their name and mission, Helix and DEG are already working together to build-out the fourth floor. With a strong, flexible concept in place, their new building will grow with them for years to come.
You can learn more about how DEG helps clients meet their business objectives through the creative application of technology at www.degdigital.com or follow them on Facebook, Twitter and Instagram.