In honor of Earth Day, we're sharing a few of the key practices Helix has found useful throughout our experience delivering beautiful, healthy and sustainably built spaces. As designers, we are keenly aware of the impact the built environment has on the environment, and we are always striving to guide our clients towards sustainable choices through each phase of the design process.
Let's dive in to five key strategies that are simple, yet powerful.

STRATEGY ONE: GOAL SETTING
Not a step to overlook, identifying project goals related to energy, water or materials is a crucial step in delivering a sustainable project. Helix works alongside clients to determine whether a project will pursue certification via a green building rating system or whether there are individual goals separate from a rating system that the team would like to target. Not a one-size-fits-all approach, these goal-setting meetings produce objectives and aspirations that are as unique as the organizations and individuals who ultimately occupy the buildings.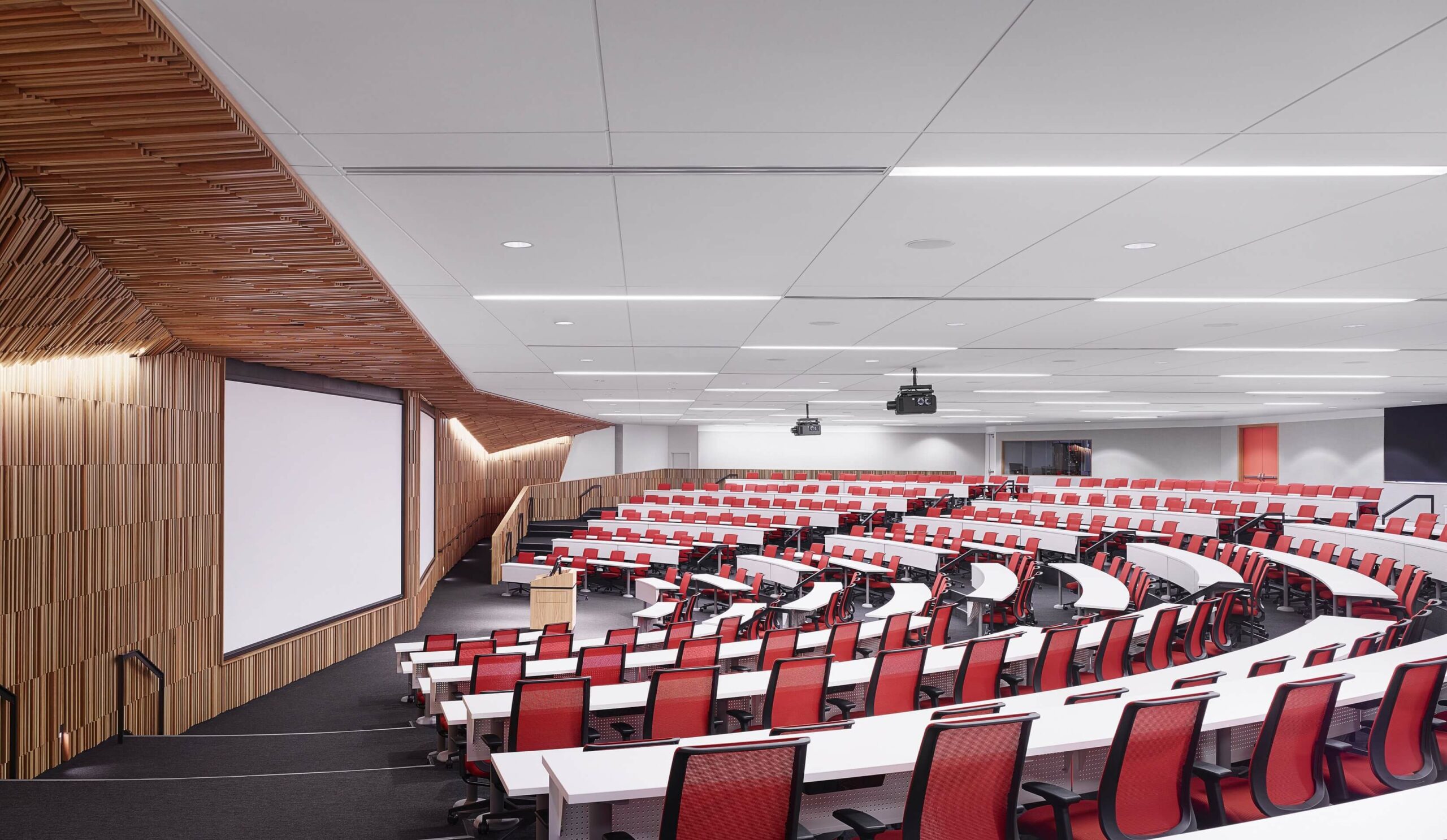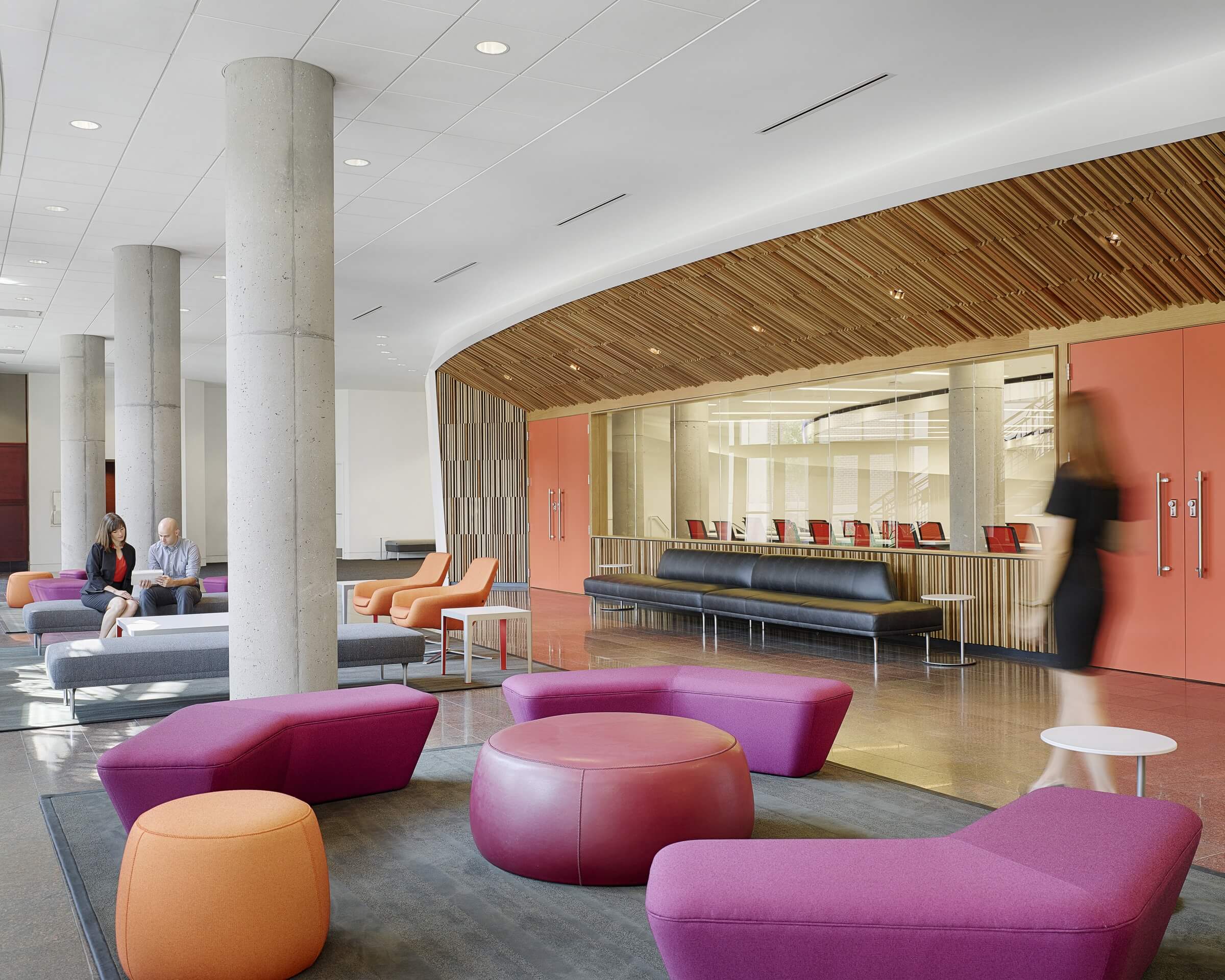 How we've done it:
Kansas City University, Academic Center
Kansas City University's decision to both reuse an existing building and pursue LEED Silver certification for their newly renovated Academic Center aligned with their commitment to foster sustainability across their campus. A particular goal that was identified early in the design process was to save as much of the existing building shell as possible in the renovation. Ultimately, the project was able to reuse over 90% of the building structure and significantly reduce the amount of materials that would have been required for the project had it been a new construction project.
Why it matters: Sustainability means something different to each person and it is important to understand the origin of this motivation and spark within your client, whether it be a desire to save money or a desire to save the world. Projects teams that set the bar for themselves early avoid delivering "business-as-usual" projects and achieve better outcomes overall. KCU's ability to repurpose over 90% of an existing building prevented materials from being sent to a landfill before the end of their useful life and saved energy that would have been needed otherwise to extract, refine, and transport building materials to their project site.
STRATEGY TWO: ENERGY MODELING
Using today's advanced software, architects and engineers are able to model a building's energy use throughout the design process. With the ability to test various scenarios, a wide variety of design variables can be analyzed and adjusted to maximize building performance and reduce greenhouse gas emissions.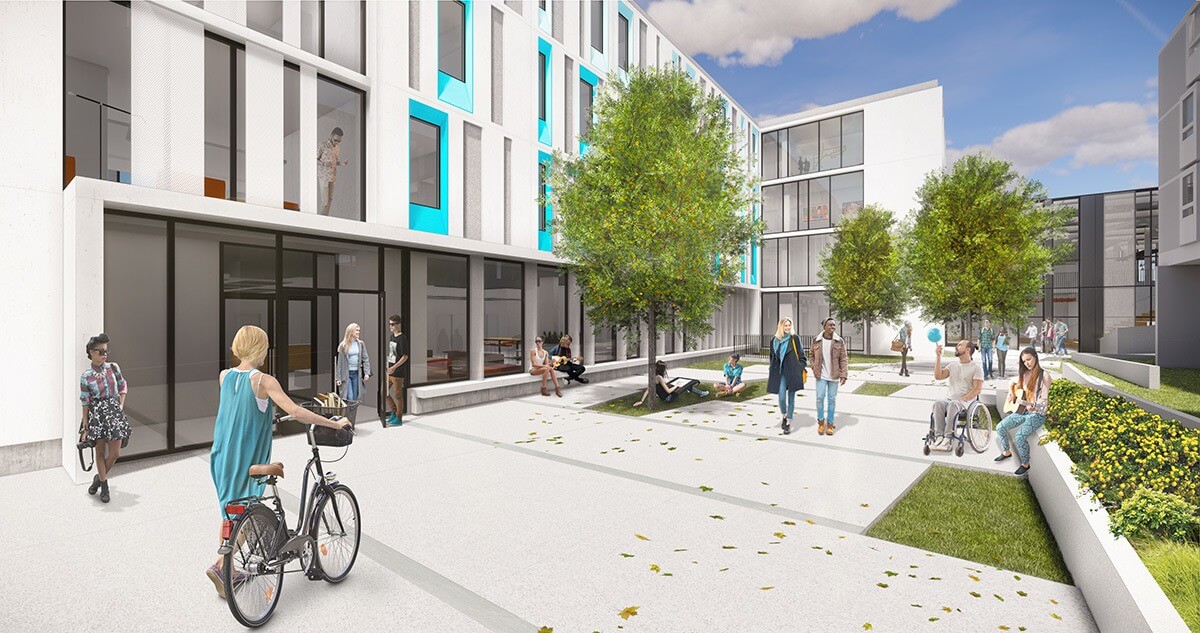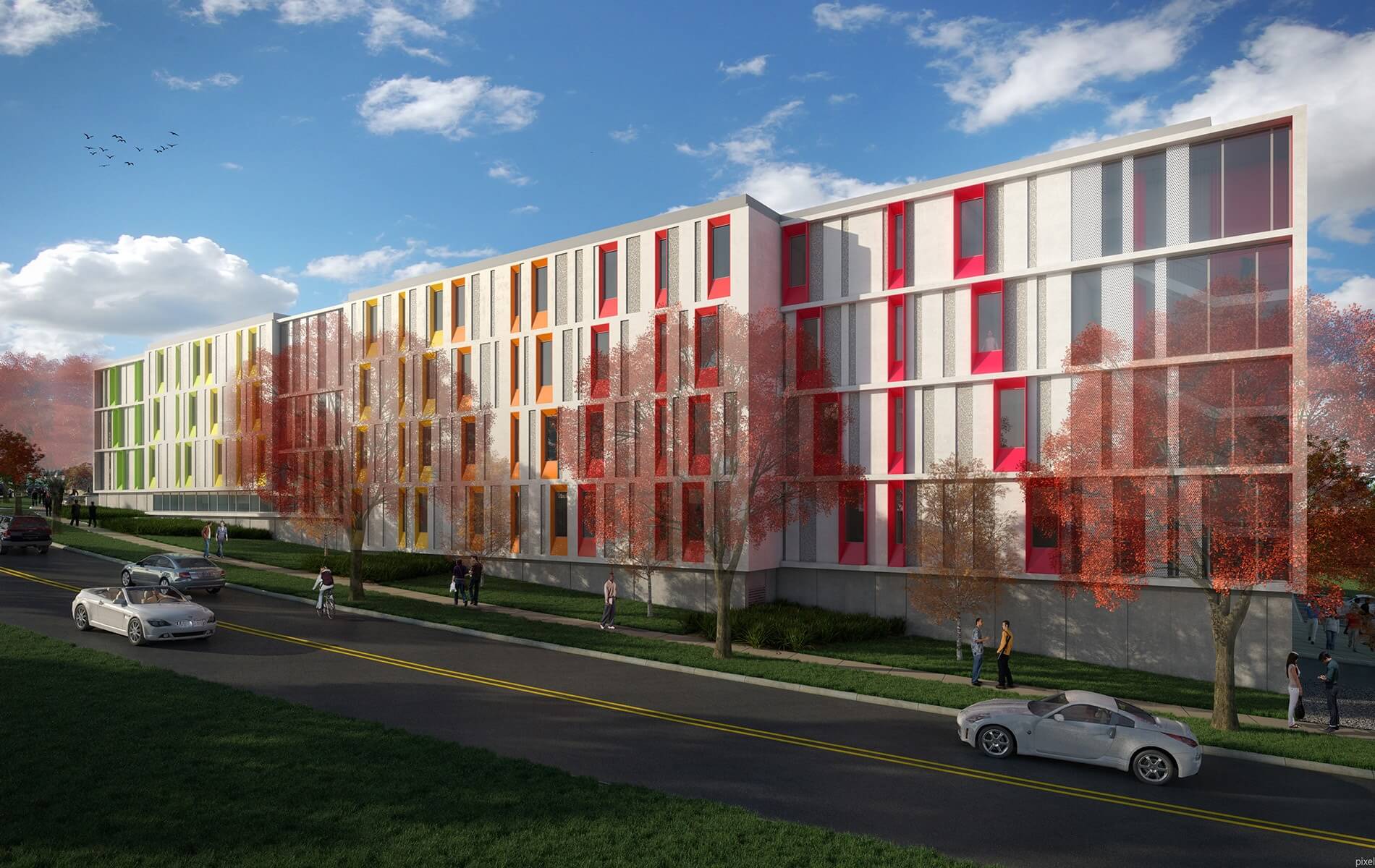 How we've done it:
Kansas City Art Institute, Student Residence Hall & Dining Center
During schematic design, the design team for KCAI imported early models of the building into Sefaira, a software program designed to analyze passive and active strategies to optimize building performance. The design team was then able to study site positioning, building massing, and daylighting. Based on the results of the energy model, perforated louvers were implemented into the east and west facades of the design in order to reduce solar heat gain.
Why it matters: Energy models are one way to quantify the future environmental impact of a building while there are still opportunities to make changes. In combination with cost estimates, the project team can quickly evaluate a number of energy conservation measures based on their life cycle costs. For the KCAI Student Residence Hall & Dining Center, energy modeling allowed the project team to identify solar fins as one investment that would ultimately pay for itself through its energy savings.
STRATEGY THREE: MATERIAL VETTING
It requires dedication and research to select materials that are neither harmful to the environment or to building occupants. As designers, we often have to find harmony between budget constraints, sustainability considerations and durability factors. Selecting materials and finishes that check these boxes is part of the challenge in creating beautiful, healthy spaces.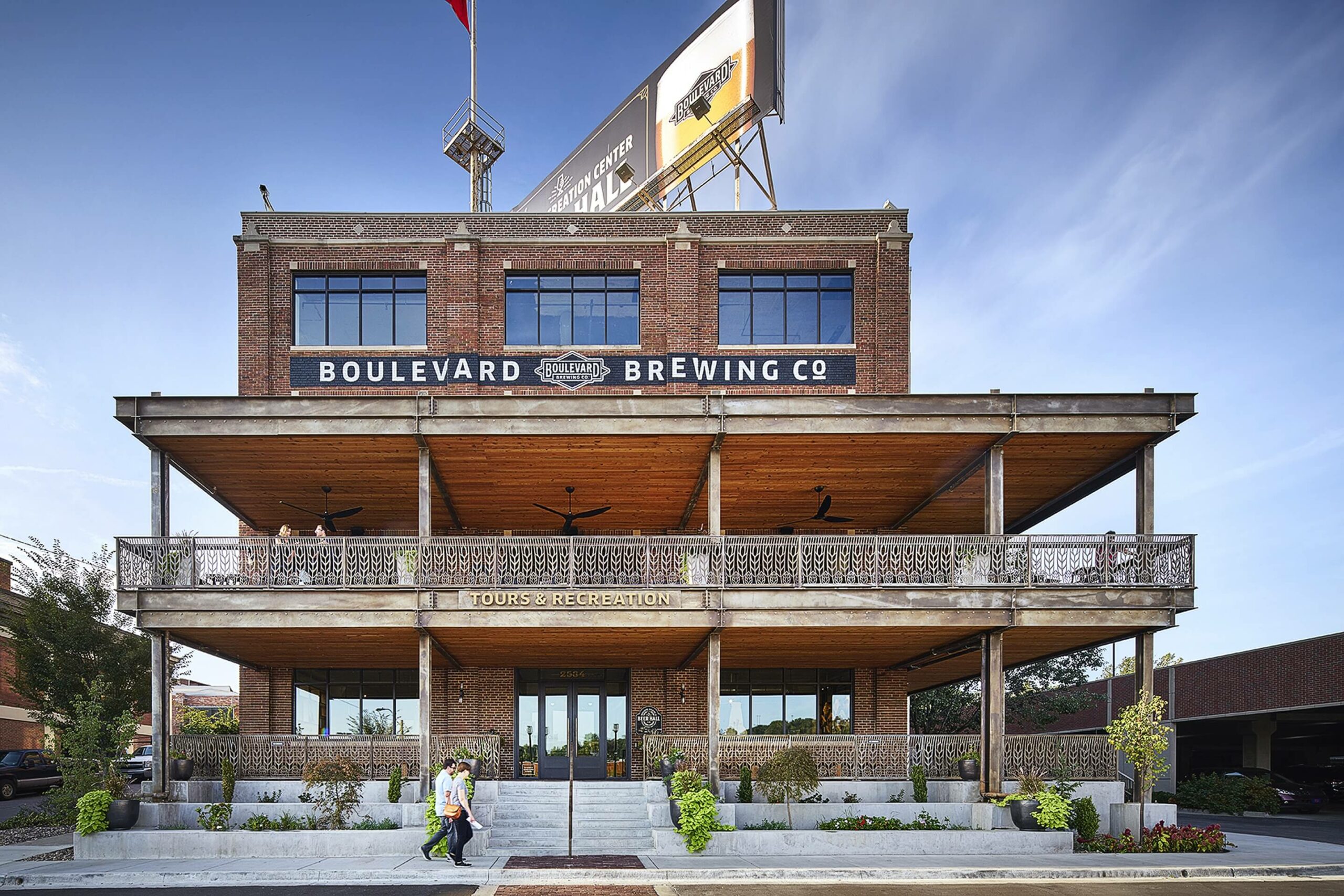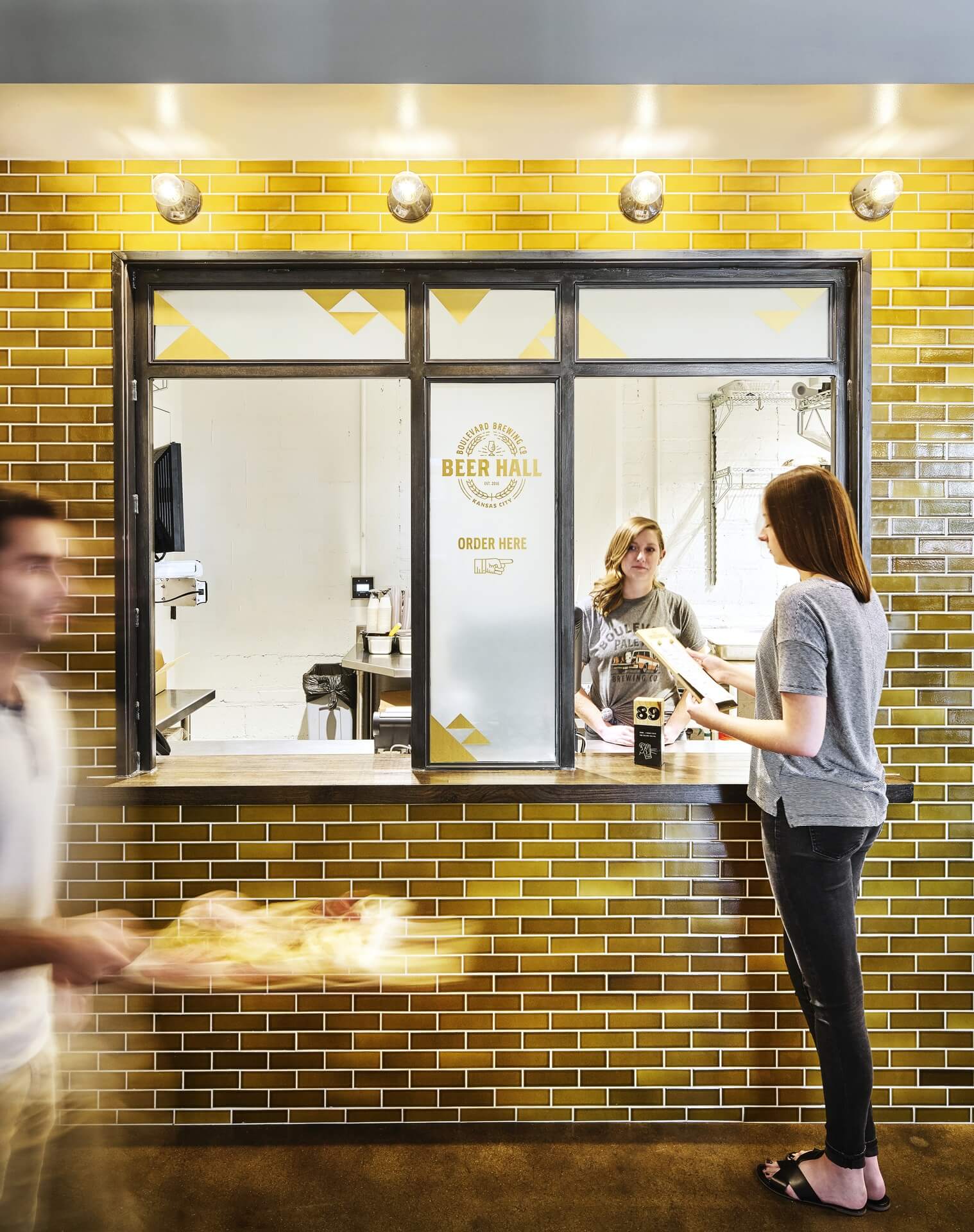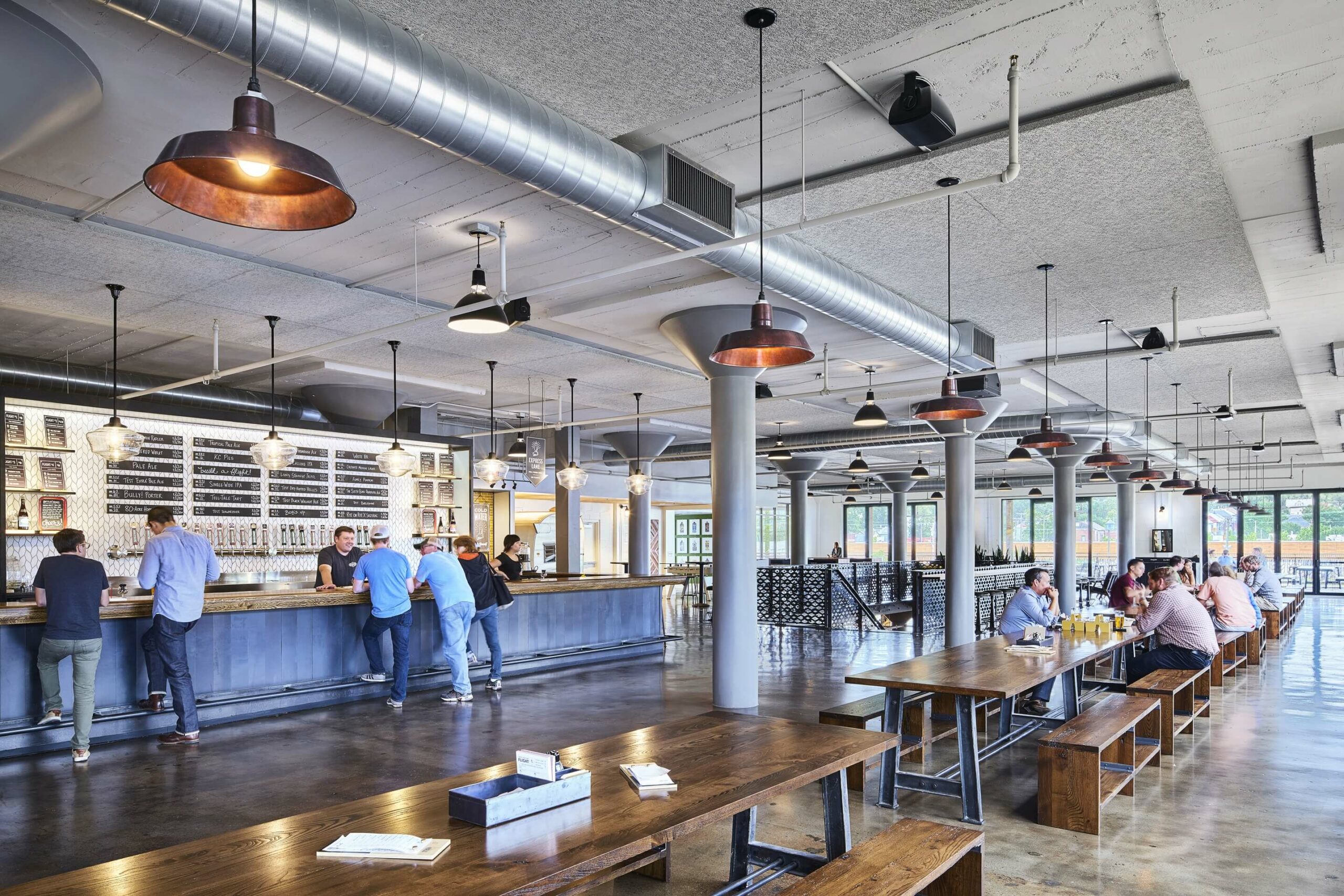 How we've done it:
Boulevard Tours & Recreation Center
Sustainability is an integral part of Boulevard's brand and business practices. They are constantly looking for ways to reduce their environmental footprint and pride themselves on operating as a zero landfill company. Working with a client that continually pushed us towards sustainable material selections was a challenge that we were eager to solve, and the results are quite impactful. Countertops are Recycled Surfaces, a locally manufactured solid surface made from recycled glass and porcelain. A barn being torn down in rural Missouri provided reclaimed wood for the project. Many other finishes and furniture pieces found throughout the building are vintage or handmade in the U.S.
Why it matters: As the demand for new buildings grows exponentially along with the world's population, it is important to remember that the materials on earth are finite. The more we can do to select building materials with both the environment and human health in mind, the better. Opting to use reused or recycled materials is one way to reduce the demand for raw materials extraction and limit the amount of "waste" being sent to the landfill. An additional concern with building material selection is the impact that these materials have on human health, in light of the fact that humans spend 90% of their time indoors. Selecting building materials that disclose their ingredients and avoid the use of hazardous chemicals creates demand in the market for healthier building materials.
STRATEGY FOUR: DESIGNING FOR FLEXIBILITY
Spaces may not always be used as they are today, so as designers, we must consider strategies to "future-proof" our work and make spaces functional for decades to come. There are many ways to approach this concept, but some solutions could include demountable partitions, accessible ceilings, carpet tile, movable casework (as opposed to built in millwork), and more.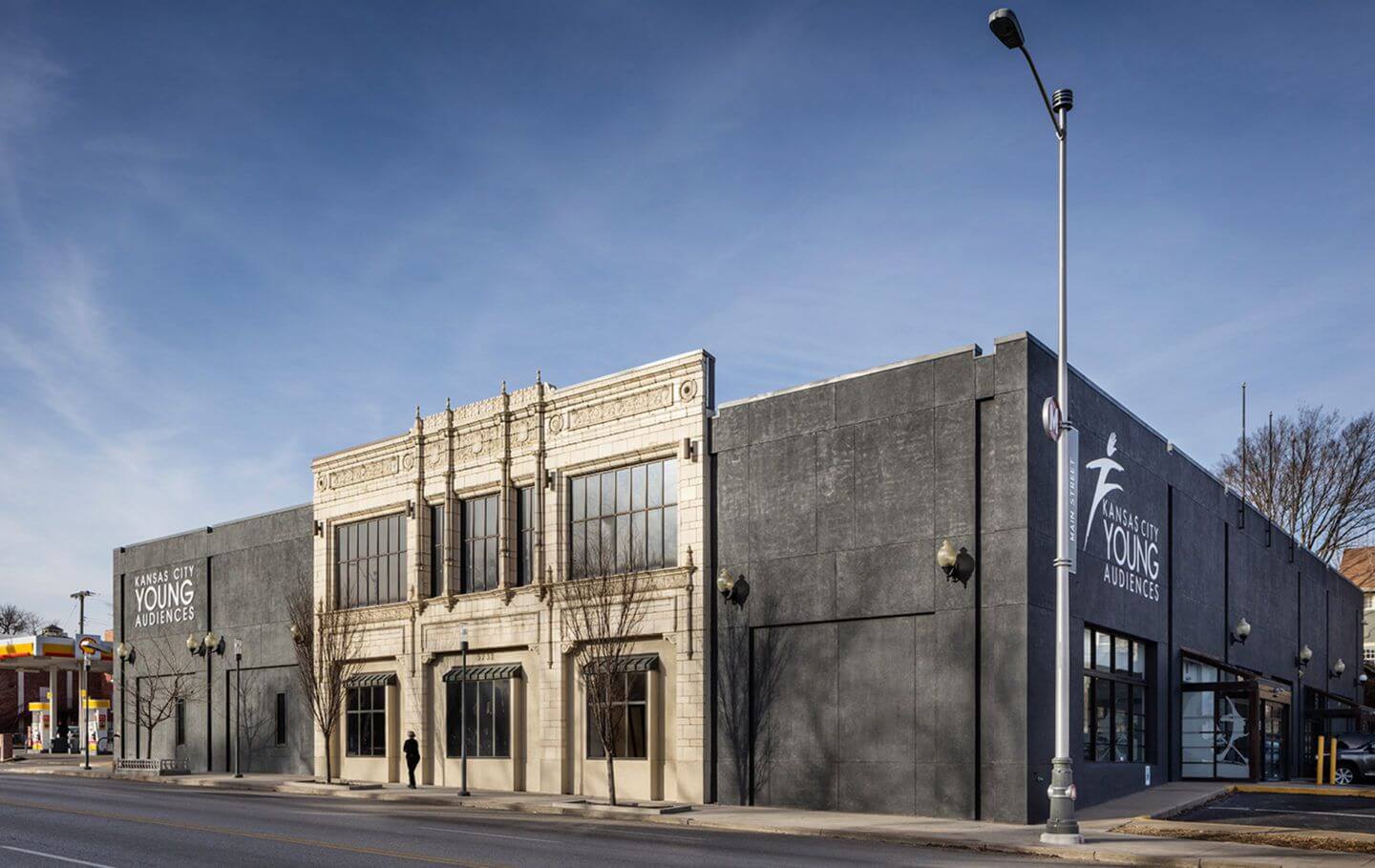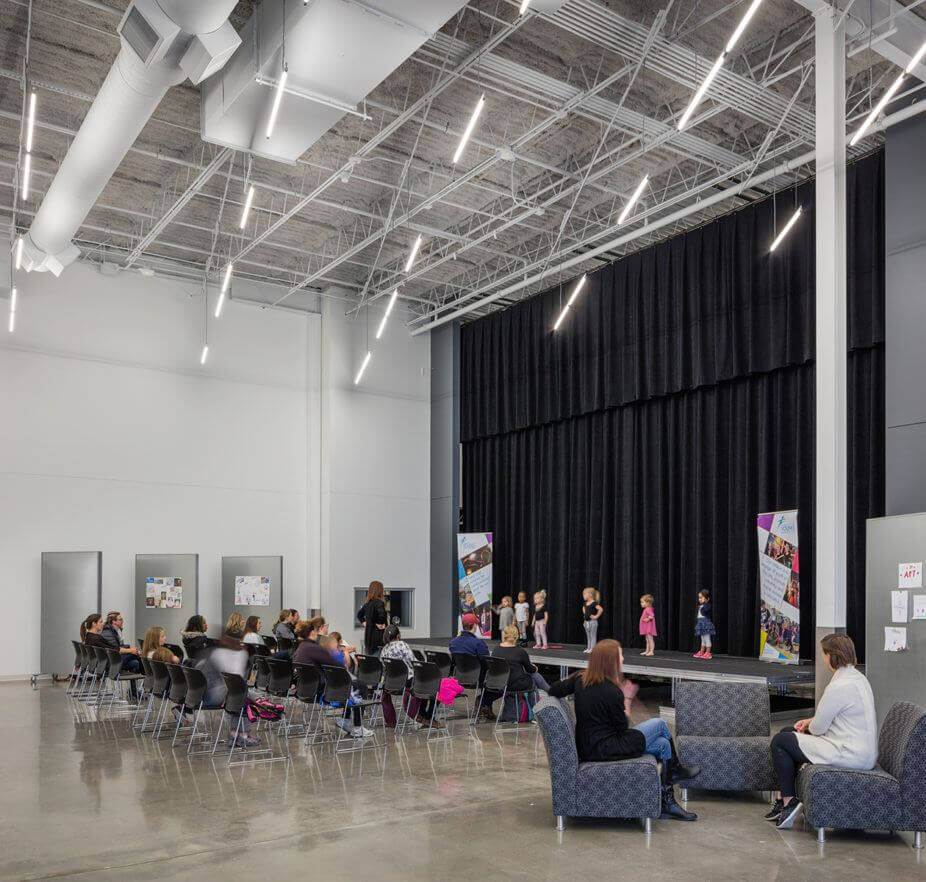 How we've done it:
Kansas City Young Audiences
KCYA purchased their first permanent home in 2016, an existing building originally constructed in 1997 as a large box retailer. One of KCYA's main objectives was to have flexibility in their new space. Helix developed a design concept that features a variety of flexible spaces intended to grow with the organization, as they host various visual and performing arts activities and classes for children. This main room can be rearranged to accommodate programmatic need for summer camps, performances, small classroom space, receptions and the regular weeknight parent crowd for evening classes. Additionally, we provided floorplans for how they might use their building in various ways dependent on the user groups or events.
Bonus: We were able to reuse building materials from another space that was going to be demolished. Carpet overages from Interface were utilized that otherwise would have gone to waste.
Why it matters: While buildings are largely designed to last for many decades, it is rare that they are used continuously in the same manner throughout their lifetime. Designing buildings to be flexible and adaptable for different uses can allow for building materials to be used longer before being torn down, and therefore reduce the demand for labor and materials over the life of the building. In addition to being designed to adapt to different interior uses, buildings should also be designed to adapt to a changing climate. Commonly referred to as resiliency, designing buildings to withstand more frequent and extreme weather events is a practical strategy to extend the usable life of a building.
STRATEGY FIVE: HUMAN COMFORT & CONNECTION TO NATURE
It is not enough that a building serves a function or achieves a certain aesthetic. As we design and develop future classrooms, apartments, offices and community gathering spaces, we must be mindful about how much time users will spend in the spaces that we create — how it could impact their comfort and productivity. This is at the heart of people-centered design.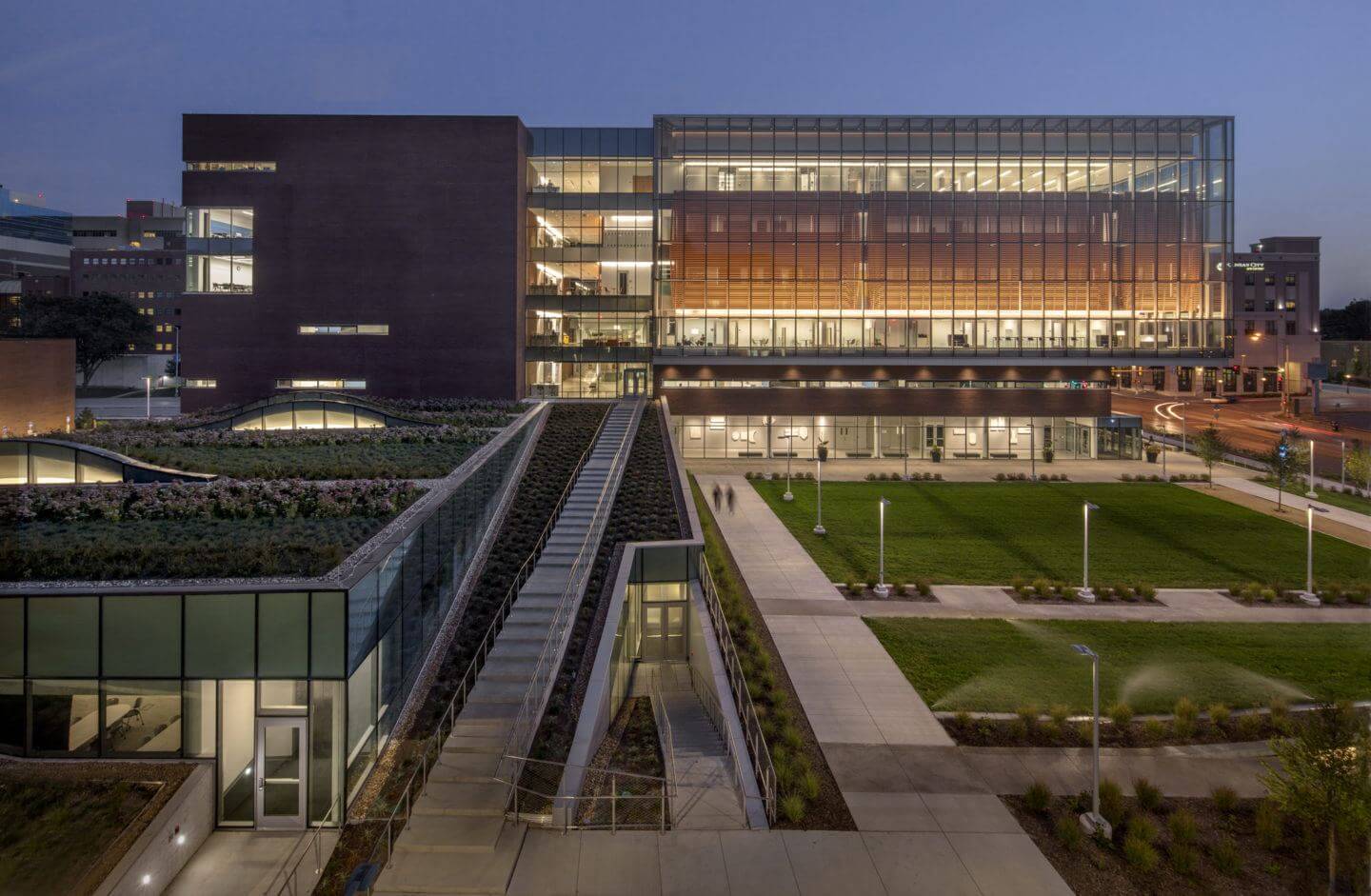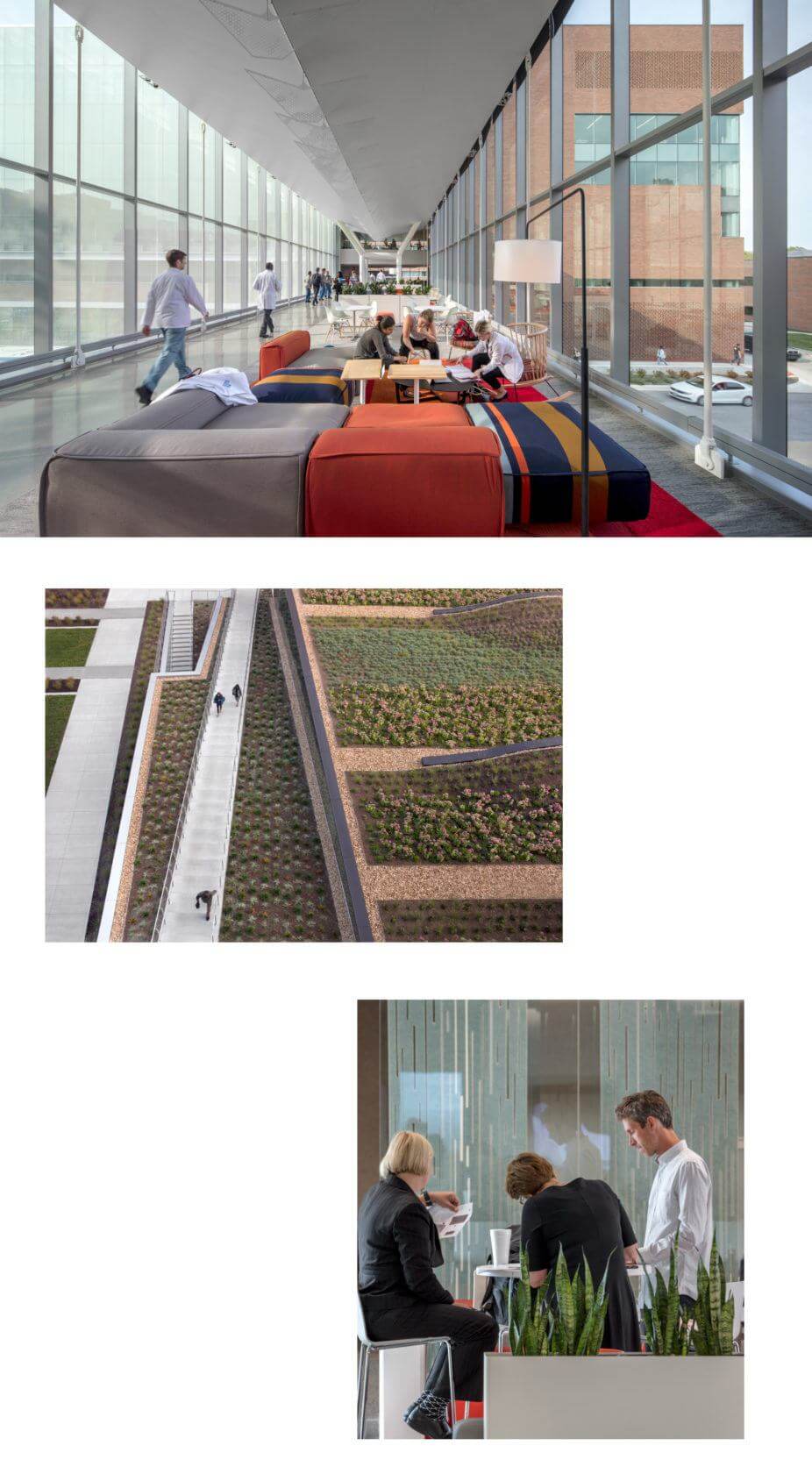 How we've done it:
Health Education Building, University of Kansas Medical Center
The Health Education Building (HEB) at the University of Kansas Medical Center (KUMC) is an iconic gateway building located on a prominent, active corner of campus that is also shared by the community. Recognizing that its students and faculty will spend considerable time inside the building, it was imperative that HEB implemented multiple strategies to support human comfort. With its largely glass facade, the expansive windows provide abundant views and natural daylight but minimize heat gain through glazing. In the bridge, which connects HEB to an existing building on campus, solar shades that are matched with sunlight and heat patterns deploy at specific times of the day to further reduce heat gain and maximize user comfort. The undulating green roof on the north side of the building, as well as outdoor seating and indoor plants, strengthen users' connections to nature.
To help students with those long study sessions, HEB offers a variety of spaces to accommodate both group and individual settings. For those who prefer to study solo, comfortable acoustics, portable power strips, flexible furniture options give students the choice to study where and how they want.
Why it matters: In an age when humans spend more than 90% of their time indoors, it is necessary for buildings to surpass the base requirement of providing shelter. Buildings must be designed and operated to positively impact their health, wellness, and comfort of their occupants. In an office setting, more than 90% of the annual costs of a building are associated with paying the salaries of the building occupants. Therefore, even a slight increase in occupant productivity and cognitive function can reap huge financial rewards for building owners. In an educational setting, these benefits in productivity would translate to the academic success of the students and researchers.