Corrigan Building Renovation Receives LEED Silver Designation from USGBC
The Corrigan Building was built in 1921 and is located prominently along the new Kansas City streetcar line at 19th & Walnut. The 10-story, 123,000-sq,-ft. building houses nine stories of office space with one story of ground level retail. The client's vision of rehabilitating this nearly 100-year-old building into modern, flexible workspace has resulted in a 100% leased building at completion, attracting tenants such as WeWork, Hollis & Miller and Holmes Murphy.
Developed by the U.S. Green Building Council (USGBC), LEED is an ecology-oriented building certification program, concentrating its efforts on improving performance across five key areas of environmental and human health: energy efficiency, indoor environmental quality, materials selection, sustainable site development and water savings.
In addition to maintaining and reusing 97.8% of the existing structure and envelope the renovation also reduced CO2 emissions by 41%, reduced water usage by 24.3% and reduced overall building energy usage by 35%, all over a baseline model. Additional sustainability features include: integration of an efficient VRF (variable refrigerant flow) HVAC system, low-flow plumbing fixtures, daylighting and efficient all LED lighting and a solar panel array canopy on the roof.
"Corrigan Station's LEED certification demonstrates tremendous green building leadership," said Rick Fedrizzi, USGBC president and CEO. "The urgency of USGBC's mission has challenged the industry to move faster and reach further than ever before, and Corrigan Station serves as a prime example with just how much we can accomplish."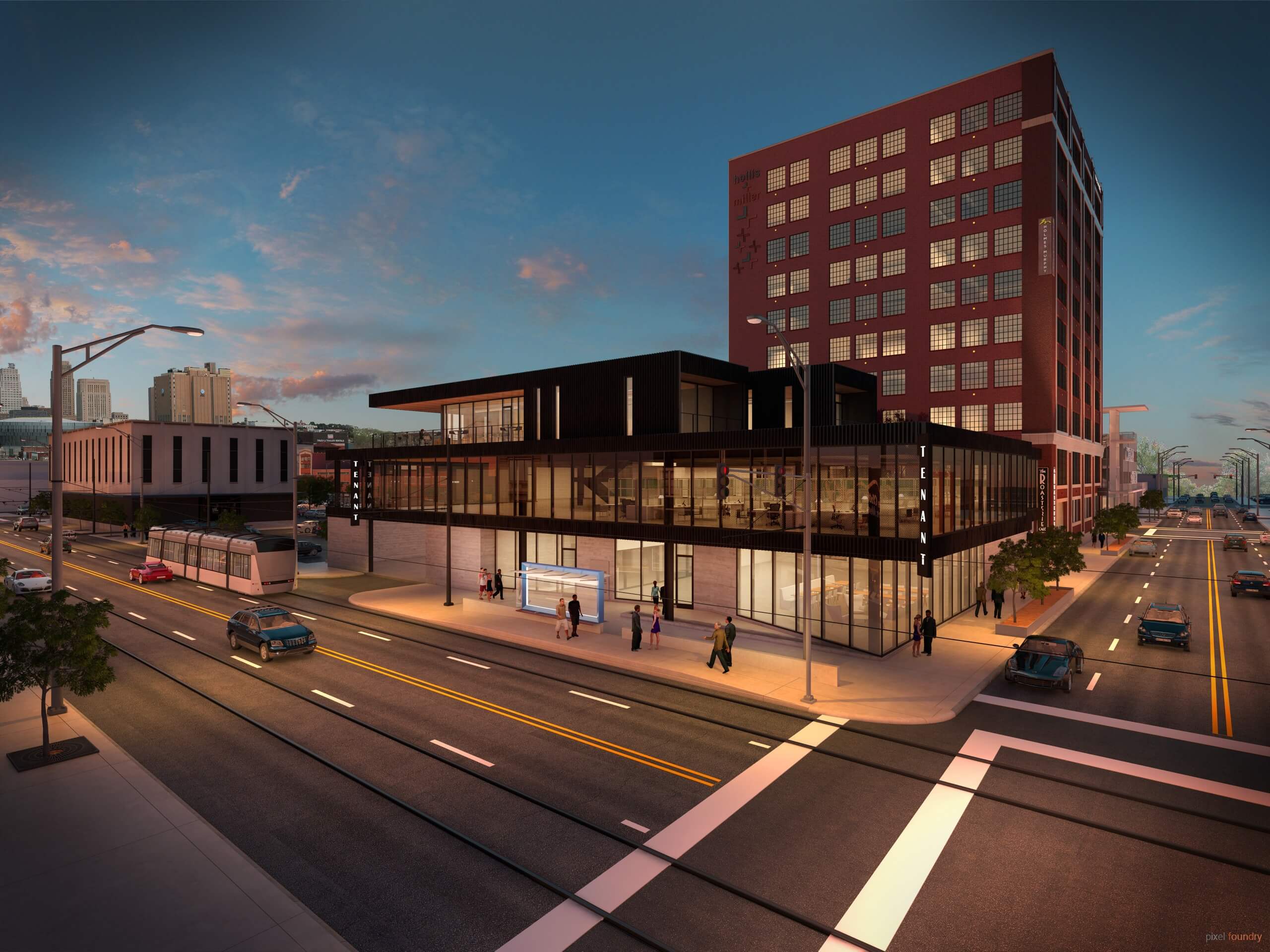 Construction is currently underway on Corrigan Station Phase II, also designed by Helix. Phase II includes an adjacent three-story structure at the corner of 19th and Main Street that provides additional retail space and covered parking on the first floor and office space on the second and third floors.
Helix had an incredible team of partners on the project — Straub Construction, Rosin Preservation, Lankford Fendler, PMA Engineering, SK Design Group and Vireo — that were instrumental to successfully delivering on the success of this large project. Congratulations to our clients on the revitalization of this historic gem and successful LEED Silver certification.
Photography by Bob Greenspan