Announcing Helix Promotions
Helix is pleased to announce Evan Fox, AIA has been elevated to principal status and Miranda Groth, AIA has been named an associate.
Miranda Groth is a project manager and market leader for Helix Architecture + Design's higher education practice. Throughout her career she has developed a specialized focus on academic facilities and is recognized for her ability to deliver complex projects on schedule and within budget. Since joining Helix in 2013, she has managed nearly 150,000 square feet of projects for Kansas City University, including the complex adaptive reuse of Weaver Auditorium into the new KCU Academic Center. Most recently Miranda is managing the renovation of Hill Hall at Missouri State University and just completed the adaptive reuse of a 1950's Bowling alley into a new home for the Academy for Integrated Arts charter school.
Evan Fox is a project manager and senior project architect with over 12 years of experience. His ability to guide high-profile projects, such as AMC's Theatre Support Center and the Corrigan Building Renovation, from inception to completion makes him an incredible asset to the firm and our clients. Evan is known for his well-rounded capabilities with design detailing, consultant coordination, construction management and technical programs. Prior to moving to Kansas City he worked in Chicago on corporate headquarters and high-rise residential projects. Evan is also a leader in the local design community and an active AIA member — serving as AIA KC Design Awards Co-Chair and the AIA KC Pillars Steering Committee Chair.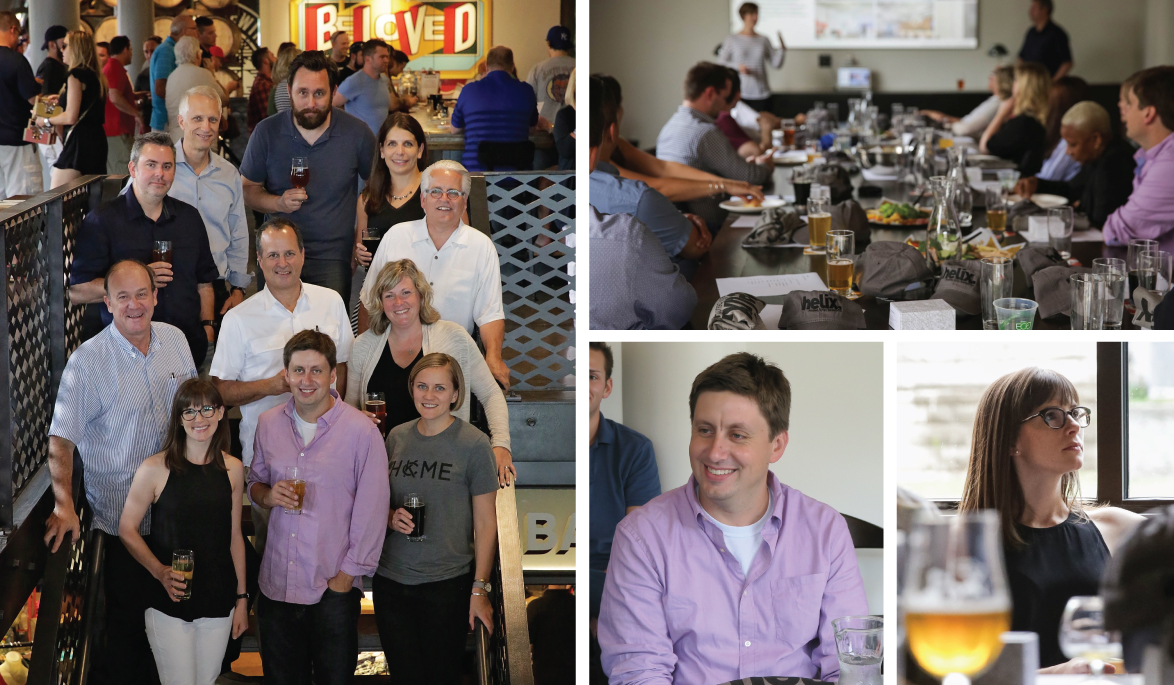 The Helix leadership team at our semi-annual company meeting, held at the Boulevard Visitor's Center.
We asked Miranda & Evan a few questions to help you get to know these two key leaders a bit more.
Q: What made you choose a career in architecture?
E: I have always loved building things. Even more so, I like the process of figuring out how you start from scratch with an idea and turn it into a building. Because building stuff is cool, but telling people how to build stuff is even cooler.
M: The influence of a grade school art teacher who noticed that I always wanted to draw rooms and buildings instead of objects or people. Her willingness to share books on the works of Frank Lloyd Wright and Louis Sullivan made me consider architecture a possibility.
Q: What's your design philosophy?
E: Work with good designers.
M: No fuss. I prefer everything has a purpose and a place.
Q: What brought you to Helix?
E: The people. You have to care about what you do and who you work with. Otherwise, why do it?
M: Helix provides me the opportunity to share and develop my passions – restoration of old and historic buildings, Kansas City community involvement and desire to make a positive impact on the places people learn, work and live.
Q: Do you have any hobbies?
E: My hobbies include BBQ smoking, playing golf and raising a pretty awesome kiddo.
M: My husband and I have made restoring our 90-year-old house our hobby. When we're not slinging hammers or plastering, I enjoy baking, gardening, crafting and most any other "old lady" hobby as my profile suggests!
Q: What's a guilty pleasure of yours?
E: Listening to too much Journey, Chicago, REO Speedwagon, STYX, Boston, Foreigner, etc.
M: My celebrity crush is Jeff Goldblum!
We are beyond thrilled to have these two exceptional professionals as a part of the Helix leadership team, and we congratulate both of you on your many accomplishments. Cheers to Miranda and Evan!